Anyone who has tried the infamous crunchy fried ball known as falafel will definitely tell you that it is arguably the tastiest deep-fried snack in the world. It's so popular that there was an entire competition between global chefs to see which country can make the world's largest falafel ball. Jordan ended up nabbing the top spot by making a gigantic 101.5 kg falafel.
Even across the region itself, with Ramadan just around the corner, we can guarantee that falafel will be a go-to suhoor meal. Beyond it being an adored culinary staple in the Arab world, it even managed to cross borders and entire oceans, making its way to the kitchens and street carts of the west. Let's take a look at some of these global falafel joints that have made a name for themselves abroad.
Tastes Of Damascus (Greece)
All the way at Athens, Greece's capital, is one particular joint widely cherished by falafel fans. From the moment it opened its doors back in Feb. 2020, Tastes of Damascus became an instant hit in its neighborhood, bringing the rich flavors of Syria all the way to Greece. It has a small yet authentic Syrian menu, offering entirely vegan and vegetarian classic dishes such as hummus, tabbouleh salad, and of course, the infamous falafel. Served delicious and crispy accompanied by a trio of dips: hummus, tahini and muhammara (spicy roasted red pepper dip), the falafel is a fan-favorite dish that keeps getting rave reviews.
Beyond its exquisite cuisine, it's also special because of the story behind how the dishes are made. Passing through the restaurant and into the kitchen, you will be met with the head chef and team all comprised of Syrian refugees working tirelessly to whip up each dish. This is all part of an organization called Za'atar NGO which is currently helping Syrian refugees by offering them cooking classes as well as Greek language courses so that they can be able to find a job in the food & beverage industry.
Mamoun's Falafel Restaurant (US)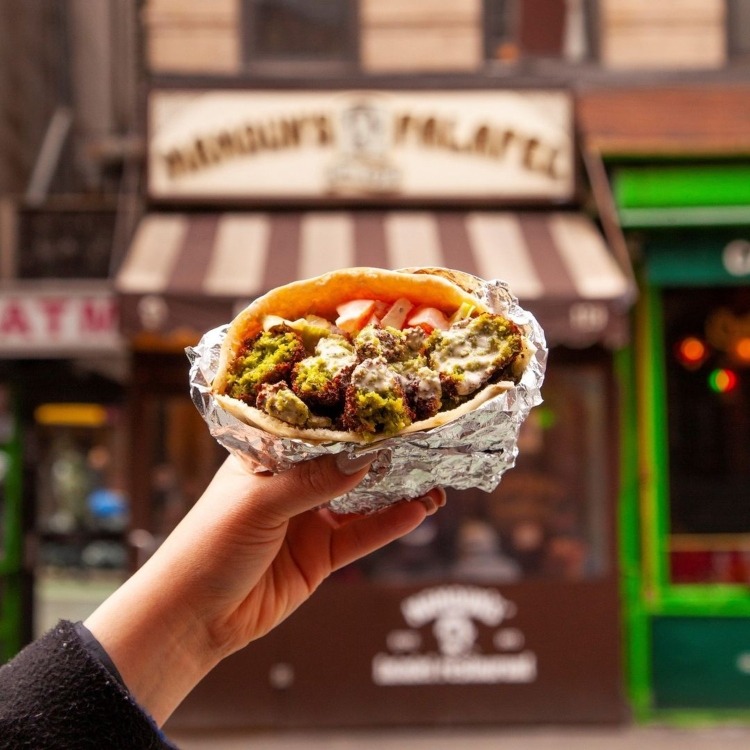 Interweaved into the history and culture of NYC's Greenwich Village is Mamoun's Falafel, a family-owned restaurant that has been serving fresh falafel and other authentic Middle Eastern foods to the masses since 1971. At that time, the restaurant was so popular that they'd receive 200 customers at a time. For the past 45 years, it was run by the Syrian Chater family who would make sure to only use passed-down family recipes and fresh ingredients. They stay true to that to this day as even the mint they use in some of their recipes is grown in their very own garden.
Today, it's run by Suleiman Chater and its popularity still stands as people would line up to dine on its infamous falafel sandwich packed with lettuce, tomatoes and tahini sauce all wrapped up in their pita bread. Packed with flavor, taking one bite of the enormous stuffed sandwich with tahini oozing out is a great way to enjoy a delicious authentic Middle Eastern meal all the way in the bustling streets of NYC.
Azzam (Germany)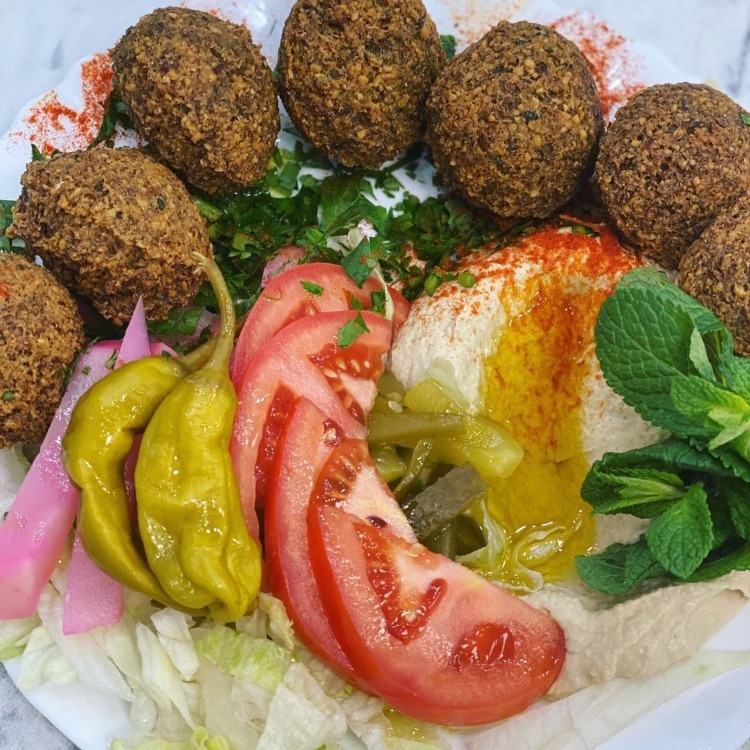 Within the heart of Neukölln, one of the most multi-cultural districts of Berlin is Azzam, a Lebanese casual eatery that has been around for over two decades. At the start, there were just two tables serving the regulars, many of which come from countries like Lebanon and Palestine. Over the years, word started to travel about the Arab joint, attracting everyone including vegetarian hipsters. Then came 2015, the year when many Syrian refugees went to Berlin to escape the warm and that is when they made Azzam their new home.
Today, when visiting Azzam, there are three dishes, in particular, you have to try: crunchy falafel, hummus and their musahaba (a Middle Eastern dip made of creamed tender warm chickpeas). Currently run by Hussam Azzam, the dining spot is the kind of place that holds a special place among the prominent Arab community of Berlin who comes to reconnect to their culture and heritage through its delicious food.
Cook'N Saj (France)
Brought to life by Ahmed and Soufian Mawazini, two Lebanese brothers along with their mother, Cook N'Saj earned a spot on Paris' eclectic dining scene back in 2015. Becoming a smashing success, in 2021, the family ended up branching out to include a fast-food version near the Saint-Jean station in Bordeaux. On the Cook N'Saj menu, the Mawazini brothers have been serving up the classics of Lebanese cuisine including hummus and the beloved falafel.
When it comes to their falafel, the duo brings something new to the table by serving the fried balls with saj bread, a flatbread usually baked on a metal griddle. Biting into it, you'll get that crunch from both the bread and falafel as well as the rich flavor combo of the included tahini sauce, tomatoes and pickles. Beyond their falafel sandwich, they also specialize in mezze (Arab appetizers) like kebbe and borak.
Beit Rima (US)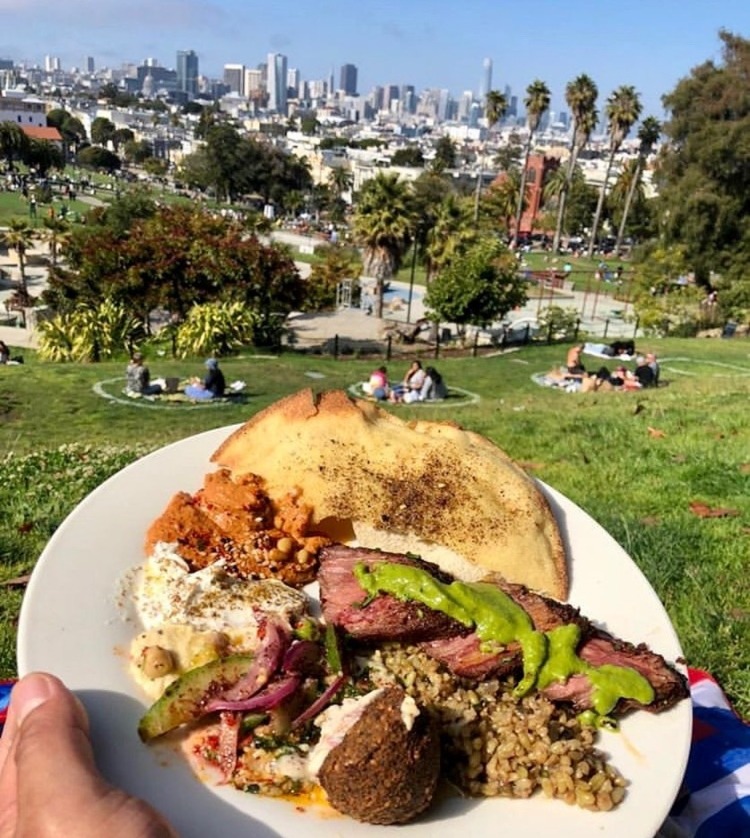 Imagine a burger joint transforming into a Palestinian comfort food eatery. That is the story behind Beit Rima. Samir Mogannam whose father used to own a burger chain called Burgermesiter two decades ago took over the restaurant located in San Francisco at 138 Church Street and re-invented it into a business of his own called Beit Rima. The restaurant is named after Samir's Jordanian mother Rima as when it's translated, its name literally means Rima's house. That is the exact vibe of the Arab restaurant, one that features homey decor inspired by Rima's actual home.
Beit Rima's menu is the kind that is welcoming and approachable and includes everything from their fresh, crunchy falafel to their beef kebab and bowl of hummus topped with spiced beef. To many, it's considered a home away from home, bringing comfort to many Arabs residing in the bay area.
With each of these eateries, there is a common story of Arab families who end up crossing borders all the while bringing in a metaphorical suitcase packed with their rich culture and heritage to be shared with the world. It's great to see that each restaurant managed to make a name for itself while boasting some of the tastiest falafel the west has ever got to taste.