Egyptian women have been known for a lot of things, but fitness hasn't been one of them. However, there are a few women who, over the past few decades, have broken all boundaries, defied all stereotypes and put Egypt on the map in terms of sports.
Hers is celebrating three years of empowering women through fitness with their women-only Rise event on May 16 at Dusit Thani, making us not only appreciate these inspirational women, but also encouraging us to follow in their footsteps.
These women don't just make us proud, they inspire us to achieve our dreams no matter what obstacles stand in our way.
Aya Medany – Pentathalon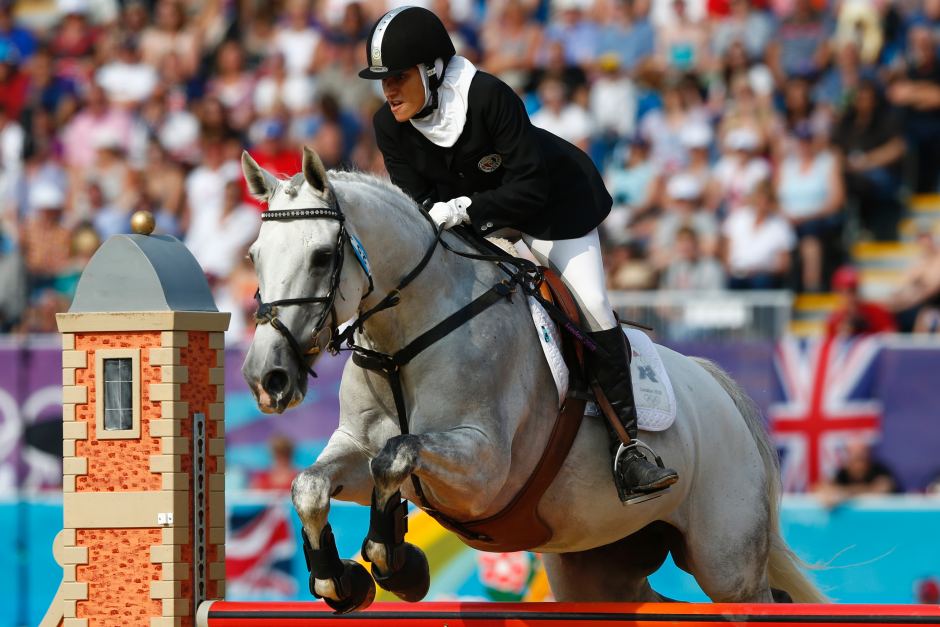 At the age of 15, Aya Medany made her Olympic debut at the 2004 Summer Olympics by being not just the youngest Egyptian on the team, but the youngest out of any of the athletes competing for the pentathlon.
Medany is a Modern Pentathlon Word Champion and the first Egyptian to qualify for the Modern Pentathlon World Championships.
Medany was also the first player in the world to earn two gold and one silver medals during her participation in three 0f the four world championships held in three months.
Winning many medals and championships both locally and internationally, Medany is one of Egypt's most famous professional athletes.
In 2013, Medany announced her retirement due to the ban on full-body swimsuits imposed by the swimming federation FINA, from which Pentathlon takes its swimming rules.
Caroline Maher – Taekwondo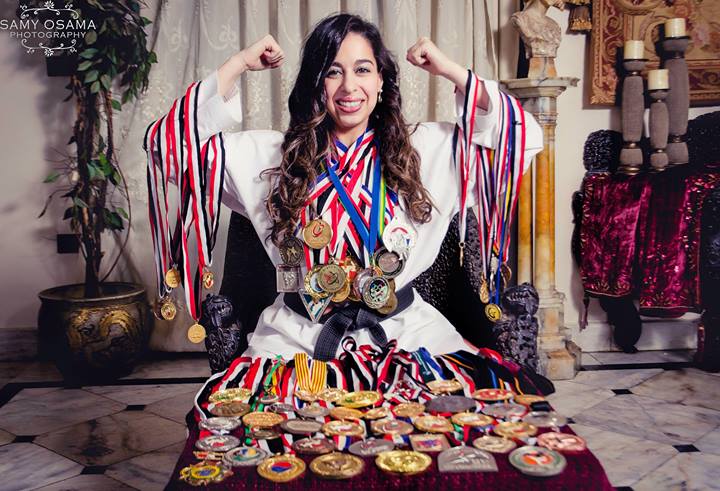 Caroline Maher was the first Arab, African female to be held into the Taekwondo Hall of Fame in 2013, which is the most prestigious title any athlete could be awarded while also helping to inspire disabled people through her work with the charity Helm and other young children.
Maher was the youngest member on Egypt's National Junior Taekwondo Team after taking part in an International Taaekwondo championship and winning a silver medal.
Maher has represented Egypt in global contests and has now racked up a whooping 130 trophies in 38 countries.
Farida Osman – Swimming
Farida Osman is an Egyptian swimmer specializing in the butterfly, freestyle and backstroke sprint events. Osman is an Egyptian National and African Champion and record holder, holding the senior national records for all butterfly, freestyle and backstroke sprint events. She also holds an African record and title in the 50 m butterfly at 27.28s.
She won the first-ever world medal for Egypt in a world junior championship 50 m butterfly event and was the only Egyptian female swimmer to qualify and compete at the 2012 London Olympics, ranking 41st place in the 50 m free with a time of 26.34s.
Nahla Ramadan – Weightlifting
Breaking seven world records and holding various numbers of awards and titles, Nahla Ramadan is a weightlifting star. Being a female didn't stop her from accomplishing her dreams and becoming a world champion. Anyone would love to be in her weightlifting shoes with all of her accomplishments.
Competing in several world championships and Olympics, Nahla Ramadan was one of the youngest Egyptians to not only compete globally, but also win various titles and medals.
In 2012, Ramadan participated in the London Olympics, lifting 155 kg clean, even though she had various injuries, ranking her in 5th place.
Nour El Sherbini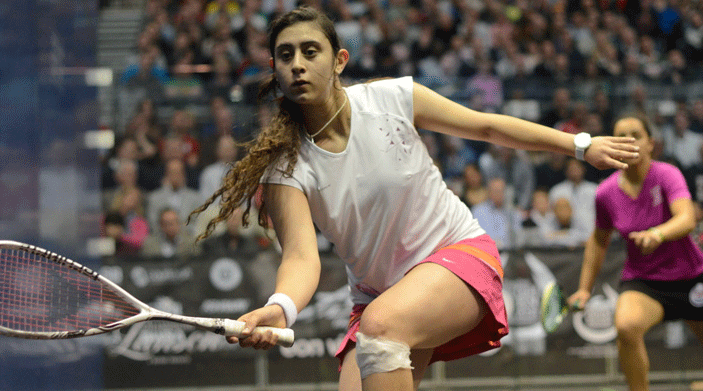 Nour El Sherbini is an Egyptian professional squash player who won the British Junior Open Under 13 in 2009.
Sherbini made history when she won the women's title in the World Junior Squash Championships Under 19, becoming the youngest ever world champion at the age of 13.
In just four years, Sherbini has risen a remarkable 208 places in women's rankings to occupy the world number seven spot at the age of 16.
Rania Elwani – Swimming
Rania Elwani is an Egyptian swimmer who competed in three Olympic events as well as participated in the Swimming World Championships twice and reaching the semi-finals in 50 and 100 m freestyle.
Elwani won three World Cup gold medals, two silver medals and one bronze medal in 1994-1995. She also won six silver medals and four bronze medals at the African Championships in 1990 and won multiple gold, silver and bronze medals at the African Games in 19991, 1995 and 1999.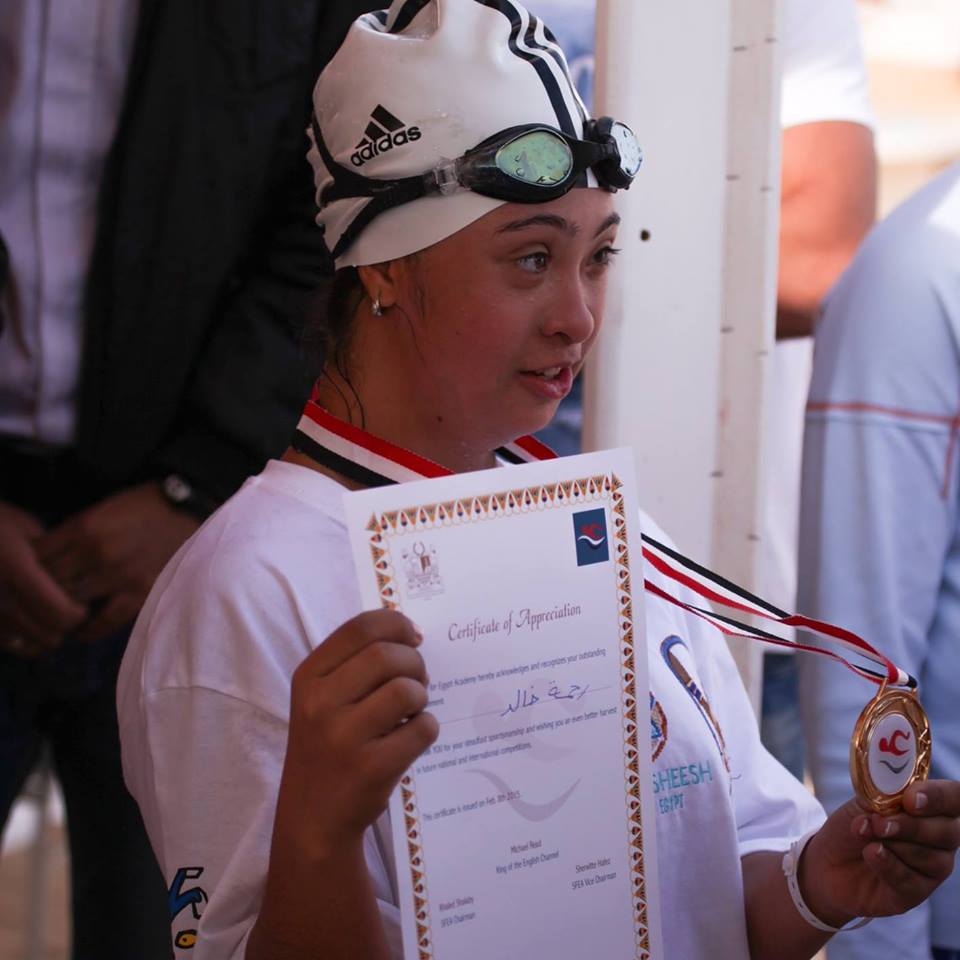 Defying all stereotypes and crossing all boundries, Rahma Khaled didn't let her Down syndrome stop her from becoming a swimming star. With the help of her mother, Amal El-Otaif, and years of hard work, she defied all the challenges life threw her way and became a swimming gold medalist in the Special Olympics.
Winning her first trophy at the age of seven, Raneem El Welily was destined for greatness. El Welily is a professional Egyptian Squash player ranking number one in Egypt and number two worldwide in women's squash.
Holding various titles and awards, El Welily has become an iconic figure in women's squash. She was Wispa Young player of the year in 2004 and 2005, and is the winner of six British Junior open titles, two World Junior opens, the World Universities Open in 208, the Women's World Team Title in 2009, the World Team Title Mixed in 2011, Wispa's Most Improved Player of the Year in 2011, the Arab Gamed Gold Medal in 2011 and five Wispa Titles and many more titles within the past few years.
Tahani Toson – Volleyball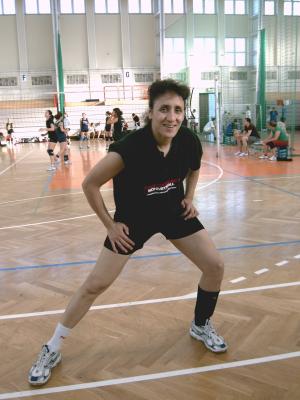 Tahani Toson is a professional volleyball trainer and former player for Al-Ahly club and the Egyptian National Team. She was titled "Player of the Century" in African Volleyball in 2000 and was named most valuable player 35 times in just 18 years.
As Captain of the Egyptian national tam, Toson led the team to 14 champion wins. She was ranked 9th best player in 2003, 5th best Bulward in 1995 and was the African Representative to the Women's Volleyball World Cup in 1990, 1995, 2002 and 2003.
WE SAID THIS: Don't miss Hers Celebrates Three Years of Empowering Women Through Fitness