Now that the FIFA 2014 World Cup is over, I felt obliged to write a little "hat's off" to the men whose job it is to leap and sprawl acrobatically across 7.3 meters of open space, preventing a football from getting into their net.
It's common for most to talk about incumbent football stars during the World Cup: Messi's ridiculous dribbling skills, Neymar's playmaking prowess, Müeller's lean, mean German machine-ness. Goalkeepers are praised and admired when they make a great save, or if they get really lucky during penalties.
But that all fades really quickly, and we go back to discussing the fact that Luis Suarez just got signed to freaking Barcelona. Seriously???? He bites someone for the THIRD time and gets the biggest deal of his football career?! How does that work?!
I digress.
I would like to nominate the six goalkeepers who excelled at the World Cup, making "the beautiful game" even more so.
6. Guillermo Ochoa is the afro-rocking goalkeeper from Mexico who turned the most heads during the group stage of the 2014 World Cup.
His high-flying acrobatics and cat-like reflexes helped propel Mexico into the Round of 16. It's hard to believe Ochoa is a free agent at the moment, meaning he is not signed to any clubs.
However, following his incredible World Cup performance, a lot of interest has been generated from internationally renowned clubs like Arsenal and Liverpool. At just 28 years old, we will be seeing a lot more of Ochoa on the international stage in the years to come.
5. Manuel Neuer's appearance on this list is predictable, but he undoubtedly deserves to be here.
Aside from being the poster child for the Arian race (and possibly the lovechild of Matt Damon and Tom Hanks), he is one hell of a goalkeeper, not incurring more than four goals in the World Cup so far.
He is the goalkeeper for current Bundesliga champions Bayern Munich, having transferred over from FC Schalke. His transfer fee makes him the second most expensive goalkeeper in football history, behind Gianluigi Buffon.
Aside from being a machine in between the goal posts, Neuer has a heart of gold. He founded a charity for children, the Manuel Neuer Kids Foundation, and pumped it with half a million Euro, which he won on a celebrity edition of Germany's Who Wants To Be A Millionaire.
He also lent his voice to a character on the German version of the cartoon Monsters University. So, not only is he an excellent goalkeeper, turns out he's a pretty great human being as well.
4. Though Italy shamefully exited the World Cup during the group stage (FOR THE SECOND TIME IN A ROW), Gianluigi Buffon will forever and always be one of the greatest goalkeepers of the 2000's, if not of all time.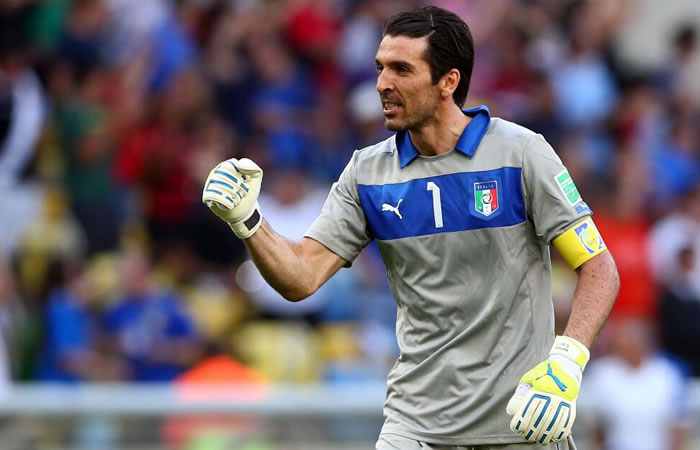 Buffon, to date, is the most expensive goalkeeper in history, moving from Parma to Booventus… sorry… Juventus for a whopping 45 million Euro in 2001. Despite my reservations about the club Buffon plays for, his incredible shot-stopping abilities are undeniable.
It is no wonder that Buffon turned out to be the exemplary goalkeeper that he is, as sporting excellence runs in his family. Check this out: His mother was a discus thrower, his father was a weightlifter, both his sisters played volleyball for the Italian national team and his uncle represented Italy in basketball.
"Gigi", as he is affectionately known around the world, is practically a national treasure in Italy, and I for one was saddened to see him leave the pitch at the end of his last World Cup appearance in Brazil.
3. Though at times he resembled more of a goal-terrorist than a goalkeeper, there is little doubt that Algeria's Rais Mbolhi was one of the best goalies of the 2014 World Cup.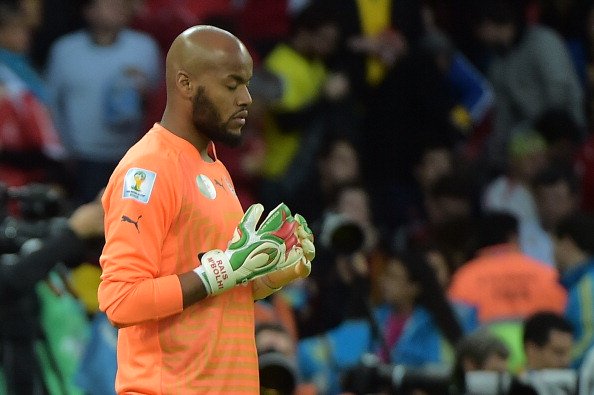 His spectacular performance during the group stage as well as Algeria's Round of 16 game against Germany earned him a couple of "Man of the Match" titles as well as some global recognition and admiration.
Born in Paris to a Congolese father and Algerian mother, Mbolhi has shuttled back and forth through many clubs since beginning his professional football career. He has played in France, Greece and even Japan before settling in Bulgaria, playing for CSKA Sofia.
Fun fact: Even though the Algerian team had been given permission not to fast by the Algerian Ministry for Religion Affairs, Mbolhi was fasting during their Round of 16 match against Germany.
2. Vincent Enyeama's incredible saves for the Nigerian Super Eagles stunned audiences worldwide during his presence in-goal at the World Cup.
Enyeama's quick reflexes helped move the Super Eagles into the Round of 16, and though they lost to France, Enyeama saved his squad from an onslaught of French shots on goal.
When he isn't goalkeeping for his national side, Enyeama is the goalkeeper for French football club Lille. Before debuting in the Ligue 1 in 2011, he spent six years in Israel with Bei Yehuda then Hapoel Tel Aviv.
Enyeama's excellent performance in Brazil helped moved the Super Eagles passed the group stage for the first time in 16 years.
1. Although the United States exited the World Cup after the Round of 16, Tim Howard's incredible saves are still etched in the minds of football fans and players.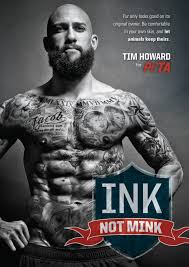 Howard has been making astonishing saves for the United States since 2002. His club career began in the United States from 1997 until 2003, then he made the move over to the Premiere League, having signed a deal with Manchester United. Howard moved to Everton in 2007, where he has been enjoying success and popularity.
Howard has a history of playing through pain, which confirms my theory that he is some kind of bionic man/robo-goalie. In 2003, he crushed and dislocated his finger in a collision and continued playing. Whilst in 2013, he broke two bones in his back and played until full time.
Tim Howard suffers from Tourette's Syndrome, a neuropsychiatric disorder identifiable by its vocal and physical tics, such as twitching or shouting suddenly.
Aside from being strong mentally and physically, he also has a heart of gold. Howard showed off his tattooed arms and torso for PETA's "Ink, Not Mink" campaign, and he also volunteers his time to work with children suffering from Tourrette's. How accomplished do YOU feel right now?
HONORABLE MENTIONS:
Sergio Romero – The Argentine goalkeeper's super semi-final performance is responsible for sending La Albiceleste through to the World Cup Final.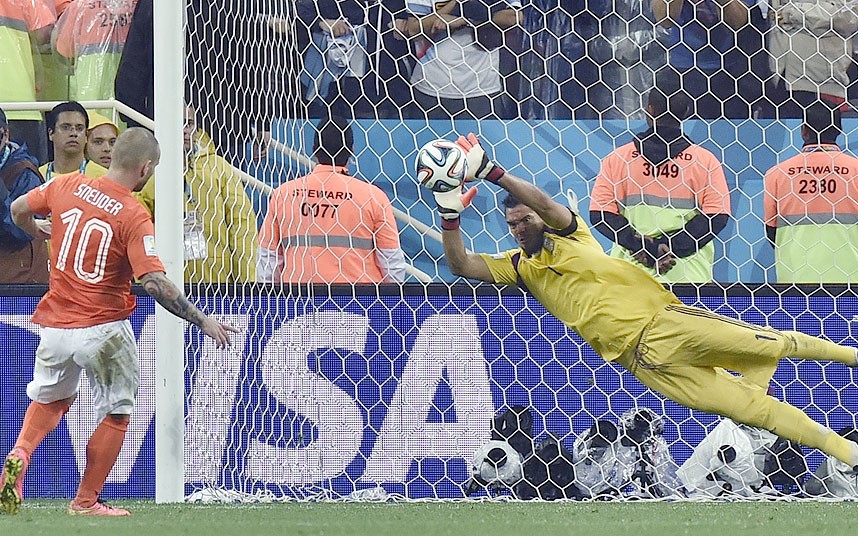 Tim Krul – The substitute goalkeeper for the Oranje did his part to qualify his team for the quarter finals, with a stellar set of saves during a penalty shootout against Costa Rica. Though some would argue his "scare tactics" during the shootout should have been disallowed.
Keylor Navas – Despite Costa Rica's quarter-final exit, Navas' performance throughout the World Cup earned him a great deal of admiration. He has just signed a 10 million Euro deal with German club Bayern Munich.
WE SAID THIS: Check out our list of Players We Want to See Take Their Shirts Off at the World Cup!