Our beloved Instagram – regardless of the fact that the app has allowed us to unleash the hidden photographer in all of us (despite it all being around food), Arab and mostly Cairene fashion lovers have taken it to a whole new level. Yes there are lots and lots of Instagram accounts that showcase the latest trends in street wear, but very few have taken the chance to provide us with outstanding fashion tips and tricks to be a trendy Hijabi today.
So here goes my top five accounts that I think you should take a look at:
5. @ascia_akf (Ascia AKF) – 661 K followers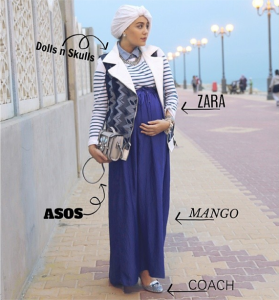 "Happily married Kuwaiti/American hybrid; turban tying blogger/designer"
Our turban-tying hijabi queen, Ascia, is the one of the first fashionistas to popularize the (now commonly used) turban hijab. She works as a hijab fashion designer along with her hubby. She is an icon not only in Kuwait but also all over the world. Ascia runs in style.
Her outfits are a mix and match of Christian Dior, Burberry, Coach and Louboutins. In everyday life, she also features outfits from Zara, H&M, Bershka, True Religion and more accessible stores – all of course to complement her mostly solid-color turbans. A great twist she has added lately after getting pregnant with her baby boy Adam is how to dress up right for your pregnant body and still look fabulous. I give her 5 out of 5 scoops.
4. @Saharfoad (Sahar Foad) – 2,363 followers
"I have a lust for art and fashion"
This is one of my personal favorites. Not only is this girl a trendy hijabi icon, but she is an amazing artist and has a very unique way of combining A LOT of colors together and making it look effortlessly beautiful.
Every day, she posses with a new outfit either in her tiny room or with a colorful breathtaking background, which of course is as colorful as her cardigan or veil. She also throws in handpicked accessories that can go with your everyday outfit and complements your overall look. I give her 4.7 out of 5 scoops.
3. @Farahemara (Farah Emara) – 1,876 followers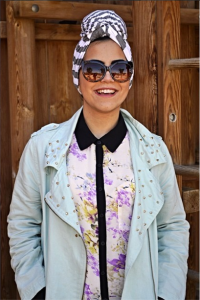 "Fashion freak and future designer"
An all-Egyptian fashionista, Farah Emara is an Instagram icon. The petite-figured young lady has taken the edgy hijabi look to a whole new level. She endorsed the turban hijab style and made it work perfectly with her one-of-a-kind accessories and different patterns.
Rarely would you find Farah wearing a solid-color turban. She mixes and matches patterns and colors and heels stand out in her everyday outfits. Even jumpsuits look amazing on her. To be honest here, besides the amazing clothes, her petite figure complements the overall look. I give her a 4.8 out of 5 scoops.
2. @Devotedlyyours (Nuha) – 15 K followers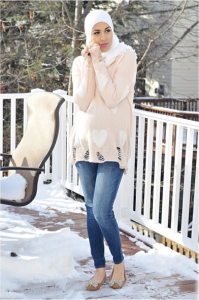 "Egyptian :: Northen VA/DC, Married"
Nuha, an Egyptian living in Washington, D.C., is a hijabi moving statement on Instagram. Not only is her unique taste in clothes remarkably beautiful, she also has a thing for high heels. You will never find her wearing the same heels twice and they always come in bold colors like hot pink, red and orange.
Unlike our other fashionistas, Nuha has a regular hijabi style on but almost always in solid colors – after all, her mix of patterns in the rest of her outfits wouldn't stand another one on her head. If you notice, you'll always find that her lipstick color matches her heels. I give her 4.7 out of 5 scoops.
1. @Hijabfashion – 194 K followers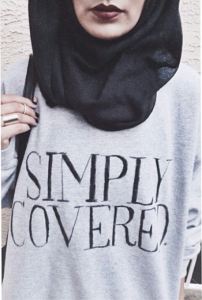 "Hashtag #hijabfashion for a chance to have your picture posted!"
This account created by Safiyah El Houadiagui (a 22-year-old Morrocan living in London) and Lina (a Palestinian living in Sweden) has created quite a buzz on Instagram for hijabis all over the world. Like the recently created Egyptian accounts, it is devoted to reposting pictures from hijabis around the world that stand out in their fashion trends – all you have to do is hashtag #hijabfashion.
The fascination with this account isn't only about the featured outfits, they also post videos on how to keep up with the latest headscarf tutorials, keeping everyone up to date and trendy. Yes, there are some outfits that are kind of weird giving the fact that not all Middle Eastern countries wear abbaya-like outfits, but there's also very hip urban fashion featured. I sometimes skim through the accounts for my next trendy outfit. I give it 5 out of 5 scoops for the efforts of featuring a wide collection.
WE SAID THIS: Don't miss "The Rise of the Fashion Bloggers" and "8 Hijabi Myths Uncovered".