11 Things to Do If You're Stuck in Cairo During Eid
Via: The Nile Ritz-Carlton
When you say the word 'Eid', the first things that pop into people's minds – after Kahk of course – are the beach, parties and basically everything that we weren't allowed to do during Ramadan. For people who prefer (or are forced) to stay in Cairo during Eid, you too can enjoy your long-awaited vacation.
Netflix
Now that Ramadan's mosalsalat are over and done with, you can finally go back to binge-watching your favorite shows!
Enjoy an empty Cairo
Eid means that a lot of Cairenes have stormed off to the beach. This consequently means an empty Cairo for those of us who are stuck here. You can jump into your car and cruise the streets of our beloved capital. Hell, you can cruise on the 6th of October bridge, if you want to!
You can reunite yourself with all your favorite eating spots
Now that outings no longer revolve around sohour and iftar, you can finally go back to enjoying your favorite spots, may that be indulging in some morning coffee at Starbucks or enjoying some termes (lupin) by the banks of the Nile the evening.
Visit your friends and family members
You can make use of the aforementioned empty streets, and visit your friends and family who live on the other side of the 6th of October bridge. Living in New Cairo, and want to visit your friends in Sheikh Zayed? No problem!
Indulge in your favorite non-Ramadan desserts
The end of Ramadan marks the end of Konafa season; you can finally go back to enjoying your favorite desserts. Your belly now has room for your favorite cinnamon rolls, cheesecakes, and chocolate cakes!
Catch up on sleep
Since you are no longer obliged to stay up until 3:00 am to have sohour, you can now go back to your healthy sleeping patterns, and catch up on sleep. This will surely enhance your overall performance and health.
See your distant cousins, and family friends
Because we all need to stay in touch with our family, you can join your parents in annual gatherings, and finally get to see those distant family members of yours, whom you would never see otherwise.
Watch masra7eyat (plays)
We grew up watching Eid masraheyat, but somewhere along the way we stopped doing that. But if you're stuck in Cairo this Eid, you can definitely revive this tradition. Not only that, but you can also make your way to the theater and watch newly released masraheyat.
Plan a movie night, or two
If you're not into masraheyat, you can take a trip down to the cinema and watch Eid movies. Lucky for you, this Eid season will offer you a wide range of movies to choose from; actors Ahmed El Sakka, Ahmed Ezz, Mohamed Heneidy, and Mohamed Ramadan have released their movie trailers, and you can see them all, if you want to!
"Snowball Cookies"
Since you won't get another chance throughout the year to enjoy the delicious Kahk. Place that Kahk box on your lap, and enjoy it while doing any of these above activities.
Head to The Nile Ritz-Carlton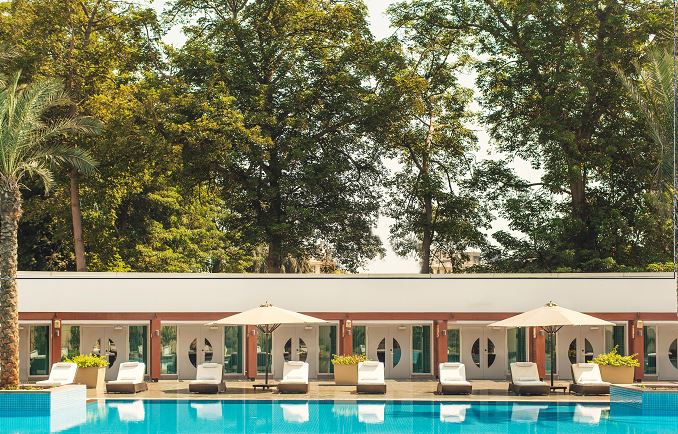 If you still want to enjoy beach-like vibes, check out the Nile Ritz-Carlton's sensational July schedule. Book now and enjoy their sensational Watermelon Fiesta and their Citrus Festival, with a stunning Nile view.
WE SAID THIS: If you have any other ideas, share them with us in the comments section.