Helm: An Egyptian NGO Changing Society's Perception on Disabilities
Via Helm
Helm; which is also the Arabic word for "dream", is a non-profit organization that aims to fill the gap between people with disabilities and all the stakeholders. The organization focuses mainly on the inclusion of people with disabilities in all aspects of life. Providing them with training opportunities and facilitating accessibility both fall under the umbrella of the organization's services.
As they offer different training and development programs such as the "Essential Work Skills" program. In addition to their various activities that involve people with disabilities in the community; whether in work, sports, or any life aspects, they also held their first international conference in 2016. "Cairo 2016: A City for All" focused on accessibility and employment. There were more than 450 attendees from 16 countries including 20 top-notch global speakers and professionals in the field. Additionally, the signing of a cooperation protocol between Helm Foundation and H.E. General Mohamed Kamal El Daly, Giza Governor, took place in the conference. This entailed a model to provide the first accessible pavement in Egypt.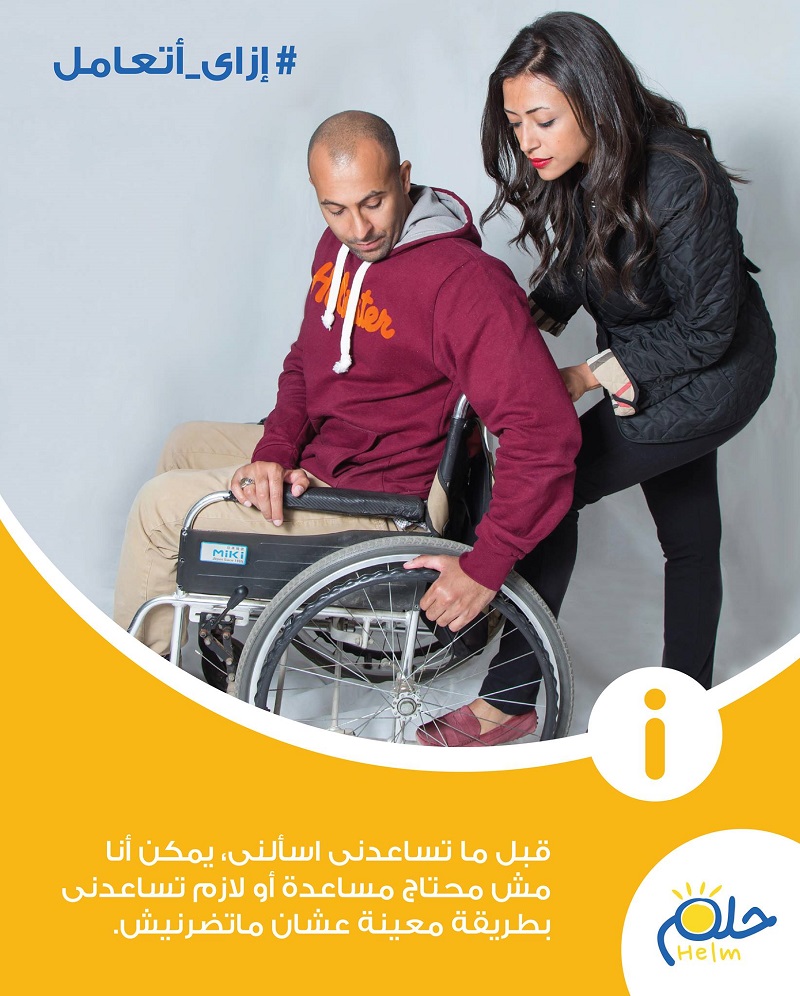 Via Helm
Moreover, the organization in partnership with Vodafone Egypt Foundation, launched Entaleq in March 2016. Entaleq is an interactive and easy-to-use Android and IOS mobile application and website. It was developed to help users navigate venues based on accessibility features that best fit their needs. The app now contains over 1,000 venues including schools, universities and even entertainment spots. All of these venues underwent accessibility checks by Helm's team.  H.E. Engineer Yasser El Kady, Minister of Communications and Information Technology, and H.E. Ghada Wali, Minister of Social Solidarity were among the attendees of the launch event. The ministers also awarded Helm among other organizations for making accessibility modifications.
The organization even went global! Founders, Amena El-Saie and Ramez Maher, were selected by the Japanese Cooperation Agency (JICA) o represent Egypt in a one-month training program in Japan. The program's title was "Improvement of Accessibility for Social Inclusion – Barrier Free Environment for All". Not just that, but the founders were also selected to represent Middle Eastern Entrepreneurs during the 2016 Concordia Summit which was held in New York City, USA. During that event, Amena El Saie was a speaker in the "Seeds of Change: Entrepreneurship for Development in the Middle East" panel. Moreover, they also participated in building learning partnerships in three cities in Brazil. Those partnerships were with some of the most prominent experts and foundations in the disability and accessibility field. They even had the privilege to attend the Paralympics during their trip.
Helm is considered a foundation that focuses on development rather than just being called a charity organization. Helm is an award-winning NGO as well, their first award proudly won was the first place- in Negma Social Entrepreneurship Competition in MIT, USA in 2013. In addition to this one, they were also awarded the Rise Egypt Fellowship, Harvard University, USA for the years 2015 and 2016. They're also certified by JICA, Japan in Barrier-Removal course in 2016. Not to mention that Helm was selected as one of 67 Global Innovative Practices for Zero Project by the United Nations in Austria in 2017.
Helm, along with Bassita and Drosos Foundation, launched a moving awareness campaign that promotes accessibility last October. #Accessibility_Matters garnered reached more than 10 million viewers on different social media platforms. The ad that was directed by the one and only, Amr Salama, featured superstars Menna Shalaby and Ahmed Malek.
WE SAID THIS: We hope that Helm succeeds at changing how the Egyptian society perceives disabilities.