Disney on Ice Rockin Ever After starts this week at the Dubai World Trade Center, but thanks to my life-long, Yasmeen El Mallah, we were the only grown-ups without children who attended the exclusive Etisalat preview.
Here's the "already-been" insider view of the show and why I am calling it "The Day of Awesomeness" in this #100DaysofMyDubai journey.
A Visionary Approach
Every story begins with once upon a time…
Three months ago, something happened that made me realize I'm not really a long-term visionary person who likes to plan ahead.
Except for anything to do with my work, Madonna's MDNA Abu Dhabi concert and my best friend's wedding, I've never planned anything earlier than one month prior. You see, I'm more of the spontaneous, let's-decide-as-we-approach-the-date kind of person.

So you can imagine my facial expression when an e-mail popped up on the 10th of June from none other than my close friend, the natural diva who accompanied me on Day One, @AhmedElGamal.
The content of the e-mail was literally the link to make the ticket reservation and one question: "What tickets are we getting?"
I thought he was joking. This was three months prior to the event – who does that? For Disney on Ice??? No babe, let's play it by ear.
I should've just booked. Better the devil you know than the devil you don't.
When I did not answer Ahmed with a confirmation, I saw another side of him – one that followed up daily for approximately 90 days (without any exaggeration – and I have a team of five who will happily confirm my story)!
And finally, on the 7th of September, I sent Ahmed a message saying, "Disney on Ice tomorrow? :)"
Every Girl Wants to Be a Princess
I hadn't seen my friend Yasmeen El Mallah in six years and I was really excited to be here in Dubai and finally get the chance to catch up with her.
Yasmeen is a "no one is ever too young for Disney" kinda girl and has been with Etisalat, the exclusive promoter of the event, for quite some time and could hook us up with invites for the VIP Premier.
We decided to attend the event and merge it with our reunion outing, hitting two birds with one stone as she lives in Abu Dhabi.
Honestly, this was the only reason I was going to go to the show – it's just not my thing – in addition to fearing Ahmed's wrath if we didn't actually end up going.
And as it keeps happening in my #100DaysofMyDubai journey, I was in for a surprise with two things that I completely underestimated:
1. Yasmin El Mallah is one hell of an influential!
2. Underneath all my pragmatism and cynicism acquired through time, there is still a cutie patootie who believes in fairytale endings.
A Pulse of Nostalgia
The day arrived and I was ready for Disney! Let's rock Ever After, baby!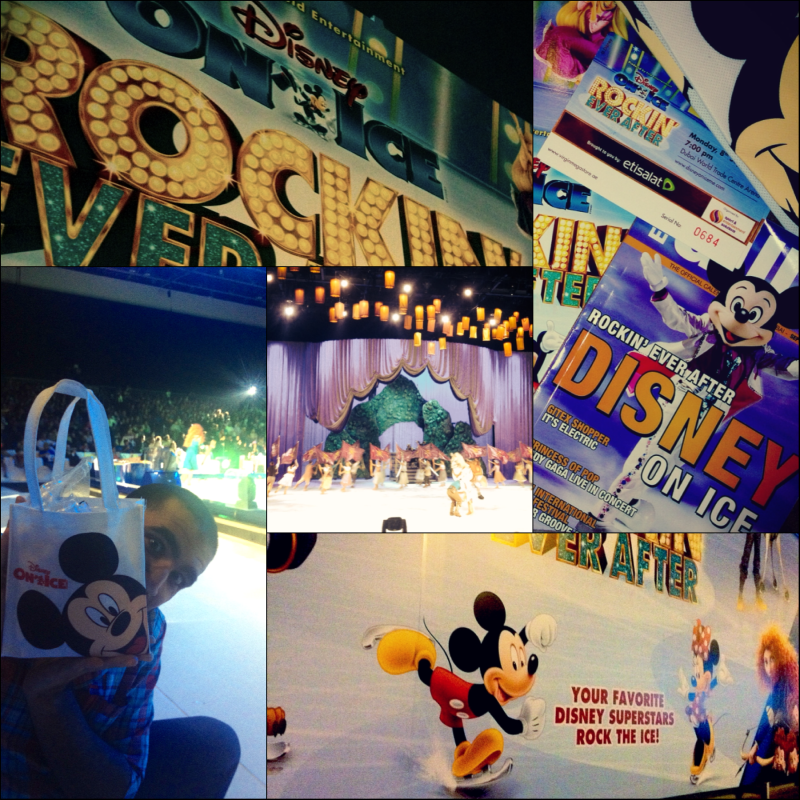 As I walked into the Dubai World Trade Center, I was flooded with childhood flashbacks and the excitement began!
You've probably been to a Disney on Ice show at some point somewhere around the world as a child. My experience was in 1997 at the indoor stadium of the Cario International Conference Center.
I remember: the heat was unbearable, tents surrounded us – one of them was for the annual book fair – a very positive spirit, my mother, the souvenirs corner…
Drowning in nostalgia at the Dubai World Trade Center, I was suddenly interrupted.
Ummmmm… Who is this!?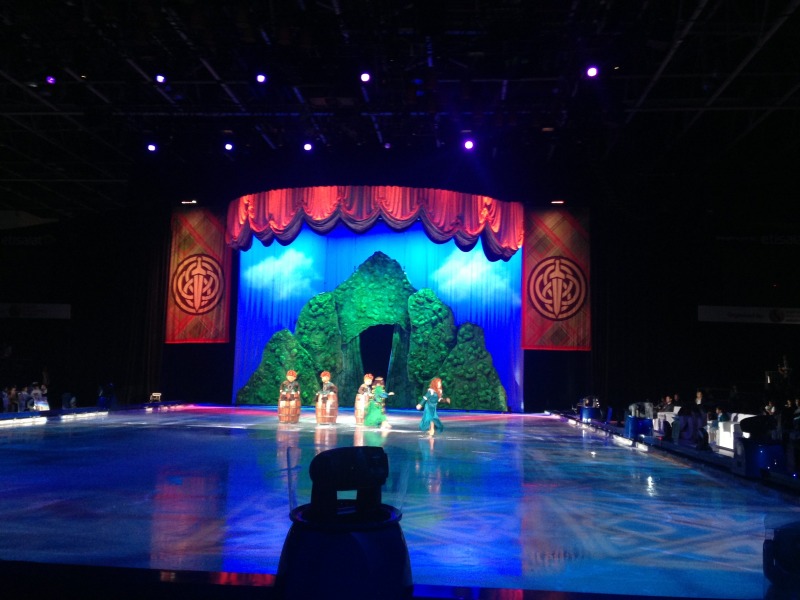 Ahmed, who looked at me like I came from the stone age, informed me, "That's Brave!"
I enjoyed the performance, but I wanted the stuff I knew! This is when I realized that the last Disney cartoon I watched (other than Toy Story) was Anastasia!
La Belle Et Le Bad Boy
It was time for Beauty and the Beast. I was beyond excited and my happiness was increasing by the minute, but it was nothing compared to my friends, who surprisingly still knew every single lyric to each song.
Belle's animation as she skates captures your attention completely. I was torn between watching the show and taking photos!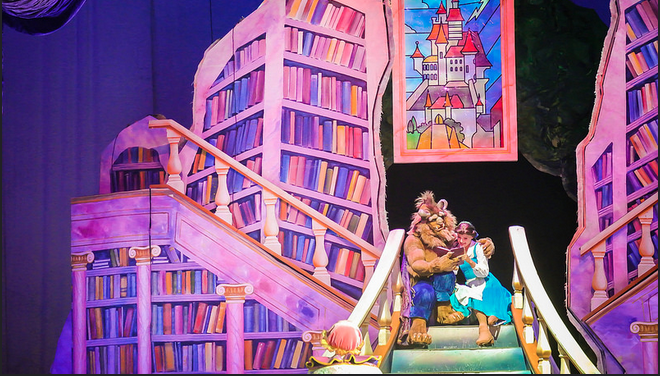 Then came the library scene – everyone's favorite part of the movie and show – which, I believe, is the one magical moment that defines Disney on Ice. It's the perfection of the actors, stage décor and the choreography of such a scene that makes its legacy ongoing, no matter your age.
And then it hits you that this show has witnessed generations worldwide of cutie patooties who still believe in fairtyale endings – 210 million to be exact.
That Belle right there, performing in front of you, is one of the reasons you've learned never to judge a book – or a beast – by its cover.
The Cherry on Top of the Very Sweet Pie
Since we were with "THE" Yasmeen El Mallah, we got the chance to meet Mickey and Minnie and take a picture with them!
Fact: Just to let you know the intensity of such an offer, here's one of the sexiest women in the world taking a picture with THE SAME MICKEY MOUSE who took a picture with us. #JustSaying.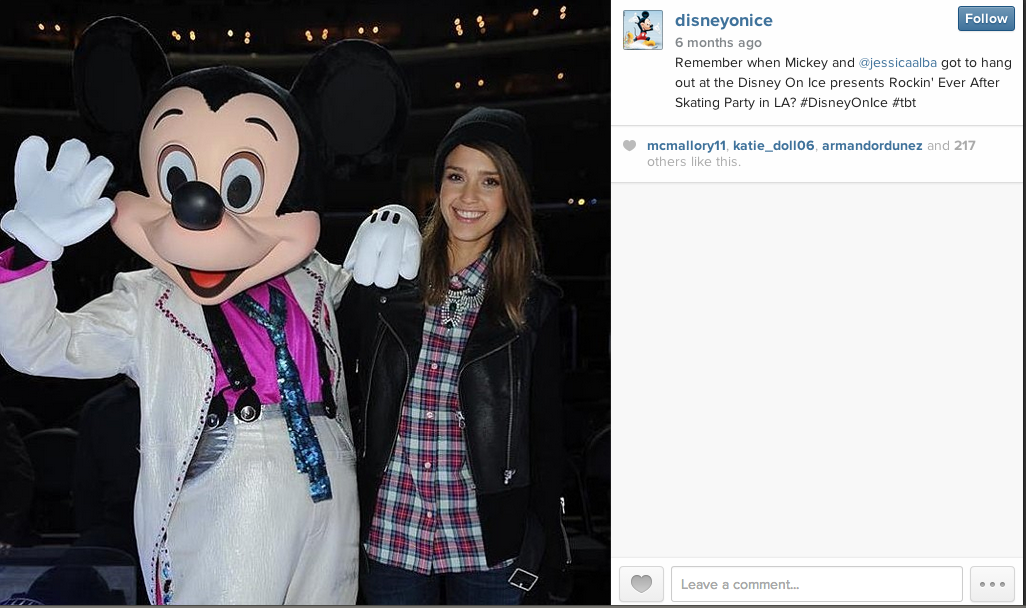 Happy Times!
'Nostalgia' literally means 'the pain from an old wound'. It's a twinge in your heart far more powerful than memory alone.

This device isn't a spaceship, it's a time machine. It goes backwards and forwards… It takes us to a place where we ache to go again.

It's not called the wheel, it's called the carousel. It lets us travel the way a child travels – around and around and back home again to a place where we know are loved." – Don Draper, Mad Men.
* To My Wonderful Mother, Randa Sabry, and the priceless moments she has given us growing up.
Tips & Tricks
Don't go an hour late. I missed out on The Little Mermaid and Rapunzel (aka Tangled). Apparently, everything in Dubai happens on time.
Watch Brave and Tangled before you go if you haven't already!
Don't over obsess on taking pictures – you will find a library online – and you will just miss out on the actual experience.
Park near McGettigan's as this is where the Arena is at, trust me you will avoid a very long walk!
WE SAID THIS: Catch up on Day 10 of Rula's #100DaysofMyDubai journey, when she discovers The Farm on her Endless Search for the Perfect Getaway.