You are on your way to work, then you catch yourself humming that old song, and remembering all its lyrics word by word, and you just keep on singing it like a small kid. And before you realize it, you spend the rest of the day at work digging up the old tunes that haven't been on your playlist since the MP3 players, that reminds you of the happy old times. That is one of the various special moments you've lived on your way to be a sophisticated citizen. From playing old melodies to taking out your old film photos and your favorite, now surprisingly, small shirt, or to revisiting your old hangout spots as a youngster. All these occasional special happy moments take you back into an enjoyable trip down memory lane.
But when "Vintage" is mentioned, we can't forget or overlook "Pepsi". With their recent vintage-themed campaign, Pepsi paved the way and knew how to reach the inner child inside every one of us. With its new Lovely song, Pepsi is taking us through its 70-years journey in Egypt with a remake of the ever-cool Samir Sabry's "Lovely" song, while mixing between all music styles from the times of the phonograph to the current convenience of our smartphones.
Even though the song's stars aren't grey-haired and haven't witnessed more than two decades of it, but they actually pulled off the best looks of these 70 years and made us reminisce all those beautiful times. The cool advertisement features Ahmed Malek, being talented as always and fitting naturally as the Pasha, and Mohamed Salem, who looks as if he was actually taken out from the times where pants were bigger than their hair-dos, and the beautiful Tara Emad, who slew every look as the sweat-heart of the ages.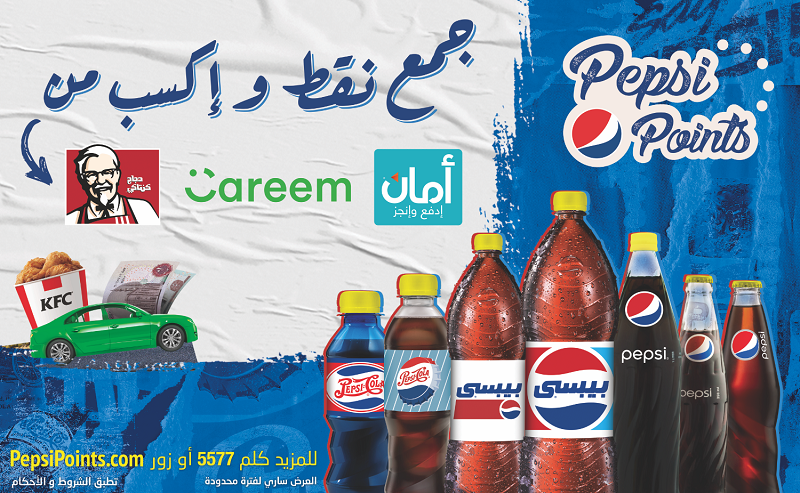 In a similar manner, Pepsi also introduced the biggest loyalty program of its kind in the Egyptian market to celebrate its 70 years anniversary; the Pepsi Points! The "Pepsi Points" loyalty program will have a points system that can be used via codes found underneath Pepsi yellow closure bottles that can be sent via SMS to 4430. Customers can redeem their points starting 25 or 50 points in exchange for meals from fast food giant "KFC", or rides from leading transportation company "Careem", or cash gifts service provider "Aman". This further shows that the enjoyment of Pepsi does not end with its last sip, but it extends to a rewarding meal or a free ride instead.
In case you missed it, Pepsi dressed their cans with their old looks from their earlier years in the market and reintroduced its iconic vintage designs, which kept us on the edge of our seats waiting for what they have in store next to us. Now excuse us, we're debating with a group of seniors about whether the 'Fro' and the Charleston pants are cooler than our 'spiky hair' and baggy pants!
Check out their latest ad, it's definitely hilarious!
عرض Pepsi Points مع دجاج كنتاكي

تاكل كنتاكي؟ KFCدلوقتي مع Pepsi Points ابعت الكود اللي تحت الغطا في رسالة على 4430 و هتكسب 15% خصم على وجبة دينربوكسوكمان هتجمع نقطجمع 25 نقطة واكسب تويستر ساندويتش او جمع 50 نقطة و اكسب وجبة دينربوكسللمزيد من المعلومات كلم 5577 ب1.5ج للدقيقة او زور موقع PepsiPoints.com#٧٠_سنة_لاڤليAhmed MalekMohamed Sallam – محمد سلام

Posted by Pepsi on Sunday, February 4, 2018
WE SAID THIS: This was one beautiful ride of nostalgia.