You're Ultimate Guide For a Perfect Mother's Day Brunch-Outing in Cairo
Intro
Now that the women's month had begun and soon Mother's day will come knocking on our doors, we always get really confused when it comes to taking our moms for an outing to reward them for being supportive and caring from the day we were born. And because we know that mothers enjoy nothing but relishing the fresh spring breeze in a sunny place, here are the top 10 brunch places in Cairo to reward your beautiful lady on her special day!
Ovio
Ovio offers a selection wide of premium quality dishes. We really don't know where to start; the rich quality Belgian chocolate pancakes, the mouth watering Eggs Florentine, the massive Ovio breakfast dish, or the aromatic Drip Coffee. Because it is undeniably true that all mothers care about the quality more than anything, then Ovio will exceed their expectations.
Battaw
Their wide selection of mouth-watering oriental breakfasts is certainly to die for.
Marny's Bites
If your mother has a sweet tooth, then this is the perfect place for her. Simply, we recommend every dish they've got on the menu, from the golden crispy churros to the S'mores Waffle, AKA a puffy ticket to cloud nine!
Eish + Malh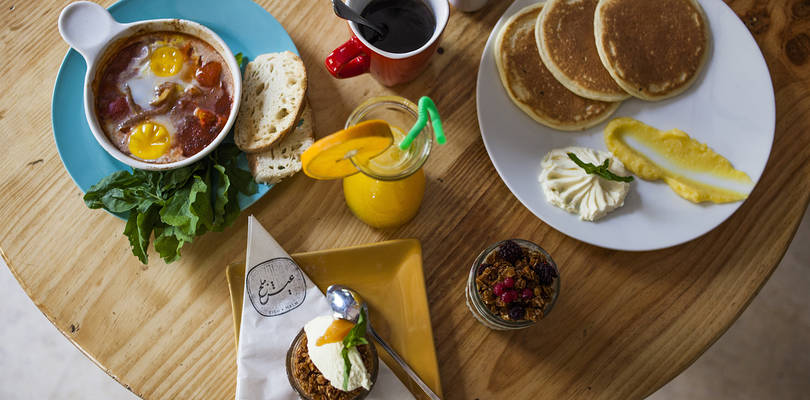 We can not say more other than it is a must try! The brunch menu suites every taste, not to mention the G.E.N.I.U.S location … Downtown, Cairo's jewel and every mother's nostalgic hot spot for sure!
Dix Neuf
A piece of the magical Champ-Elysee landed safely in Dokki streets! This "French Experience" is really worth it; Scrumptious food and the excellent hospitality will score you a perfect and innovative outing for your greatest MAMA!
Lucillie's
I understand that some mother's prefer spending the day in rather than going out to celebrate, actually Lucillie's is one of the few places in Cairo that posses a cozy atmosphere just like your home! In addition to the authentic american dishes presented in quite large portions with relatively reasonable price. Make sure you try their pancakes!
Andrea El-Marioteya
Here's to another nostalgic venue, Andrea Al Mariouteya will never force you spend eons like the golden days back then! The new venue is simply EVERYTHING, it is right on top of the well-known New Giza mountain peak were you can enjoy the breath-taking view and the original taste of the signature "Beed Bel- Basterma" and the fresh "Feteer Meshaletet"!
Left Bank
The Left Bank simply shouts "Superb continental brunch dishes" and "Tranquil Nile view". The Zamalek jewel is simply the perfect getaway for the entire family!
WE SAID THIS: This should never stop you from getting your beloved lady a gift though!