Your Ultimate Guide to a Non-Cliché Dish Party
Via American Institute for Cancer Research
The holy month of Ramadan has arrived and as the first week is over, that means one thing, it's dish party season!
Since food is a major cornerstone in Egyptian culture, we take Iftar and Suhoor menus seriously. Family gatherings normally take over week one and as soon as week two hails upon us, your schedule is automatically filled with more Iftar sessions with your friends. But just like you sometimes get invited to a friend's place, an extra long guest list normally leads to the popular alternative of the famed "dish party".
Due to its growing popularity dish parties tend to fall outside of the creativity bubble. People tend to slack when it comes to thinking of new dish options to bring, or worse, to spend an hour or so in the kitchen. Forget about the traditional chicken tenders and Macarona Béchamel, because someone is getting them anyway! Oh, and leave the drinks and chips to the single dude who doesn't live with his parents and has zero cooking skills. Also, in order not to end up with desserts twice as much as the main course, better leave that to the other single dude. I mean, how many Kunafa trays do you really need?
So, to put this dilemma to an end once and for all, here are 15 other options that you can bring to a dish party:
Salad
Not just that your healthy eating friends will be grateful, but everyone loves some salad on the side. Be it Lebanese Fattoush, quinoa salad, potato salad, or a typical green salad, easy to make and hydrating after a long day of fasting.
Onion rings
Appetizers are essential, besides the favored Sambosas, onion rings are definitely an unconventional option on a Ramadan table.
Spring Rolls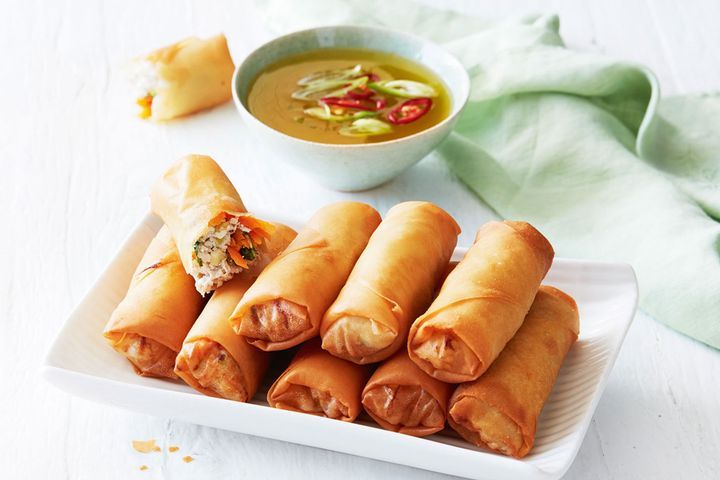 Speaking of appetizers, spring rolls are pretty popular but often forgotten. Light, crunchy, and delicious, it's an easy safe option for sure.
Condiments and dips
Barely crosses anyone's mind, yet very essential! Bring along a bunch of condiments from the supermarket, or even better, prepare some delish dips at home.
Soup
A Ramadan Iftar is never complete without soup. Instead of leaving it for the host, get creative and bring a warm bowl of soup that'll definitely soothe the process of everyone breaking their fast.
Molokheya
Whether you're team rice or the famed "wedn otta", Molokheya is surely a new addition to the dish party scene that everybody will indulge in.
Tajine
Keep your table authentic and go for a hot filling tajine of your choice. Veggies or protein-fueled, it's always a go-to.
Pasta
There has to be a secret for Egyptians insisting on bringing a pyrex of macarona béchamel to a dish party. Well, the pasta world is super wide my friends; fettuccini, bolognese, lasagna, or simple pasta with tomato sauce and basil, you name it!
Mac n Cheese
Speaking of the pasta world, this one deserves a section of its own. Mac n Cheese is nothing close to cliché. If you've never mastered your cooking skills, you can always buy easy-to-make packs from the supermarket.
Cordon bleu
The second cliché of all clichés? Chicken tenders. Forget about that; level up and bring the fancier cordon bleu.
Rice
Brown rice with nuts and raisins, curry rice, or the classic rice with vermicelli, a dining table never misses the filling side dish and it definitely shouldn't be ignored on a dish party.
Sweet and Sour Chicken
A fan-favorite when it comes to Asian cuisine in Egypt; no one would say no to the dish.
Grilled Veggies
There has to be a bunch of friends in your group that are trying so hard to stay healthy during Ramadan, so let's not forget about those. A nice platter of grilled veggies is a great option, plus, it's delicious anyway!
Shawerma
EVERYBODY LOVES SHAWARMA! Literally everybody! All your friends will thank you for it; whether you prep at home or simply pass by the neighborhood's most popular Syrian place and buy them a dozen wraps.
Fatta
A Typical factor of the Arabic dining table. Nothing goes wrong with Fatta, be it Egyptian or Syrian!
WE SAID THIS: There's an organized friend in every group; he/she definitely won't mind making a list of who's bringing what.