Women in the modern Middle East are highly influenced by many factors; customary laws, imported European laws, and reformed versions of Islamic laws that have definitely affected women in the Middle Eastern legal systems. Unfortunately, the status of women hasn't been settled in any of them. It's important to recognize that the issue of gender equality and the phenomenon of sexism, as well as misogyny, are global, not particular to Islam or the Middle East.
Despite all of these gender-related problems in the Middle East, women are slowly, but surely, gaining positions of power not only in their workplace but also in the government. And regardless of the stereotypical powerless image that has been imposed on them, more women are breaking down taboos and gender barriers.
So, without further ado, here's a list of some remarkable women in the Arab world.
Sheikha Lubna Al-Qasimi
She's the UAE's first female minister. Back in 2004, she started her first governmental serving when she was appointed as the Minister of Economy and Planning. Later, she served as the Minister of Foreign Trade, however, she's currently heading the office as the Minister of Development and International Cooperation.
Sheikha Loubna's background lies in IT, receiving tremendous recognition for developing a system at Dubai's Airport. In 2000, she also founded "Tejari", the Middle East's first b2b marketplace. This company is now one of Dubai's most successful units that has many franchises across the region.
Reem Al-Hashimi
In 2008, Her Excellency joined the Federal Government serving as the Minister of State where she had a vital role in dealing with numerous of the UAE's foreign and vibrant issues. Ever since her appointment, she managed the International Affairs Office of the UAE's Prime Minister, Mohamed bin Rashed Al-Maktoum himself.
In addition to holding positions in being the chairperson of both The Federal Competitiveness and Statistics Authority as well as Dubai Cares. Currently, she's proudly running her position as the Minister of State for International Corporations.
Raya Al-Hassan
The prominent Lebanese politician became the first woman in Lebanon to be appointed as the Minister of Interior and Municipalities in January 2019. Formerly, she used to be the Minister of Finance in 2009, but her tenure ended in 2011 and was succeeded by Mohamed Safadi. The Interior Minister has proven her efficiency and capabilities, she acknowledges the amount of pressure she has to deal with on a daily basis just because she's a woman. However, she continues to be a role model proving that women in positions usually held by men can do the job as well, if not even better!
Queen Rania
Rania Al-Abdullah is the Queen of Jordan. Since her marriage to the current king of Jordan in 1993, she became known for her humanitarian initiatives and advocacy for various societal sectors in Jordan and beyond. That includes education, health, community empowerment, youth, cross-cultural dialogue, as well as microfinance. Over the past few years Her Highness has launched, championed, and several sponsored initiatives on education, as well as learning!
Nabila Makram
Egypt's Minister of Immigration and Egyptian Expatriates' Affairs has introduced several initiatives across the region in order to connect the Egyptian diaspora to its culture. Also, to link the Egyptian traditions and values to other cultures, the minister organized several programs for the Egyptian youth who live abroad to visit the country and become more familiarized with their history.
Sahar Nasr
She assumed her role as Egypt's Minister for Investment and International Cooperation in 2015. And since then, Dr. Nasr has made strides to restructure and reform the ministry. Like the establishment of a unit for monitoring and evaluation, as well as policy development, and a unit for strategic planning in order to increase the efficiency and effectiveness of the path to developing Egypt.
Rania Al-Mashat
Rania Al-Mashat is the new Minister of Tourism in Egypt. She was assigned to this role in 2018 and the first woman to hold this position in the country, as a leading expert in monetary policy and international economics. Since she graduated from AUC, Al-Mashat has worked with many of Egypt's distinguished international financial institutions.
Shamma Al-Mazrouei
She's an Emirati politician who is currently serving as the Minister of State for Youth Affairs in the UAE. Two years ago, back in 2016, she became the youngest member in the UAE cabinet. She was one out of eight women in the 29-member cabinet and the youngest minister in the world! She was actually appointed after a tweet that Al-Maktoum wrote asking the UAE's universities to nominate a young person to take the role.
Sheikha Mozah Bint Nasser
She's the consort of Sheikh Hamad bint Khalifa Al-Thani; the former prince of Qatar. Since the 1990s, Sheikha Mozah has launched many initiatives on education, and social reforms, also, she founded numerous national and international development projects. She co-founded and chaired The Qatar Foundation for Education and the Science and Community Development back in 1995.
Safaa Al-Hashim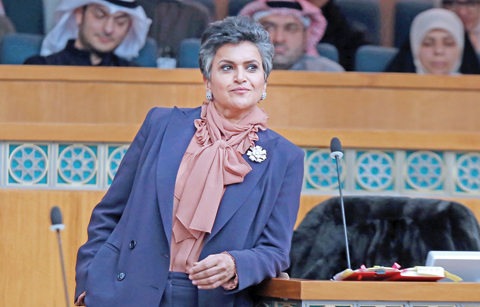 A fierce elected Member of the Parliament and the only woman that is elected to the Kuwait Parliament consecutively, right after when women re-gained their right to vote back in 2005. Before entering politics, Al-Hashim worked for the Ministry of Higher Education.
Later, she began working for many private campaigns and started advantage consulting in partnership with private campaigns like Kuwait Projects Company and the Gulf Investment Bank of Bahrain, which eased the path to her current powerful and influential position.
Samira bint Ibrahim Bin Rajab
A Bahraini politician, a former member of Majlis El-Shura, and the former Minister of State for Information. Before becoming a member in the upper house of the National Assembly, she used to be more involved in journalism and political analysis. In 2016, The Arab Information Ministers Council recognized Rajab to be one of the most prominent Arab media figures!
Souad Abderrahim
Souad is a Tunisian politician who was elected in 2018 as the Mayor of Tunis, Tunisia's capital. Also, she's a member of Al-Nahda Movement and the first woman in her country to serve as Tunis' mayor. Souad didn't start her political activities until after the Arab Spring revolution when she was elected as the Constituent Assembly of Al-Nahda in the representation of Tunis. Last year, in the municipal elections of 2018, Abderrahim was Al-Nahda's main candidate for the City Council of Tunis.
Hanan Ashrawi
Hanan is a Palestinian legislator, an activist, and a scholar. She was an important leader during the first Palestinian First Intifada, where she served as the official spokesperson for the Palestinian Delegation during the Middle East peace process. Ashrawi has also been elected more than one time to become the Palestinian Legislative Council. It worth mentioning that she's the first woman to be elected to such a position.
Nabila Mounib
A prominent Moroccan politician who is currently serving as the General Secretary of the Unified Socialist Party, that she was affiliated with them as early as the 2000s. Mounib is the first woman to be elected as the head of a Moroccan party! In 2012, she was elected as a lone candidate; General Secretary of her party, overcoming so many barriers that Moroccan women couldn't break through until that moment.
Louisa Hanoune
Hanoune is the head of Algeria's Working Party. Back in 2004, she was the only woman in the history of her country to actually run for Presidency! In 2010, she joined a women's rights movement calling for the revoking of Algeria's Family Code on the grounds of its failure to provide adequate policies to protect women, as well as children. Hanoune has managed to set the perfect example of a true feminist; a fighter that won't let any societal barriers stop her!
WE SAID THIS:  "The battles over women's bodies can be won only by a revolution of the mind" -Mona El-Tahawy