"Rise of The Entrepreneurs" is an event that was scheduled to take place on the 14th of December in the Cairo International Stadium! The event made a huge buzz and most news portals talked about it for several reasons; mainly because the Wolf of Wall Street, Jordan Belfort, was set to participate in the event.

The prices of the tickets were costly; ranging from 890 to 3,500 LE. However, many bought the tickets because they believed that they will benefit from international trainers Dan Andersson, M. Waqas Suhail, and of course, the Jordan Belfort!
The legendary stockbroker, however, posted a shocking post on his official Facebook page!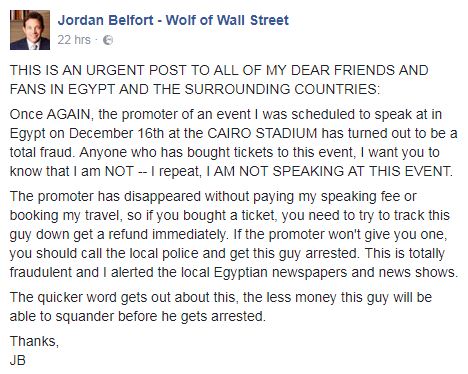 If you found his post TLDR, here is the summary of it: Jordan Belfort is warning people from the fraud event and asks everyone to turn in the promoter! We hope to be updated soon with what will happen to the people who bought the tickets.
WE SAID THIS: We're disappointed, but not surprised.