By Muhammed Aladdin
Situated on the southernmost tip of the Sinai Peninsula, Sharm El-Sheikh is one of Egypt's leading touristic hubs. Until 1968, the city of peace had been nothing more than a quiet fishing community, but in recent years, with the construction of a myriad of hotels, it has become popular with tourists from all over the world.
Prior to its gentrification, the city was a port, however, with the introduction of restrictive environmental laws in the 1990s, commercial shipping was greatly reduced, thus, preserving Sharm's environment significantly.
Over the years, the city has become a center for many of the country's international conferences and diplomatic visits, further promoting its status as one of Egypt's leading cities.
Here is a list of the many amazing things that can be done while in Sharm El-Sheikh:
Watersports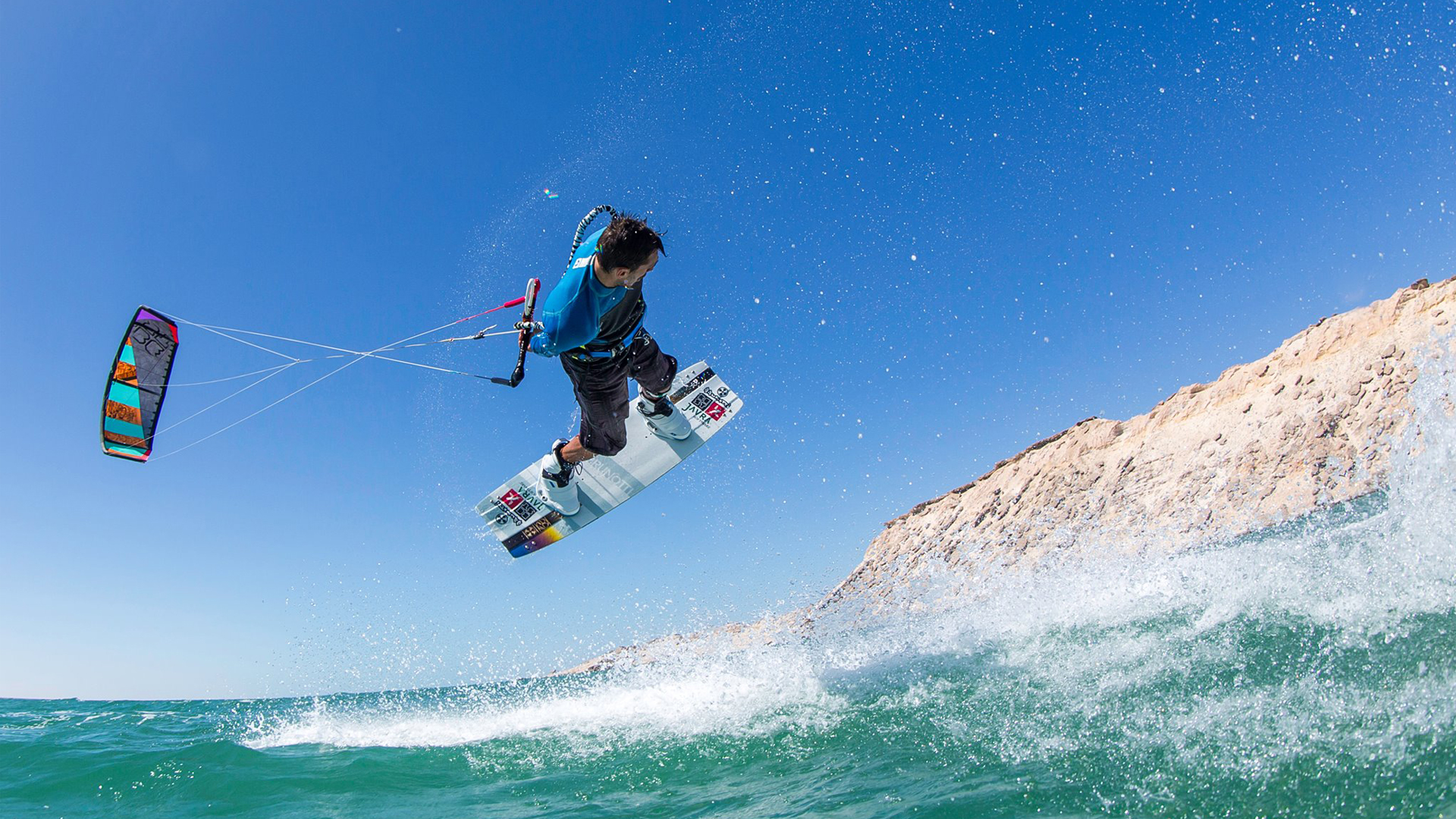 From kitesurfing and windsurfing to waterskiing, Sharm El-Sheikh is Egypt's capital for watersports. You name it and a resort in Sharm will definitely have it. And, even if you are not a confident swimmer, the city has plenty of glass-bottomed boat trips, so that you wouldn't miss out on the life-changing experience.
The Red Sea is one of the most diverse marine ecosystems in the world, and by going scuba diving in Sharm El-Sheikh, you get the first-hand experience of such magnificence, where colorful coral reefs, playful clownfishes, and scattered shipwrecks can be seen.
Ras Mohamed National Park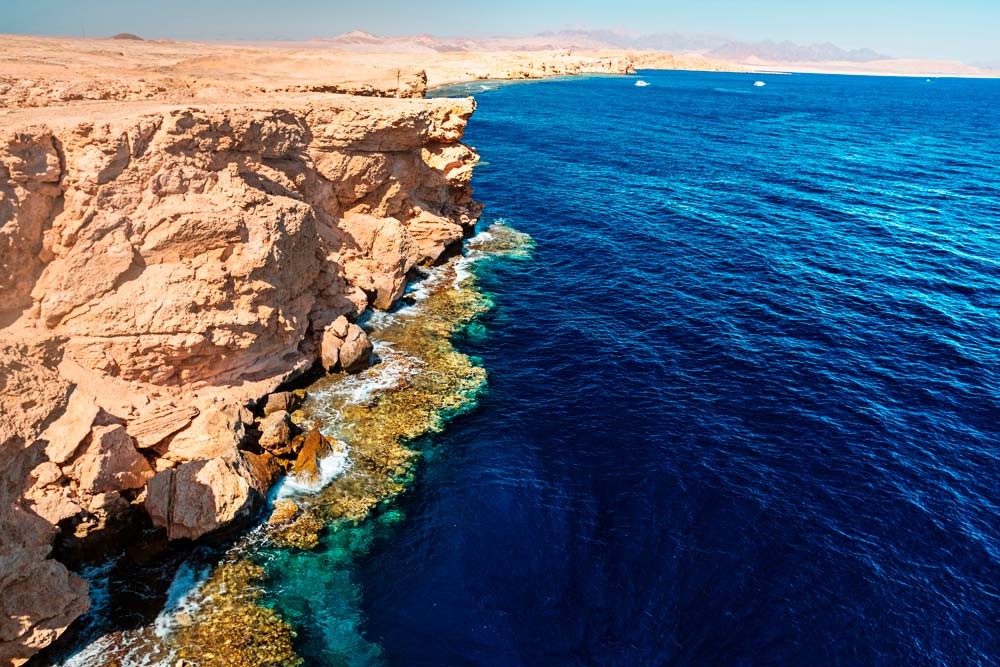 With an area of more than 480 square kilometers, Ras Mohamed National Park is Egypt's first protected area. It is home to 1,000 species of fish, 150 species of crustaceans, and several sea turtle species that roam beneath the water's surface.
The national park is famous for its deep blue waters, white-sandy beaches, and untouched deserts with a myriad of diving and snorkeling centers that must be visited.
Na'ama Bay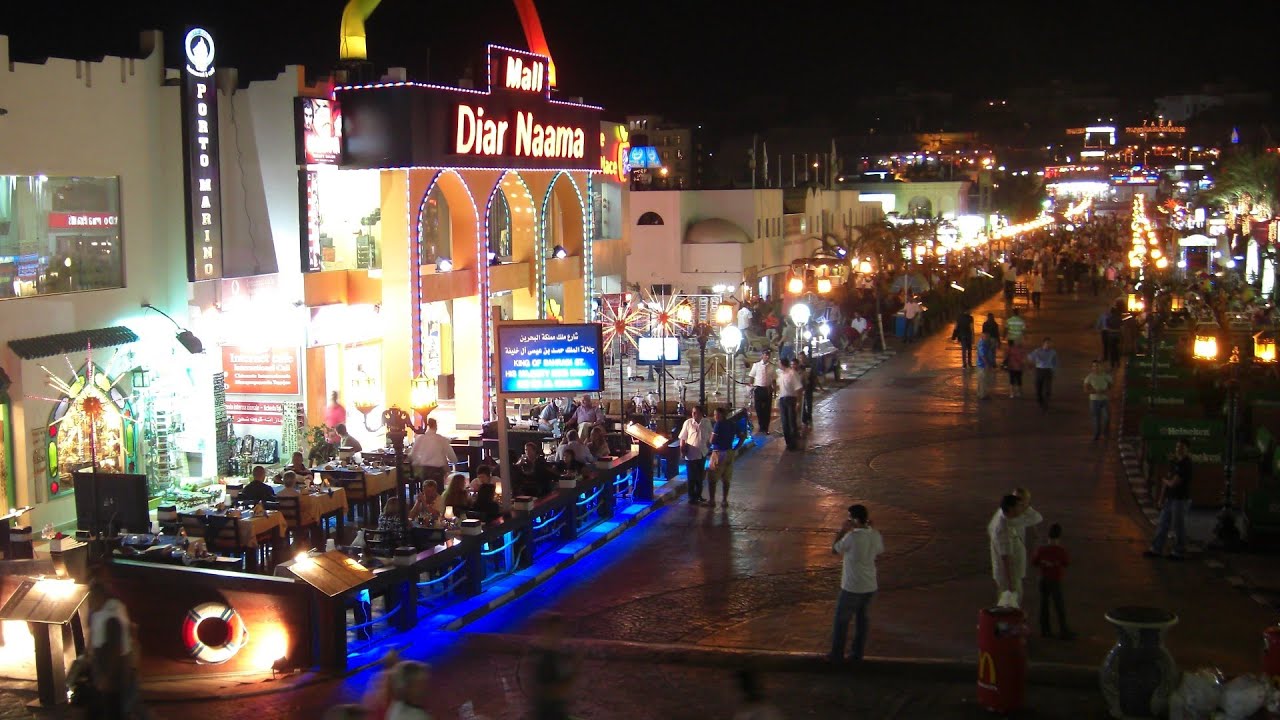 With many foreigners, as well as locals, taking up permanent residence there, Na'ama Bay has become the diverse, cosmopolitan center of Sharm El-Sheikh. It is the soul of nightlife in Sharm El-Sheikh, and the cornerstone of the city's action.
In the heart of Sharm El-Sheikh, Na'ama Bay is a fun, relaxed destination that gives out a Mediterranian vibe seen nowhere else in Egypt.
Aqua Blue Water Park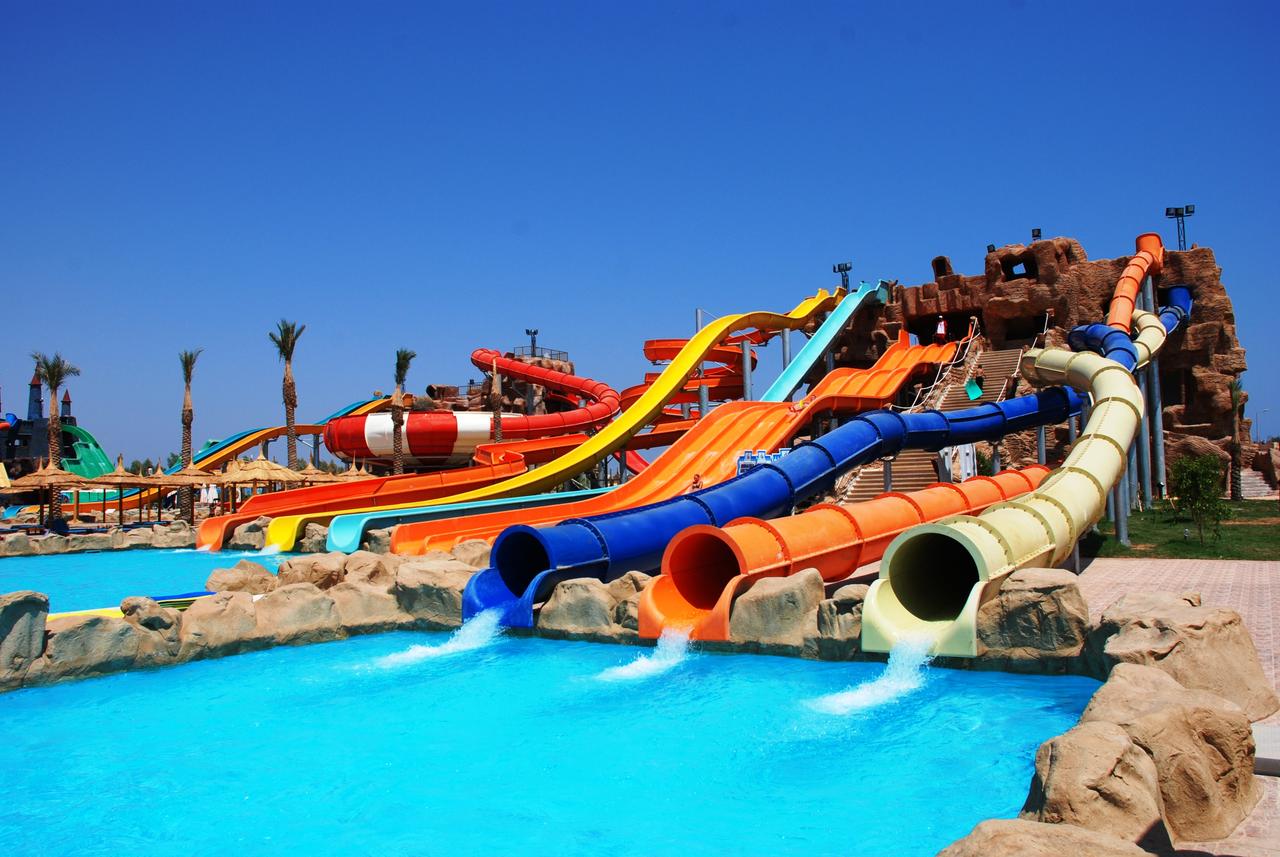 With a wide array of slides, games, and pools, Aqua Blue Water Park is the ultimate family retreat if you are traveling with little ones. The watery paradise is home to slides like Kamikaze and Black Hole that will definitely get your adrenaline levels up. Moreover, there are plenty of smaller slides for those under 12, guaranteeing a day full of fun.
Al-Mustafa Mosque
With two towering minarets and an intricately-carved dominating dome, Al-Mustafa mosque is one of South Sinai's most prominent mosques. Completed in 2008, the mosque is a masterpiece with its beautifully-complicated Islamic architecture, it is also considered to be the city's religious center.
The Heavenly Cathedral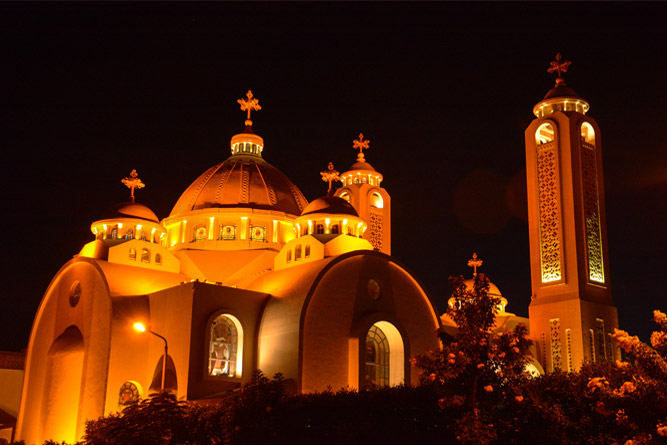 Voted for as one of the world's ten most beautiful churches in 2010, The Heavenly Cathedral is Sharm El-Sheikh's newest and largest Coptic church. It features Biblical scenes from the Bible such as The Creation and The Exodus painted in frescos and murals; the most famous of which is St. John's Apocalypse staring down on worshipers from the ceiling.
The Heavenly Cathedral is located at Hay Al-Nour District, not far from Al-Mustafa Mosque's two minarets, in a statement of the unity of the Egyptian people.
The Old Market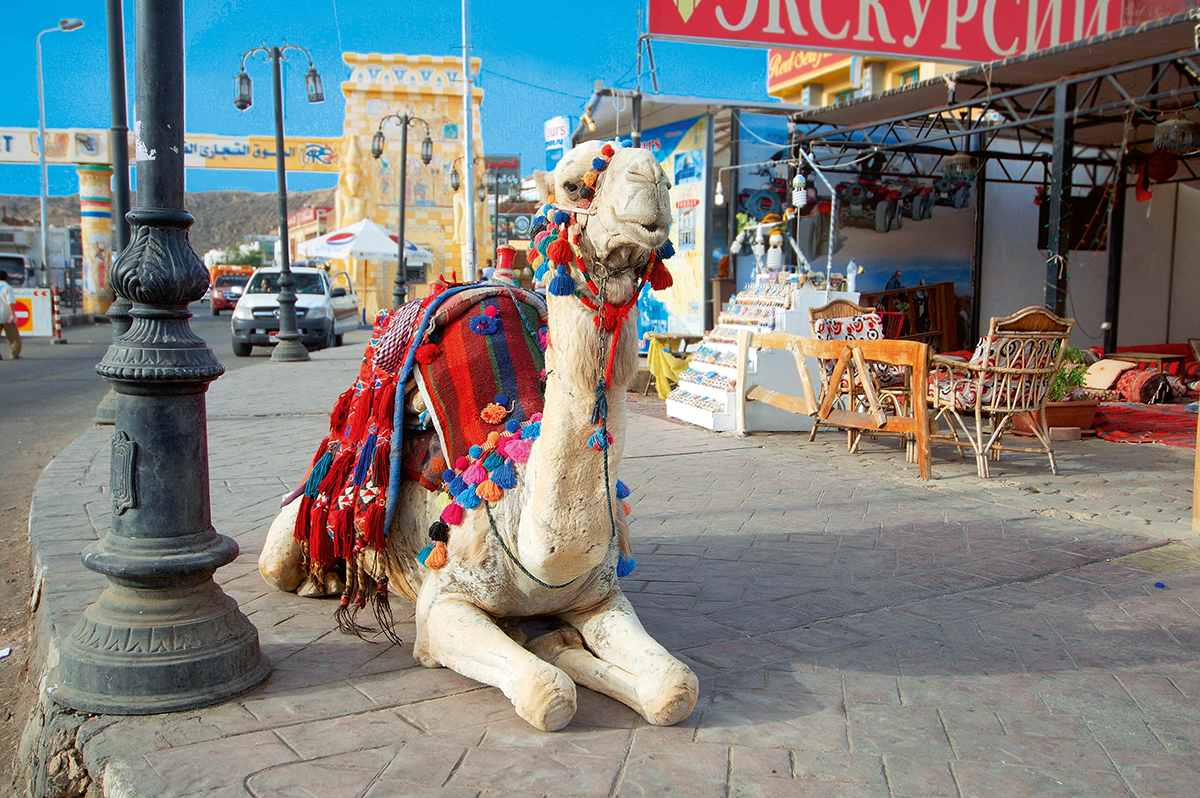 Rich in culture and history, the Old Town of Sharm El-Sheikh, popularly known as The Old Market, is Sharm El Sheikh's heritage center with colors, sounds, and scents so vast and varied, immersing visitors in a wholesome atmosphere.
The Old Market is popular among tourists and locals alike for its herbs and spices to the point where most spend hours haggling with the shopkeepers about prices.
Nabq Bay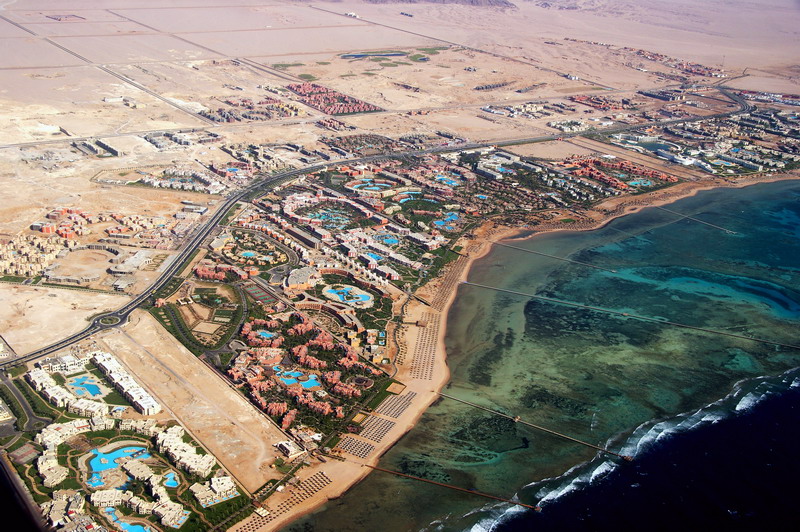 In 1992, for its unique, diverse wildlife and geological formations, Nabq became a protected area under Egyptian law. The city within the city has a beach formation with nothing like it in all of Egypt with a kilometer of shallow, ankle-high water followed by a sharp drop off.
It is a quiet part of Sharm El-Sheikh with many hotels and beautiful beaches, where you can swim with fish or dive to see the coral reefs. Nabq's desert is an awe-inspiring hiking destination that proves that even in the most desolate of places, Sharm El Sheikh is beautiful.