Just in time before summer runs out, Roam Egypt reminds us that the cerulean sea and the enchanting area of Marsa Matrouh still lies waiting with all its hidden gems galore. Roam Egypt touched down on Marsa Matrouh, the land of electric blue waters, of history, and of serenity, redefining the area and reshaping the journey of this beach paradise. We had a chat with Taimour and Raouf who gave us the ultimate breakdown on the must-sees and bonus tips when out and about in Marsa Matrouh.
Straight from the top of the list are the beaches of Beausite, Ageeba, Obayed, Shat El Gharam (also known as Laila Mourad's beach), and Laguna beach which stood firmly on top in regards to venturing out into the shockingly blue waters and sinking your feet into the pure white sand. Although most of these pristine beaches are public, a few require an entrance fee.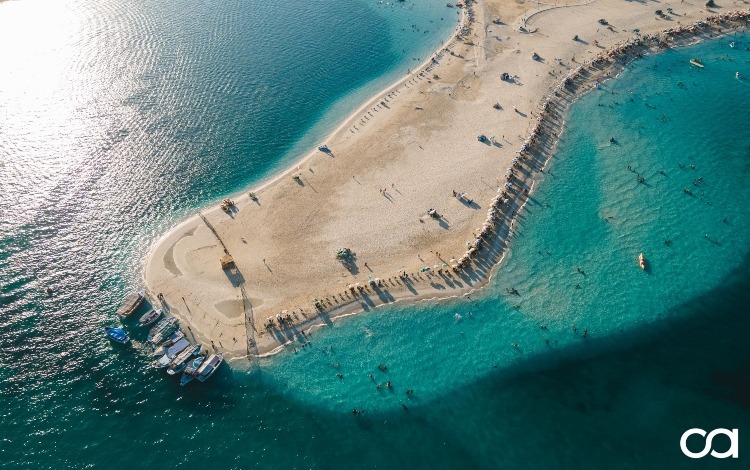 In addition to that lies a shipwreck floating timelessly on the coastline as you approach Saloum, approximately 40KM West. Egypt's seas are filled with many shipwrecks that transport divers and snorkelers into another forgotten world beneath the sea. As for this though, there is no need for any equipment. Simply sit on the rocks and gaze into the tilting ship amidst the deep blue.
For those seeking an adventure and for the history buffs out there, make sure to drop by Rommel's Cave and museum and expect to enter a time warp, as Nazi-era paraphernalia lie within the depths of the cave of one of Germany's top World World II military generals, Erwin Rommel.
In regards to suggestions on where to stay, Roam Egypt graciously dropped us some names on this matter.
Beausite Hotel
Belle Vue Hotel
Carols Beaurivage
Jewel Matrouh Hotel
Now, let's talk about food, as anyone should. How much would meals generally cost? Be it for budget-friendly places and/or luxury dining, Roam Egypt gave us a quick breakdown on what to expect in this regard. If you're planning on eating in some of the finest BBQ and seafood places, the standard price ranges between 100-200 EGP per person. Since we're still in Egypt though with all its unique assortment of street foods, the average price is 10 EGP, so make sure to choose your hungry friends wisely. The liver there is prepared in a unique way, leaving traditionally non-liver lovers to make way for a new addition of appetites in their lives. Mashweyat Coco, Magdi & Brothers, and Kamonna were amongst several recommendations for some good ol' dining and grills. But what comes next after a big hearty meal? If you haven't thought of ice cream, now is the time to drop by Jeelaty 3azza and kickback on those ice cream cravings that are dying to be silenced. But don't forget to drop by Ma7maset El Nasr (with the Roman flag) for some basic yet exceptional sunflower seeds for the road, the beach, or wherever you endeavor throughout your stunning escapades in Marsa Matrouh.
If you're in the mood for some good old koshary, 15 EGP will suffice for a full tummy. Again, choose wisely for friends who can chomp down koshary like there's no tomorrow! Now that your meals are done with, it's time to chill out and sip on the distinctive Libyan bedouin tea after it brews in the metal pot. With each sip of the tea leaves imprinting a memory into your system, know that you can pay homage to Marsa Matrouh and all that it entails for eternity.
Since summer is still lingering, make sure to add these spots to your bucket list and travel like Roam Egypt!