We Sat Down With Khaled Anwar and Mayan ElSayed, the Stars Behind Kaeno Embareh's Leading Love Story
Via Khaled Anwar
By Nouran Samer
Unless you've been living under a rock, you must have heard about the latest series, Kaeno Embareh, taking Egyptian TV by storm. The series is known for its many plot twists, as well as its multiple love stories. However, there is one love story, in particular, that seems to stand out and has already rightfully claimed the title of #RelationshipGoals. Yes, we're talking about Marwan and Laila's love story that is probably bombarding your Facebook feed at the moment.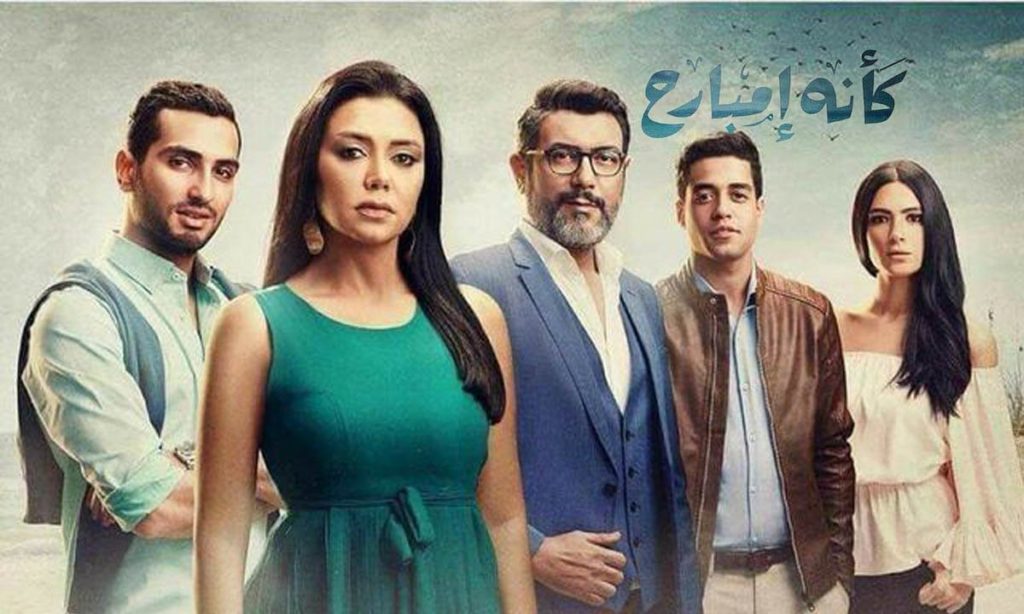 Khaled Anwar (23) and Mayan ElSayed (21), who play the roles of Marwan and Laila, are still students; Khaled is studying Acting and Directing at the Institute of Theatrical Arts, while Mayan is doing a double major in Theatre and Film at the American University in Cairo. Although both Anwar and El Sayed had their respectable share in previous projects, like Mayan's role as Yasser Galal's daughter in Zel Al Raeis or Khaled's character "Treka" in Haza Al Masaa', the sizes of their characters in Kaeno Embareh were significantly larger and more influential. Khaled played a well-off university student, Marwan, while Mayan portrayed the role of Laila, an ambitious art student who also happens to be the niece of Marwan's housekeeper.
To prepare for the role, El Sayed said that she started looking for the things her character loved. She went on to explain that; with the help of her friends and some YouTube videos, she started to draw and doodle a lot even though she wasn't artistic at all previously. She also frequently visited Ain Shams, the area her character was living in and read multiple books in psychology and especially those related to kids. The one thing El Sayed struggled with was bringing out the romantic side of herself to match Laila's character.
As for Anwar, he wanted to achieve a goal with this role, which was to prove his abilities as an actor, by transforming from his previous character Treka in Haza Al Masaa into Marwan, who could be described as the total opposite. He also mentioned that he wanted to open up the door for young adults by showing that someone his age could do a great job at a leading role. When asked if he thought Egypt could be creating more opportunities for young actors, he replied by saying, "I think lately in Egypt many projects are depending more and more on the younger generation and that's because whenever they are given a chance, they do prove themselves. Which again, opens up more opportunities for the younger generation."
An interesting factor in this young couple is not just their story which we will come to shortly, but the fact that both characters had a lot to offer, individually.
El Sayed described Laila as a very independent and ambitious girl that worked as a nanny while studying, but always had a goal of working as a graphic designer and marrying someone from a good social class. She also added that Laila did not see herself as "less" than anyone, but she was confident that she was very well educated and could lead a normal life just like anyone else. Additionally, she mentioned that she's learned a few things from her on-screen character like tenderness, romance, and simplicity. "I also loved Laila's strong sisterly bond with her cousin, which made me become even closer to my own sisters," she added.
On the other hand, Anwar saw Marwan as an extremely honest, smart person, who likes to be distant but is also very sensitive at the same time. He also highlighted one of his character's biggest struggles, which was his mom's absence that left him longing for attention and tenderness from her. "Everyone has a personal problem that could potentially change their lives once resolved. Marwan's was his brother's absence and the attention it took from him, especially when it came to his mom," he elaborated. He also reflected on a scene between Marwan and his sister, Lina, where he explained that he doesn't hate his brother, but is merely just waiting for him to show up so he could get to know him instead of just live in his shadows.
According to the actor, one of the major turning points in Marwan's character was when he started warming up to his brother, Aly, as he had always wanted to have someone to have his back just like Aly eventually had his.
Although not a personal problem, but ElSayed's role as Tamim's nanny was able to shed light on a very important topic, namely bullying. When we raised this point, ElSayed replied by saying, "I just got goosebumps from your words because I was actually bullied as a child." The actress added that as a child, she was not very sociable and didn't have any friends at school. That was a problem that she silently dealt with until her teacher one day decided to help and that's when Mayan started to make lots of friends at school. "In the series, I tried to relate to Tamim, but his main problem was also his parents, who constantly punished him instead of trying to listen to him or to find the root or cause of the problem."
Now onto the important love story between a well-off guy and his housekeeper's niece doesn't sound like a traditional one, especially in a society where class differences play a significant role. So the question is, would Marwan and Laila's love story actually make it in real life or is it merely a fairytale?
"They always say a rich guy can't marry a poor girl or the opposite, but we challenged that with a very believable love story," Anwar answered.
"I personally don't think that anything is impossible," ElSayed added. However, she remarked that now in our society the general thought is to marry "someone like you," meaning you shouldn't be with someone from a lower or higher social class than you. At the same time, Mayan thinks that in the presence of love anything else should fade away. Anwar also seemed to agree, adding that of course people should fight for their love with complete disregard to any social differences.
Wherever you stand on this topic, it seems that both actors have done a great job making this story believable, that even a rumor emerged that they got engaged in real life! Mayan notes that this was ironic to her as she had actually struggled with the romantic scenes and was merely relieved when she found people believing in Laila and Marwan's love story and loving it. "But then they started saying this can't be just acting they must be in love in real life. So it kind of came in levels until one day they said that we were engaged and I found my friends' moms calling me and congratulating me," she stated. At this point, Mayan decided to shut down the rumors by posting a video with Khaled Anwar, where she fake proposed to him with a candy worm.
As you can see, the feedback these two have been receiving has been extraordinary. Anwar believes that the reason for this is that those who watched it when it first aired in February were posting a few clips here and there. So, everyone was kind of looking forward to finally watching it on an Egyptian channel and that's when the views just sky-rocketed. ElSayed agreed, stressing on the huge impact the channel has had not just on the series but on her own career. "I was shocked by the feedback because I personally never had anyone make videos of me and my scenes. It was "a monumental" moment," Mayan reflected.
The series revolves around the return of Aly, portrayed by Mohamed Sharnouby, to his family after getting kidnapped at the age of four. Although the series first aired on a subscription channel at the beginning of the year, it has been making waves since it started airing on CBC at the end of October. People are not only interested in the series itself, but it seems they have grown very fond of the cast, especially as it features a wide range of young actors like Mohamed Sharnouby, Khaled Anwar, Huda Al-Mufti, and Mayan ElSayed.
WE SAID THIS: If you've enjoyed watching these two on screen, consider yourself lucky . They're both working on another series together with a cast full of young actors set to be available on a new streaming site called The Viu.