Vincent Van Gogh is known for his incredible style and technique in the world of art. His unique sense of urgency set his paintings apart from the rest of the artists. The famous artist was recognized for dramatic and bold brushstrokes, which were said to have added a sense of movement in his depictions. His work is described as intensely emotional and one of its kind. If you are an art lover, you can't miss learning all about Van Gogh's incredible style and technique in the world of art.
Techniques and experimental materials
Vincent Van Gogh gained fame for his experiment with materials and methods when creating his art pieces. He employed pigments in his work, which had just newly emerged in the art market, just as his artistic career was developing and was gaining momentum.
In his paintings, he strove to accomplish brilliance in his color strokes. To this end, he put the newly introduced pigments to good use. However, owing to the lack of stability in chemicals made, the pigments often fade with time. Well aware of these pigment vulnerabilities, Van Gogh applied all precaution and care by applying more concentrated and brighter colors than he intended for the final result.
This technique was there to achieve the effect Van Gogh originally aimed for as the colors dulled. This process of fading made one wonder at which point had the colors dulled in the inevitable process to the exact vivid shades Van had striven for. He experimented with the paint applications to create thick impasto strokes of impressionists. This particular technique further drove his Impressionism use into Post- Impressionism.
Van Gogh, in a letter describing the irises to his brother Theo, describes them as purple in 'Field with Irises near Arles.' If one looks at the painting today, the irises will appear blue.
The first step applied by Van, in making a painting, is to decide upon the support the artist will be working on. In his letters to Theo, Van explained how he made use of "panel." This was a reference to the boards used by artists, made out material like cardboard, and the canvas arranged at the top and then his adaptation to the canvas. He specifically chose these canvases because of their weave, which he further stretched and prepared himself.
Van Gogh laid his ground on this support. It acted as a protection between the layers of paint and the canvas, which Van Gogh prepared with his own hands. This technique became a revolution in modern painting. The underpainting was not a new concept and used majorly before Van Gogh. However, the range of color hues and vivacity, which the artist employed, caused ripples of excitement and distinction. Van Gogh further combined the underpainting and the ground by using a colored ground to save materials and time.
The artist's letters to his brothers also revealed that he made huge purchases of the geranium lake. This is a synthetic organic and bright red pigment. Lake pigments are created by prematurely combining binders and organic dye, usually metallic salt. Lake pigments had already been in the market for thousands of years and were not a new commodity.
The pink blossoms also similarly lost their color in 'Roses' by 1907.
The breakdown of pigments and the consequential fading posed a problem in Van's oeuvre. In searching for vivid colors, Van led himself to the geranium lake and other such organic dyes. They have richer and brighter colors but are more susceptible to fading. Additionally, the new inorganic dyes, which the artist had also experimented with, posed stability issues. It is evident in the chrome yellow he used in works such as 'Sunflowers.' Sulfate groups in the pigment cause it to fade under light, which turns the paint to a shade of brownish-green under too much light exposure.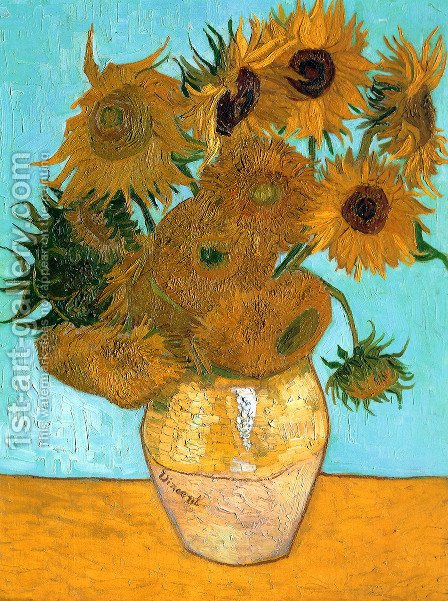 Although well aware of the shortage of lightfastness in the pigments, Van still employed them for their intensity and brightness. However, he used the colors with great volume and vivacity to counteract the fading process. This, in itself, became an innovative method in painting history.
The Bedroom
Van experimented further with his technique of painting the support. People know him as a pioneer for the use of impasto in his paintings. This experiment not only created textured surfaces but also added emotion and movement to the pieces. Closer examination observed the fluidity of the paints was enough to form trail threads where the brush lost contact from the canvas. The consistency, however, was fierce enough to make brush marks crisply apparent in the impasto.
The viewers are granted deeper insight into his application of paint with this visual testimony of his brushwork. This process allows viewers to feel deeply connected with Van and his painting process.
WE SAID THIS: A careful study makes us conclude that Van Gogh's paintings give testimony to his innovation and shows a brilliant choice of materials and their application.