What's better than a clean and properly-organized rooftop? A green rooftop! Apart from its numerous environmental and economic benefits, rooftop gardens offer a beautiful sight, and decrease high temperatures caused by pollution.
In recent years, there have been several initiatives and campaigns, promoting urban gardening on rooftops and elsewhere, to encourage more eco-friendly solutions across the country. Fortunately, there has been a positive response from both Egyptian residents and the government in following and implementing such initiatives.
Founded by brothers, Sherif and Tarek Hosny due to their interest in plants and nature, Schaduf is a social enterprise that initially started off by offering microloans in the form of rooftop gardens for low-income Egyptians, and later expanded to creating more green spaces on rooftops of the entire country. It aims to "provide inspired urban green solutions that elevate the quality of life through environmental and social change".
Today, Schaduf is a leader in designing and implementing green walls and roof gardens, as well as vertical and roof landscaping.
In 2019, Egypt's Ministry of Environment launched a nationwide green-roof initiative to encourage planting roofs of buildings and facilities, reducing pollution levels in the country and providing an eco-friendly use of space. Cairo Governor Khaled Abdel-Aal had also previously introduced an initiative to plant gardens on the rooftops of Cairo's buildings, as part of the governorate's sustainable development plan.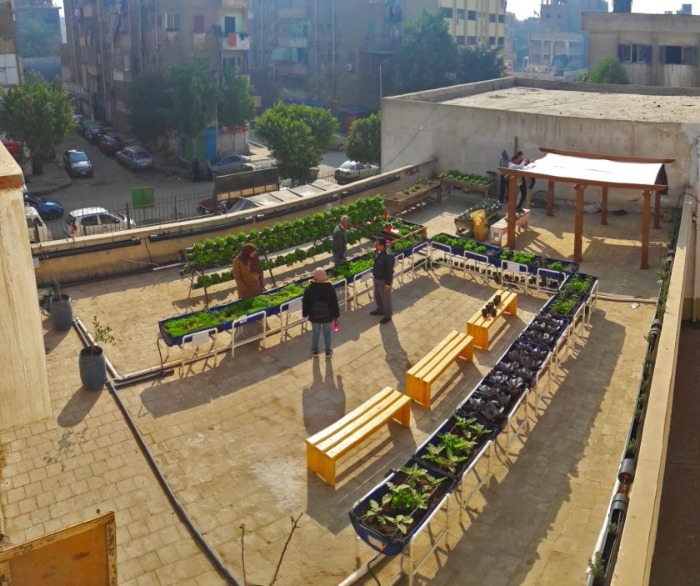 ​AUC's Research Institute for a Sustainable Environment (RISE) has also been working on designing and implementing green roofs in Cairo, to support sustainable agriculture.