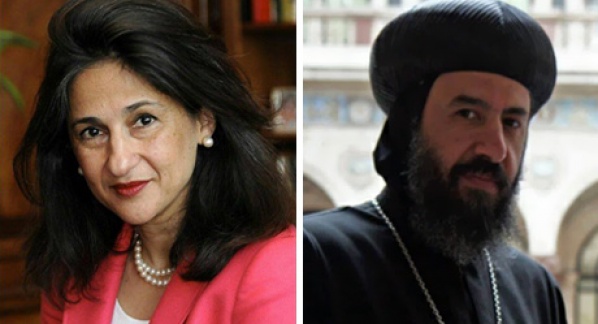 Lately, we've been hearing of many Egyptians abroad who are being honoured for their achievements, the latest of whom were Dr. Nemat Talaat Shafik, deputy governor of the Bank of England, and Bishop Angaelos, General Bishop of the Coptic Orthodox Church in the UK.
The two Egyptians were honured by Her Majesty Queen Elizabeth II for their outstanding services to British society.
Bishop Angaelos received an Order of the British Empire (OBE) for his role in promoting international religious freedom, while Dr. Nemat Shafik received damehood for her services to public administration and the global economy.
The honours awarded to Dr. Shafik and Bishop Angaelos come as part of the Queen's Birthday Honours list, published on the date of the Queen's official birthday. The list sheds lights on people who have made achievements in public life and committed themselves to serving and helping Britain.
In response to the announcement, Bishop Angaelos said: "I am humbled by this award because I see it as my role and duty to advocate for religious freedom as part of my ministry. While I am thankful for this honour, it also comes with a sense of sadness that in the 21st Century we still need to defend people's God-given rights and freedoms in this way."
"I consider this an award to every person who has worked with and supported me along the way and pray that God rewards and blesses them for all they have done and all they will continue to do," he continued. "I must also express my sincere gratitude to Her Majesty The Queen and the Prime Minister for considering this cause worthy of such public acknowledgement."
British Ambassador John Casson responded to the announcement with the following statement: "Today is a day to celebrate how Britain and Egypt working together gets amazing results. Dr. Shafik and Bishop Angaelos have led dedicated lives in service of others and it is right that their achievements and contributions to Britain, Egypt, and indeed the whole world are recognised. They, along with many other outstanding individuals honoured for their public service today, are inspirations to young Britons and young Egyptians alike."
It's great to see Egyptians making a difference and being recognized and honoured. We hope that Egyptians and Arabs in general continue to shine and show the world what they're capable of.
WE SAID THIS: Don't miss 8 Egyptians Kicking Butt Abroad.