Instagram is gaining more popularity by the day; there is no way we can come back from that.
Also, with its latest updates, it is keeping us hooked to no end. Some of the updates in the recent past such as stories, reels, and IGTV have shown tremendous success.
People not just use this to stay more connected to their audience but it is also a way to engage more with the targeted post. There are ways to use your stories for likes and comments.
In this blog, we will discuss that in detail.
4 Useful Tips to Use Instagram Stories for More Likes
Getting likes on Instagram is not directly proportional to your followers number, it is more or less based on how you bring your content in front of your audience in any way.  
Stories serve as a great option in this scenario. Let us talk more about that.
Keep it aesthetic
Share your posts on stories
Talk about your projects in this section
Put stories of your old posts from time-to-time
Keep It Aesthetic
Source: Pinterest
Your story is the periodic update of your profile. Make sure you get the best out of it. Aesthetic things are the most attractive ones amongst the audience, so make sure you do the requisites.
With the updates and even before that, you have lots of options to help you work on that note. The GIFs, the songs, the pattern of posting, and most importantly the filters.
There is practically no end to the list of filters. Keep saving on what catches your eyes, from your following stories or posts and you will get a lot of options to make your choice from.
Also, there are many tutorials or you can be a bit creative and use your options in a variety of ways to make it look more interesting.
If you put in efforts here, then you are sure to gather audiences who will like your work and visit your profile or posts and, maybe, end up with a double-tap.
Share Your Posts to Stories
Source: Pinterest
Instagram is a pretty place for folks who are here to enjoy. But if you are here to make a
career, it is hands down tiresome.
The algorithm is too tricky. Cracking your way might take you time. That is the reason people say that there is no hard and fast rule for getting famous here.
Even though people try their best to take care of hashtags, SEO, and other requisites in this regard, they may end up not being in the feed of all of their followers and that is the first step to gathering engagement.
You have to at the least be visible and for that visibility, stories are a great place.
Just share your recent post on the story, but make sure that you keep them hooked and curious for that so that they end up getting to the actual place.
Use GIFS to hide the actual content, and for videos that are short and can be easily captured in the story, use different GIFs to hide the main content.
For videos with a longer duration, it will do its work. For posts with longer captions, just take the keyword and write it down in your story space.
We think you have got a pretty good idea of how to do things in this regard.
Talk About Your Projects Here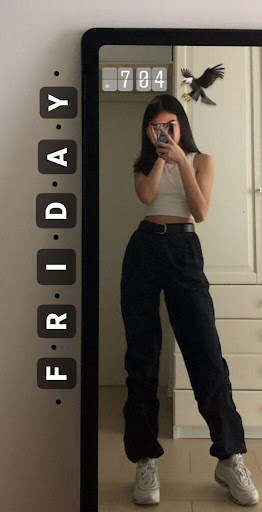 Source: Pinterest
Your audiences have started following you because they are interested in what you do. So, it is important on your part to keep them updated with your whereabouts.
There is no particular way for that. You can put BTS in your stories. Now, when we talk of BTs, it automatically refers to big-time projects.
But that is not the reality, you can show snippets of your project and keep them engaged and curious.
If it is something that you cannot share anything about, you can at least make a video or two and post it in your stories.
This will not only make your followers feel connected and keep your profile updated while you are busy with something, but will also increase the excitement and traffic for the actual project.
That will in turn give you more likes as well.
Put Stories of Your Old Posts From Time-To-Time
Source: Pinterest
Now, what does this infer? Before you post something, you make sure to take care of everything in that regard so that your post gets the maximum engagement.
But, there can still be some followers who are yet to get the post at that time. The reason may vary.
Also, after a certain period you might gather new followers so bringing your old content to their notice, is a great way. 
For increasing followers, you can resort to various methods to get more Instagram followers & likes.
You can use some GIFs here and there to acknowledge some things relevant to the post or you can also talk about your content which has done better than others.
In one way or the other, you can use this space. Now, folks who view that story are likely to visit the post and engage with the actual content by liking or commenting.
But, a percentage of viewers are likely to move forward without giving it an eye. So, to help that to some extent, you can write something about that post that might come to their notice.
Wrapping up
As we have talked about how to make use of stories to get more likes or engagement, we are sure that if you follow these ways, things are highly likely to work out for you.
Your main purpose of putting up content is to gather engagement around it and use everything the app has to provide for your service.
Now, your creativity lies in the fact of how you make use of it. You do not want to bore your followers with the same thing.
WE SAID THIS: Instagram helps as it provides you with numerous features that can help you out, especially on stories and that is why it is likely to be the best way to gather more audiences.