By Lamis Ismail
Do you feel that your room is very dull and pale? Do you want to redecorate it as a grown up room? Here're some tips for you to decorate your room with low budget.
Fake plants
Fake plants are always the best to put some colour and spirit in your room, its also the best for people who forget that their plants and pets actually exist. Its not going to die this time. 
They'll also encourage you to want to spend more time in your room. You can hang them on the wall, you can put them in shelves beside some books. You can also just put them in a handmade wicker on the floor.
Wooden boxes
And here comes the creativity. You can use wooden boxes in several looks and styles. You can paint them and use them as your new bedroom commode. Put your essentials in them, books, and maybe even some flowers. It's going to look new, creative, and cool! You can also use it as your mirror stand.
Bud vases
There's also several ways to put vases in your room in a cool and unordinary way. You can hang them on the wall with a wicker rope. You can also hang them in a wooden frame.
Your favorite posters
What makes your room unique is the things you love, such as your favorite bands, artists, and quotes. Keeping it simple can make a huge difference.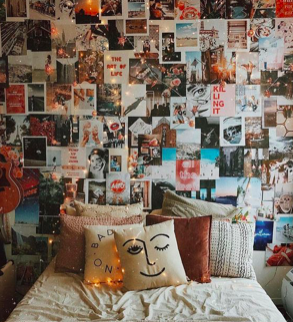 Lights
Lights change everything in your room, it makes the room cozier and effortlessly gives it a new look. You can use it as an alternative to lamps to give you soft light. They're also cheaper. 
Vintage mirrors
You can put an old vintage mirror in your room. It will never go out of style. It gives you that fantastic look!
Candles
Candles also make the room look and feel cozier. You can use scented candles to add some atmosphere and they're also useful in the winter by making the room seem warmer. 
WE SAID THIS: No need to go to Ikea!