Are you engaged? When are you getting married? How come you're still single? These are all questions you've been probably getting your entire life. Many girls feel bad about themselves when people start commenting on their marital status like that. They start feeling insecure about themselves as if they're flawed or wired wrong. On the other hand, other girls are frustrated when they hear those questions. Not because they feel that they're missing the so-called "train of marriage", but because society decided it actually has a say in that.
Dubai-based Palestinian vlogger, Haifa Beseisso, is just like every single lady out there. She gets that kind of comments and questions, and guess what? She's not okay with it too. That's when Haifa decided to do the craziest, yet coolest, thing she could've ever done.
!!! جواب ايمتى نفرح فيكي في هذا الفيديو#متزوجـالحياةThey really wanted me to get married So i had to do this!#marriedtolifeFor more videos Subscribe to my YouTube channel ?? Http://www.youtube.com/flywithhaifaقناتي على اليوتيوب♥️

Posted by Fly With Haifa on Thursday, February 15, 2018
Beseisso recently posted a video on Facebook featuring her in a wedding dress inviting random strangers to her wedding to life. Yes, you just read that. LIFE! "Today, tomorrow and every day, you are invited," the wedding invitation said. Surprisingly, people's feedback was positive. Yes, they were shocked, and yes, they laughed, but they were extremely supportive and congratulated her. However, it was of no surprise that her video went viral, garnering 2.5 million views in just three weeks. Seems like 2.5 million girls out there are not okay with societal pressure around getting married.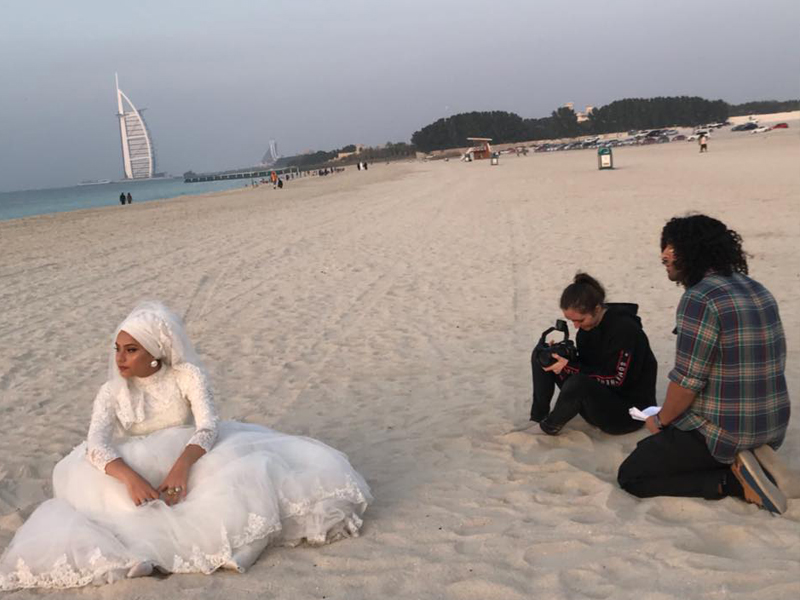 After all, marriage is a beautiful thing, and because it is, you really need to make sure you're making the right choice. You're not shopping for a pair of jeans or some designer bag you like. That's a sacred agreement between two people, that should supposedly last for eternity. That's two people sharing everything together; a home, their ups and downs, and an entire life. So making a wrong choice just for the sake of getting married is definitely something you'll regret later on.
Being single is not something you should be ashamed of. Finding yourself a groom is not something to brag about either, it's not some sort of achievement. It's not like you won the lottery or something. Being successful in your career is an achievement, being loved by people is an achievement, and getting your Ph.D. is an achievement. Actual success is when you're a talented artist, a world traveler, an award-winning author or a gold medalist professional athlete. True success shouldn't be measured by a ring on your finger. It simply just complements you, it's having someone to share your success story with, someone who would encourage you and push you forward.
WE SAID THIS: So girls, marry life just like Haifa did. Live your life to the fullest and live it with passion. Everything else will fall into place and will make its way through afterward. Don't rush things, it will happen if it's meant to be.