For some people, there's nothing better than searching through piles of dusty paintings and old knick-knacks in search of some hidden treasure. If you're one of these people and a proud antique hunter, Cairo is home to some incredible antique shops and street markets that you absolutely should check out. We put together a list of some of the best neighborhoods in Cairo for antiquing and the shops that are sure to satisfy your antique-hunting needs.
Heliopolis
While mostly only visited by the residents of Heliopolis themselves, or by former residents that have left for the new desert settlements further west, Heliopolis has a wealth of decent antique shops with unique and unusual items that have mostly gone unnoted and unvisited by antique lovers from the city at large. This mostly ignored treasure trove of antique shops, however, is home to some of the city's most interesting finds. Undeniably as a result of the current and former residents of Heliopolis being quite affluent, particularly in the first half of the twentieth century, incredibly well-made and beautiful antiquities can be found that would have once been owned by them before finding their way to the neighborhood's antique shops.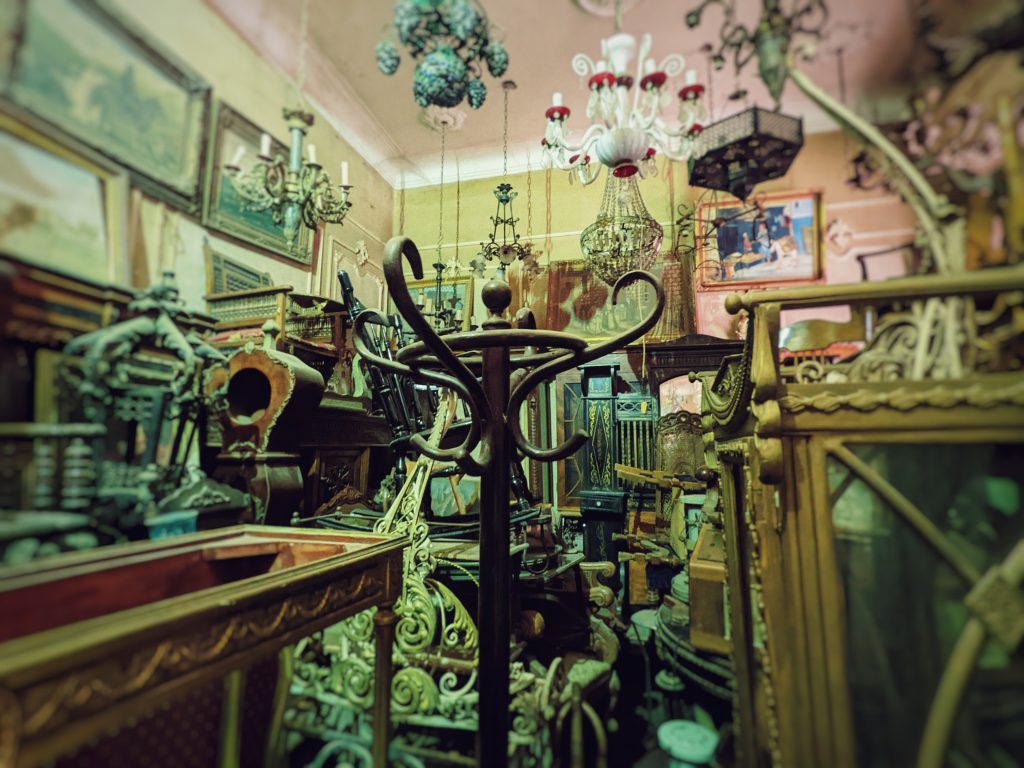 A must-visit shop for antiques and art in Heliopolis is Odyssey, which can be found in a grand villa just next to the Al Ahram Metro Station. There you will find some of the most impressive antique furniture and objects that are all carefully selected and restored. However, for more traditional and enjoyable antique shops where you can search through piles of objects and picture frames and squeeze your way through small passageways between furniture stacked up to the ceiling, you can head to Triumph Square. Around Triumph Square and towards El Hegaz Square, there are plenty of small and atmospheric antique shops to dive into, just ask around and see where you end up.
Downtown
Without a doubt, Downtown Cairo takes the proud position of being the city's undisputed center of antique shops. With dozens spread throughout Downtown, you can find everything from incredible Islamic-era tiles (which probably should be in museums) to beautifully crafted Arabesque furniture and kitschy items to decorate your home. Among the usual things you can find in Cairene antique shops, Downtown Cairo seems to also have a lot of interesting old commercial signage, political memorabilia from the 1920s until the 1990s, and other items dripping with retro from head to toe.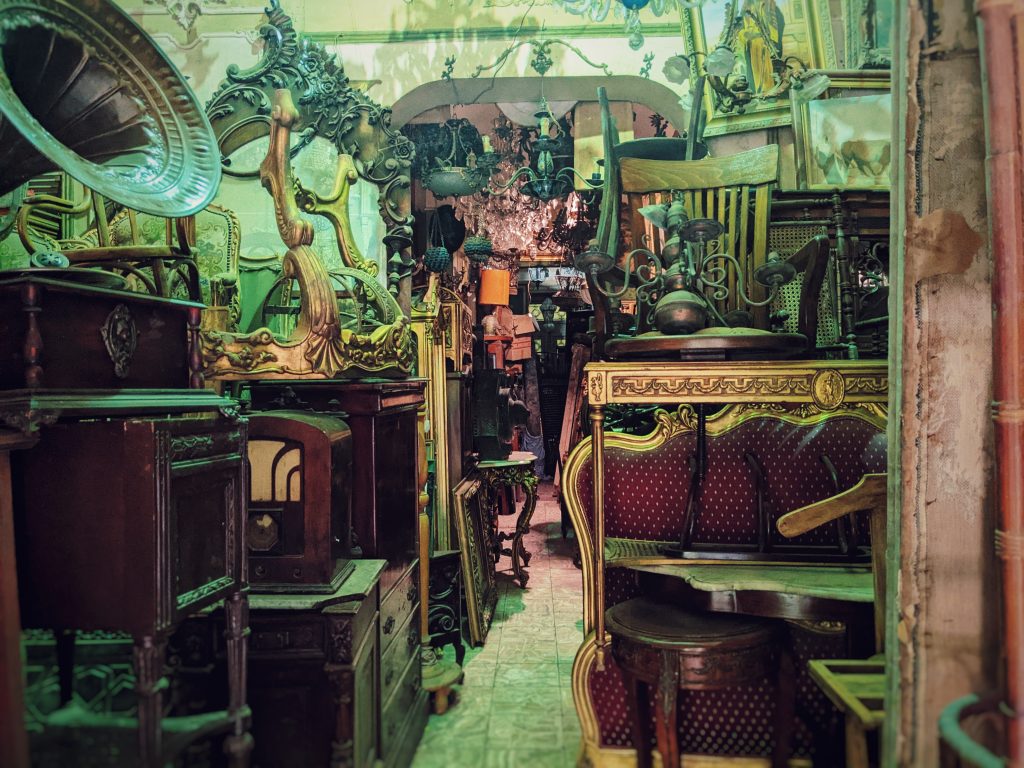 Every trip to go antiquing Downtown necessarily has to begin on Hoda Sharaway Street, where there are around 15 shops in and around this street. My two favorite antique shops in this area are hands down Khan El Zaman which can be found on the street adjacent to Mohammed Sabri Abou Alam Street, full of unique treasures, and a small kiosk that is occasionally open on Al Falki Street, just around the corner from El Horreya Cafe. Further afield in Downtown, there are numerous other shops, but Salle Des Vents Catsaros on Gawad Housny Street and another just around the corner on Abd El-Khalik Tharwat Street next to Reader's Corner stand out as must-visits for antique lovers venturing into Downtown Cairo.
Zamalek
Unlike Heliopolis and Downtown, antique shops in Zamalek are on the whole a little different. With usually only the very best on show, you can find some really incredible things, but in terms of small affordable knick-knacks to pick up, you may not find many. Nevertheless, Zamalek is a great place to go for antique lovers and you'll be sure to find some incredible things.
Gallery Fanous on 26th July Corridor is a great place to start antique hunting in Cairo. With an incredibly impressive collection, you may not pick up any bargains, but they certainly have some really interesting items. Just around the corner on Sayed El-Bakry Street, the Loft Gallery is also an impressive antique shop with some quirky things to be found. However, there are plenty more antique shops to look out for in Zamalek.
Islamic Cairo
If old Egyptian movie posters are your thing, on Islamic Cairo's Haret Khan Al Khalili, there's the country's best collection of film posters in a shop called Dakan Al Zaman Al Gameel. Further down the street, you'll also see the entrance to a covered market that is home to five incredible hidden-away antique shops that are also worth visiting.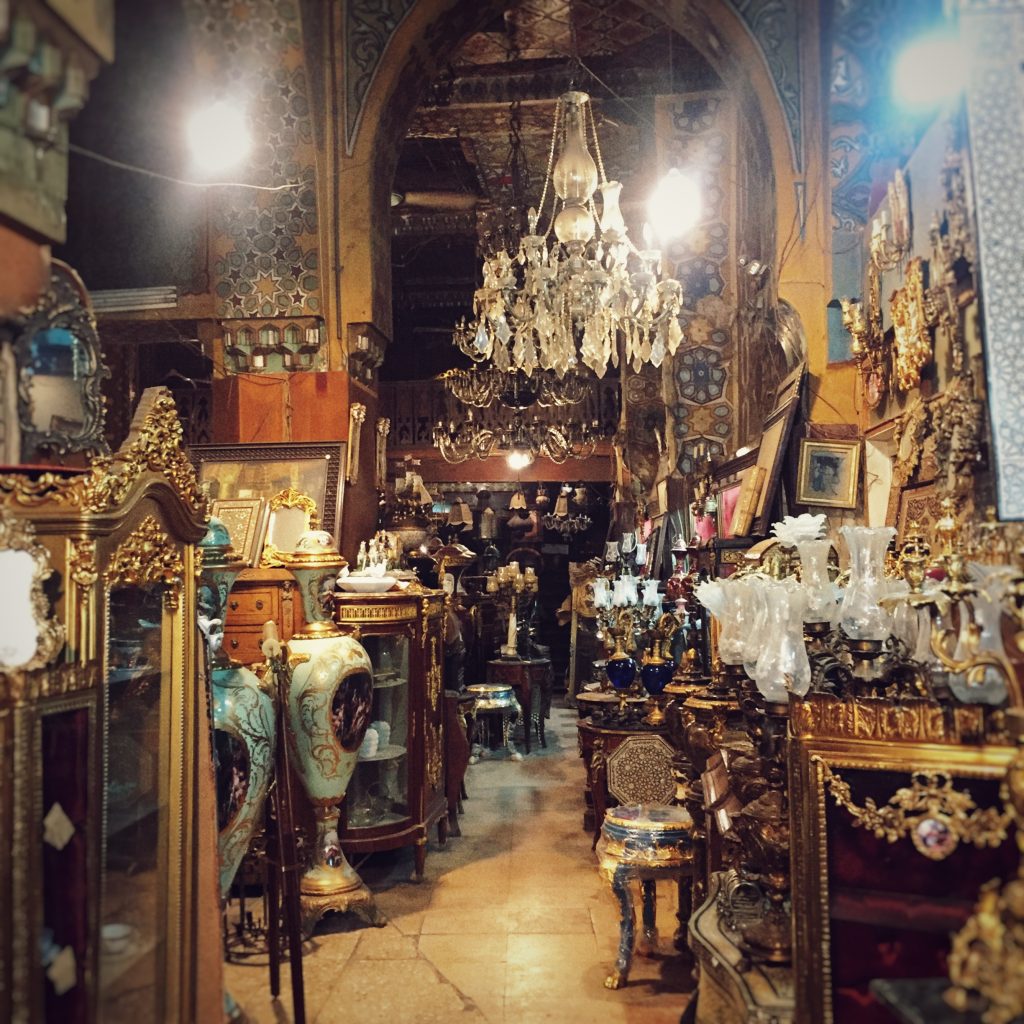 The Thursday and Friday Markets
If bargains are what you are looking for and if you have the patience to sort through endless piles of stuff, Cairo's weekly street markets may be for you. The Thursday Market in Matareya is home to some decent antique sellers with some really interesting antiques to be found, but the real finds are to be had at the Friday Market. Stretching over several kilometers and situated in-between incredible mausoleums and Islamic monuments, sometimes dating back over a century, the Friday Market is quite unlike anywhere else. With thousands of sellers spreading their goods out on carpets on the floor, they say you can find anything at the Friday Market.
For the Thursday Market in Matareya, you can easily find the market by grabbing the Metro to Matareya Station and asking for the nearby Souq Al Khamis. If you're tempted to venture down to the Friday Market in the Southern Cemetry, however, you've got a few options for how to get there. If you want to go straight to the antiques and avoid the notorious animal market and endless rows of people selling clothes, you can grab a taxi to the Autostrad and get off next to the pedestrian overpass and make your way from there straight to the antiques. Or for the more adventurous, you can grab a taxi to the Al Sayeda Aesha Mosque and make your way through the animal market before turning right a kilometer into the antique sellers between the rows of mausoleums.
There are plenty of antiques out there in Cairo waiting to be found by you, you just have to get out there and look for yourself. With numerous neighborhoods and even more great antique shops out there, Cairo is a great city to go antique hunting and to take a look back in history through the city's antiques.