By Heba Tallah Mohamed
Egyptian cinema is an engraved part of our childhood memories. Old Egyptian black and white films regularly adopted the concept of realism in developing their plots. Not that we are talking about Andre Bazin's theory here but many of these films discussed real problems in society back then, and that is exactly what still makes these films highly impactful today. Many of them, in particular, questioned Egyptian society's perception of gender roles.
Meraty Modeer 'Am (My Wife is a General Manager) 1966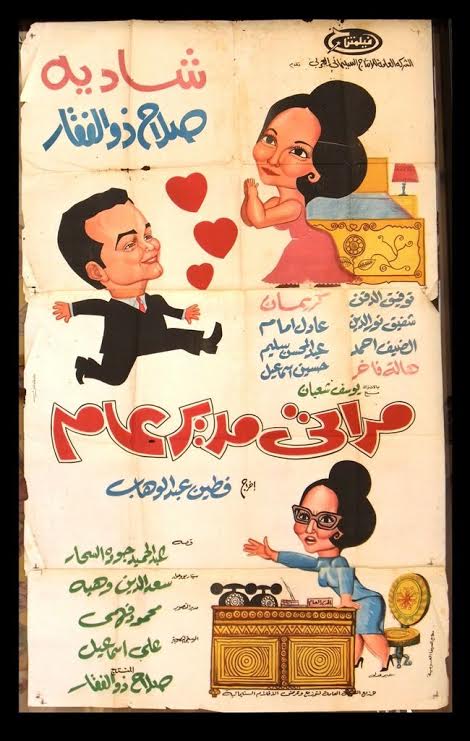 Meraty Moder Aam is one of the most famous Egyptian comedy\romance films that everyone still loves. It hit movie theatres in January 1966 and was directed by Fateen Abdel Wahab. The film focuses on the intellectual couple, Esmat Fahmy (Shadia) and Hussein Omar (Salah Zoulfikar) when their relationship is put to the test after Esmat joins the same company her husband works for and they now have to share the same office. Hussein asks her to keep their relationship a secret to avoid word getting out that he is the manager's husband.
The film was loaded with many messages that called for society to change how it looks down on women who have a better career than their husbands. Although Hussein's personality was very supportive of his wife's promotion, and even though she had an upper hand on him in the workplace, his character developed throughout the film to be more sensitive and reserved.
Also, the film had several characters in the office that resembled the many different views in Egyptian society at the time. What was special was that these messages were introduced in a comic manner which made the film a favorite for many people. "How come every day we see new buildings in the streets, but our way of thinking is never renewing nor developing?", said Esmat (Shadia).
Al Bab Al Maftouh (The Open Door) 1963
They said this film was the door to freedom for women, however, it came with many messages for Egyptian women other than freedom. It was released in 1963 film and was directed and produced by Henry Barakat. It featured many stars such as Faten Hamama, Saleh Selim, and Mahmoud Morsy. The film was based on a novel written by the Egyptian writer Latifa Al Zayyat (1960).
The film is about a passionate girl called Layla (Faten Hamama), who is a dreamer, and how her character develops throughout the film as a result of the struggles she faces due to social barriers put on women. The problems she faces while building her personality and trying to achieve her dreams are thanks to her father's old ways of thinking and how society views the role of women. Her life changes when she meets Hussein (Saleh Selim), who affects how she views herself as a woman and helps to set her soul free.
The Egyptian mind was convinced that women were only born to be housewives who should support their husbands and not have independent lives of their own. The film introduced different characters that every girl back then met in their real lives and depicts how these characters can affect their personalities and self-confidence. "I do not want you to destroy your own being for my being, nor in the being of any other human. I want you to have your very own independent personality. And to grow your self-confidence from your inside not because of anyone else. Only then you achieve happiness, my love," said Hussein to Layla.
Ana Hurrah (I'm Free) 1959
Is the definition of freedom the same for all of us? Ana Hurra is a film starring Lobna Abd Al Aziz and Shoukry Sarhan and was directed by Salah Abu Seif, known as the master of realism in Egyptian cinema. The film was part of Salah Abu Seif's "empowerment of women" trilogy and is based on the novel of the same name written by Ihsan Abdel Qudous, who was also known for his novels that explored the role of women in society.
Amina (Lobna Abd Al Aziz) is a young girl that is unable to accept how patriarchal her society is. She struggles to cope with its double standards and decides to seek out her freedom.
The film discusses the concept of freedom and raises questions of how you can win your freedom in society as a woman. Gaining freedom isn't the main topic, as the film is more concerned with the definition of freedom itself and how it means different things to different individuals. It also questions whether the pursuit of freedom is a positive endeavor or causes one to destroy themselves while searching for it.
What makes this film particularly special is how it realistically develops its characters and depicts the obstacles that any girl in Egyptian society looking for freedom faces. "She cried because she lied and because she didn't have the freedom to say the truth."
Oredo Halan (I Want a Solution) 1975
Oredo Halan is a 1975 film directed by Said Marzouk and stars Faten Hamama and Roshdy Abaza. The plot is about Doria (Faten Hamama), a woman who seeks to divorce her husband Medhat (Roshdy Abaza), a former diplomat with an aristocratic background. In flashbacks, we learn that Medhat verbally and physically abuses his wife and cheats on her. The problem was that in Egyptian law at the time, women were only allowed to file for divorce under special circumstances.
Inspired by a true story, the film made a massive impact at the time, forcing people to discuss women's rights in marriage and divorce, raising questions about the laws governing them in Egypt. With a theatrical run of 16 weeks at the Egyptian box office, the film's popularity actually influenced a change to the country's laws regarding divorce, giving women rights that weren't available to them before.
The film ranks 21st place in the list of the best 100 films in the history of Egyptian cinema. It neglected typical cinematic elements for the viewers to focus more on the plot and ensure the message was delivered. Oredo Halan was a movie that proved the notion that cinema can make a change in the real world. Changes that can reshape societies. "I lived with him for 30 years, if I worked as a slave for 30 years, I would've become more appreciated."
Doa'a Al Karawan (The Nightingale's Prayer) 1959
D'oaa Al Karwan is a 1959 film directed by Henry Barakat starring Faten Hamama, Zahret Al Ola, and Ahmed Mazhar. The film was based on the novel by the Nobel Prize-winning writer and legendary Egyptian author, Naguib Mahfouz. The plot is about a young girl, Amna (Faten Hamama), who watches her sister being killed at the hands of her uncle to save the family's honor after she becomes pregnant out of wedlock. She plans to avenge her sister's death by working for the man who got her sister pregnant, but she falls in love with him in the process instead.
The film shed light on the gendered double standards of society at the time, showing how multiple relationships for both genders are viewed differently, where it's a shame for women but can be ignored for men.
In the plot, the blame was exclusively put on the girl Hanady "Zahret Al Ola" who became pregnant as a result of her love. However, because of the dominance of men in society, Ahmed (Ahmed Mazhar) got to live his life without any guilt. The film was nominated for an award at the Berlin Film Festival and ranks 14th place in the list of the 100 best films in the history of Egyptian cinema.
WE SAID THIS: Do you know of any other Egyptian or Arab films that hold up a mirror to their societies? Let us know in the comments!