It's that time of year to turn the beach into your runway. The art of working with your body shape helps you identify and highlight your best features. With the right eye and the right fabric, you can flatter your frame magically. Apple, pear or whatever metaphors used to label our bodies, here's your guide to an easy time when you go swimsuit shopping.
Rectangle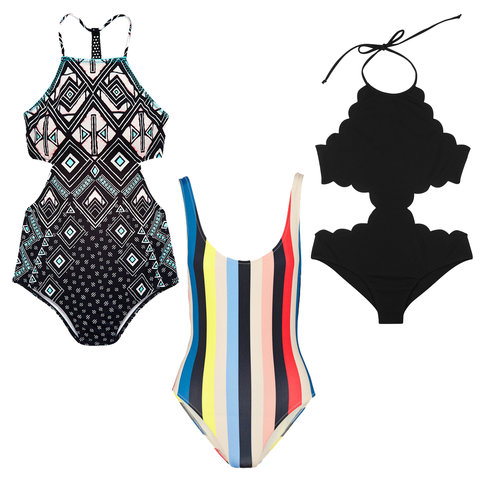 This first body shape refers to having a similar waist to hip ratio, almost like a ruler with minim curves. The weight is distributed evenly and will give you a model's figure. To generate the illusion of curves, go for swimsuits with patterns, ruffles, frills, and lighter colors. Side cuts and prints will give you faux curves.
Pear
Usually, labels like "triangle" refer to where the hips are the most highlighted. The wide hips are met with a slim waist and narrower upper body. The most weight sits at the hips and thighs. To balance the look, bring attention to your upper body by wearing a pattern to widen your shoulder to match your hips.
Hourglass
Very similar to a pear body shape, hourglass bodies also are proportioned in the bust area. The "ideal" female body shape categorized by society, is flaunted by cKim K, J-Lo, and Beyonce. With this lucky bombshell shape, the world is your oyster! Show off you belly and those loaded curves in any bikini style.
Apple
The shoulder and bust are usually wider than the hips in this body shape. Thanks to that, the eyes are attracted to the upper body. The rest of the body is proportionate with a less defined waist, like British model Naomi Campbell. Your goal is to balance the broad shoulders and big bust to even out with the rest of the body. Do this by wearing string tops to support and style your shoulders while highlighting and leaning your legs.
WE SAID THIS: Or break all the rules and wear whatever you want!