"The world is a book, and those who don't travel only read one page." – St. Augustine
This is a well-known phrase that all of us have heard at some moment in our lives. If you agree with this famous phrase as well as we do, probably traveling is one of the most important parts of your life or at least one of the most desired moments of the year. Are we right? Probably, we are. All of us love our home cities, our surroundings, and our homes; well, we suppose you do, but when we travel, we are able to discover an entirely new world that offers us a new view of life, new ideas, and new perspectives, in other words, a unique culture that changes ours forever. There is no way to travel without changing a little who you were before taking that plane, and, most of the time, this change makes you a better person.
Something similar happens when you learn a new language. Ok, ok… we know that studying and speaking a new language with entirely different structures and pronunciation is not as exciting as taking your luggage and going to a new and wonderful place. However, we believe that becoming bilingual is another effective way to discover a culture and understand a different way of thinking of the people who speak that language.
If by any chance you are the kind of person who loves traveling and, at the same time, is willing to learn a new language and get immersed in a different society, we have to tell you two important things. First, you are our favorite kind of person. Second, you should seriously consider taking a Spanish class in Barcelona.
Why should you learn Spanish in Barcelona?
Any English speaker who wants to learn another language should consider Spanish since it is the world's second most spoken native language, with almost five hundred million speakers. This means that if you learn Spanish, you will be able to communicate appropriately with a broader part of society and travel to more countries without considering language barriers. Click here and discover one of the best places to do so.
Having understood why Spanish is a great option, let's go to the other part of the question: why should you study it in Barcelona? The answer to this question is probably quite obvious, but we want to clarify everything for you, so here we go.
The best way to learn Spanish, or any other language, is by learning it in a native-speaking country. That way, you will not only listen to Spanish in class but every second of your day. Furthermore, you will meet patient people willing to teach you, people who do not even notice that you do not speak the language, and people from other countries who are learning. These different scenarios offer you different ways of learning and communicating. Each of them will enrich your experience and improve your linguistic skills.
Finally, if you know that you want to learn Spanish and understand that the best way to do it is in a Spanish-speaking area, Spain and, more specifically, Barcelona should be your first choice. Spain is one of the most famous European countries for tourists and Barcelona is one of the most important cities.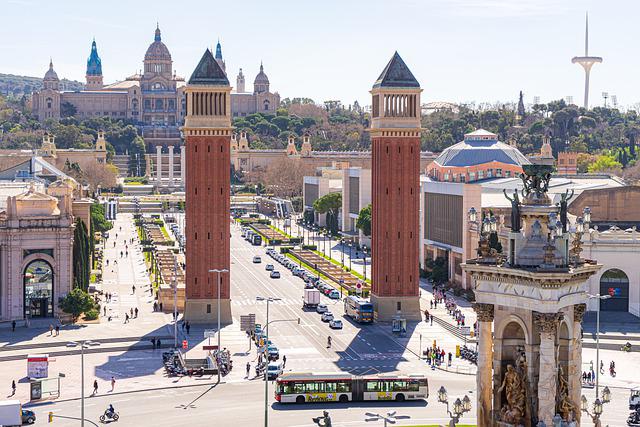 Can you think of a better plan than learning Spanish while you visit la Sagrada Familia, Park Güel, and Casa Milá? Sorry, we can't. Barcelona will offer you a wide range of language schools, diverse and exciting cultural plans and events, and fantastic nightlife where you will discover funny bars, delicious food, fascinating people, and new opportunities to practice. Yes, Barcelona has everything!
We know that you are looking forward to buying your plane tickets and experiencing all the great experiences we have mentioned so far, but before doing so, try to learn the following Spanish phrases, which will be completely useful when you first arrive in the country.
¿Puedes ayudarme? / Can you help me?: If you have just arrived and you are on your own, you have to learn this phrase because you will probably need a lot of help until you find your place and get to know your new neighborhood.
Gracias / Thank you: This word is quite common, and you may know it, but you must remember to use it since, for Spanish being polite is an essential aspect that you should take into account.
¿Me lo puedes repetir? / Can you repeat?: Spanish people are very kind and would try to help you, but they may babble without even noticing it. Don't be shy and ask to repeat what they said as often as you need; we promise they will not get mad.
¿Cuánto cuesta?/ How much is it?: This phrase is crucial since you must use it everywhere. In the hotel, in the restaurant, in a bar, or in a gift shop. Everywhere. The good part is that numbers are easier to understand, and if you do not get what they say, they can write down the price and solve the problem.
A language is an entirely new world with new rules, phrases, and ways of expressing ideas, and consequently, there are millions of new words to learn to use. But at least you can learn these phrases and start your stay in Barcelona on the right foot. Be ready to discover the beauty of the country, the flamenco culture, the delicious food, and the fantastic people. We have no doubts that, apart from coming back being bilingual, you will go back home being an enriched person.
Spoiler alert: after this trip, you will want to do a thousand more, and you will like to learn every language that you hear. Do not worry; it is a beautiful and enlightening addiction.
WE SAID THIS: Don't miss… Why Learning A Language Is Now Easier Than Ever Before