Someone Photoshopped a Photo of a Sikh to Make People Think He Was One of the #ParisAttacks Terrorists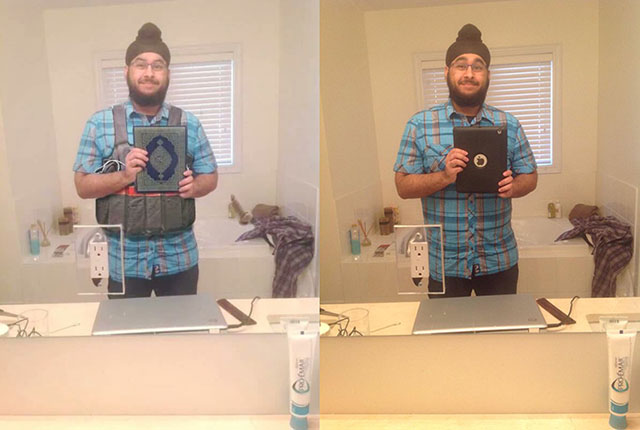 With conflicting statements being issued about the identities of the terrorists responsible for the shootings in Paris, we've been left asking a million questions.
Why would someone on a mission have their passport on them? How come the passport didn't burn to pieces when the bomb was detonated? And many more.
When a photo started circulating of one of the so-called terrorists wearing a suicide bomb on his chest and holding a Quran, the image went viral in no time.
It was only when Veerender Jubbal, a Canadian Sikh, started tweeting that his picture was being used that we realized that his photograph had been manipulated and the iPad he was holding was Photoshopped into a Quran.
In the original photo, Jubbal wasn't even wearing a vest, let alone a suicide bomb.
Imagine how this news has turned around an innocent man's life who isn't even Muslim?
Jubbal issued a statement via The Sikh Coalition here:
"Over the weekend, a photograph was doctored to suggest that I was one of the terrorists
associated with the Paris tragedy. This despicable action was then quickly made worse
when some international news outlets decided to share the image as truth. Let me be clear
– the photograph is a fake and I am not affiliated with terrorism of any kind." Jubbal wrote in his statement.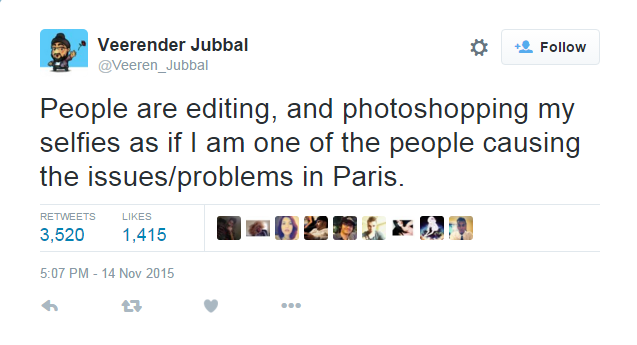 And here's the image going viral, accusing Jubbal of being one of the terrorists in the #ParisAttacks:
Spanish and Italian newspapers even used it in their breaking news stories without questioning the source or validity of the person they so easily accused of being a terrorist.
"The dark horror of violence in Paris and Beirut last week is mourned by 25 million Sikhs and over 1.5 billion Muslims worldwide. I ask that the media outlets that ran my image immediately retract my photo and apologize, but also take the time to learn and educate their readers about the Sikh faith, the fifth largest religion in the world," Jubbal also mention in his statement.
WE SAID THIS: Don't miss 42 Social Media Reactions to the #ParisAttacks That You Should Read