We grew up hearing the words "climate change" and "eco-friendly" in pretty much every part of our daily life. But as Egyptians what are we doing about it? Hurghada's Soma Bay Resort has not only taken it into their hands to do something energy efficient, but also pave the way for Egyptian engineers to get the hands-on education they've been lacking to meet international levels.
Soma Bay, in collaboration with Global EEE, will be hosting the first-ever hybrid electric car challenge in Egypt, making it possible for young Egyptians to contribute to making Egypt's renewable energy dreams a reality.
The competition taking place in Soma Bay on March 10-12 challenges young engineers to build a hybrid electric car that will go the furthest distance.
The first challenge will have teams from 10 different local Egyptian universities competing. All will be given a similar kit of components to ensure that every team has the same resources, making the challenge not about building the car from scratch, but about coming up with the best solutions to help the car reach the finish line, using the least amount of energy possible.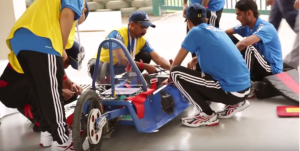 The challenge pairs the theoretical knowledge most universities provide with equivalent practical experience, which enables the teams to put their knowledge to the test and come up with energy-efficient design solutions.
The competition will be split into two phases where the first phase, the Electric Grand-Prix, will evaluate the furthest distance traveled by each team's electrically powered vehicle using only energy stored in their batteries. As for the second phase, the teams will add petrol to increase the distance travelled and the winner will be determined based on the longest distance travelled overall in both phases.
The winners will be granted the opportunity to participate against international teams in next year's competition, which will be held in Abu Dhabi.
The challenge is not only the first of its kind in Egypt, but also encourages the adaptation of innovative solutions for eco-friendly and renewable source options and opens young minds to the importance of finding alternative solutions.
WE SAID THIS: For more information about the challenge, visit the website here