Reema Juffali, has been appointed as an ambassador for the first edition of the Saudi Grand Prix, under the Formula 1 World Championship, in which the Kingdom will host the race in Jeddah from the 3rd to the 5th of December.
The 29-year-old driver, who has competed in the British Formula 3 championship this year, will also be one of the first to take a lap on the street circuit in Jeddah, as well as participate in the Williams team car display, dating back to 1979 and sponsored by Saudi Airlines.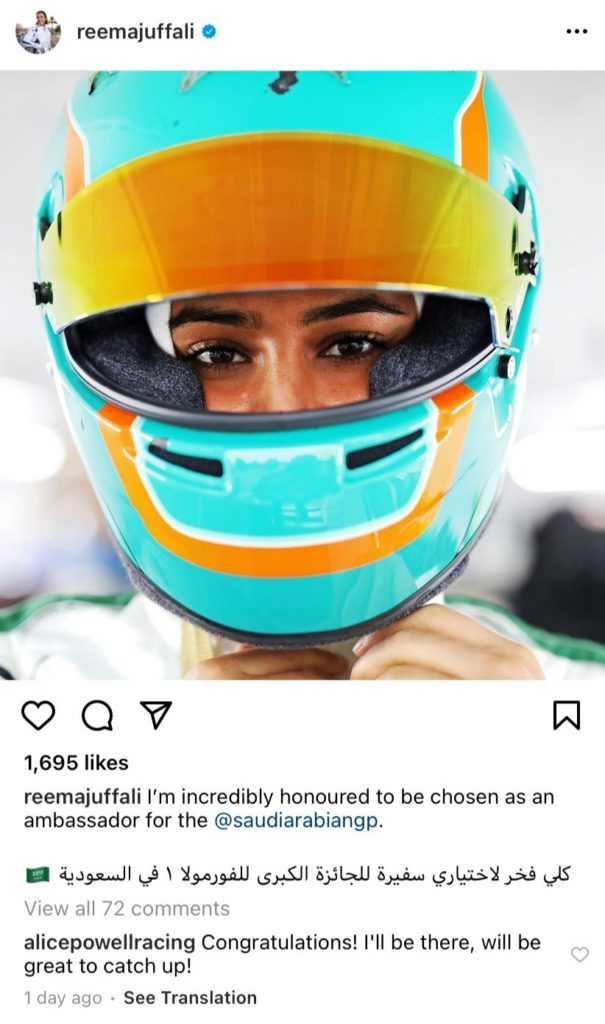 "I feel very proud to have been chosen as the ambassador of Saudi motorsport in the first Formula 1 race in the Kingdom of Saudi Arabia. I grew up in Jeddah, and I've always walked the same streets that will now make up the circuit that the best drivers in the world will race on, and I can say that this is a very important occasion for the city," Reema Juffali said upon receiving the news.
She further expressed her desires saying "I also hope that the arrival of Formula 1 in the Kingdom of Saudi Arabia will inspire more young Saudis to pursue a professional career in the field of motorsports, and to continue the remarkable development process in the field of racing in the Kingdom," according to her statements to Reuters.
Despite the Kingdom's banning of women to drive or be granted a driving license, she has always been passionate about cars, and has been adamant on making a professional career in motorsports. It all started with Juffali competing in the Formula 4 category and racing in Boston.
After Saudi Arabia lifted the ban on women driving in 2018, Juffali became the first Saudi female license holder to compete in a series that same year, and has continued reaching milestones and making history ever since!
She definitely is an inspiration, an epitome of passion and perseverance for all Arab girls and women alike. For those who want to conquer the challenges and obstacles facing their professional pathway, Juffali will be their stark reminder, that everything is possible, when you're passionate enough.