We Sat Down with Franck Mesnel and Talked Eden Park in Cairo, Rugby and Boy Bands
via trendhotspot
It's quite a well-known fact that Eden Park, the Parisian Fashion House, exists in 34 countries. However, they've just became 35 with their first franchise in Cairo. Located at Phase 2 in Citystars Heliopolis Mall — there's no better place for it to be.
The opening event was carried out by the CFF agency (yup, the same guy from the country's biggest fashion affair) at the Eden Park store where they cut the ribbon with the French ambassador  Stéphane Romatet. Oh, and that's not it! We also got to enjoy a lovely chitchat (with some delicious canapes from Casper and Gambini's) with the founder and mastermind behind the fashion house: Franck Mesnel.
Mesnel partnered up with businessman Jamal Al Hinnawy, who also happens to handle his franchise in Kuwait. The man of the hour added that he wishes to open a female section to the branch. What makes the Egyptian store stand out from the rest of Eden Park's branches is its colors — Mesnel intended to make its furniture whiter.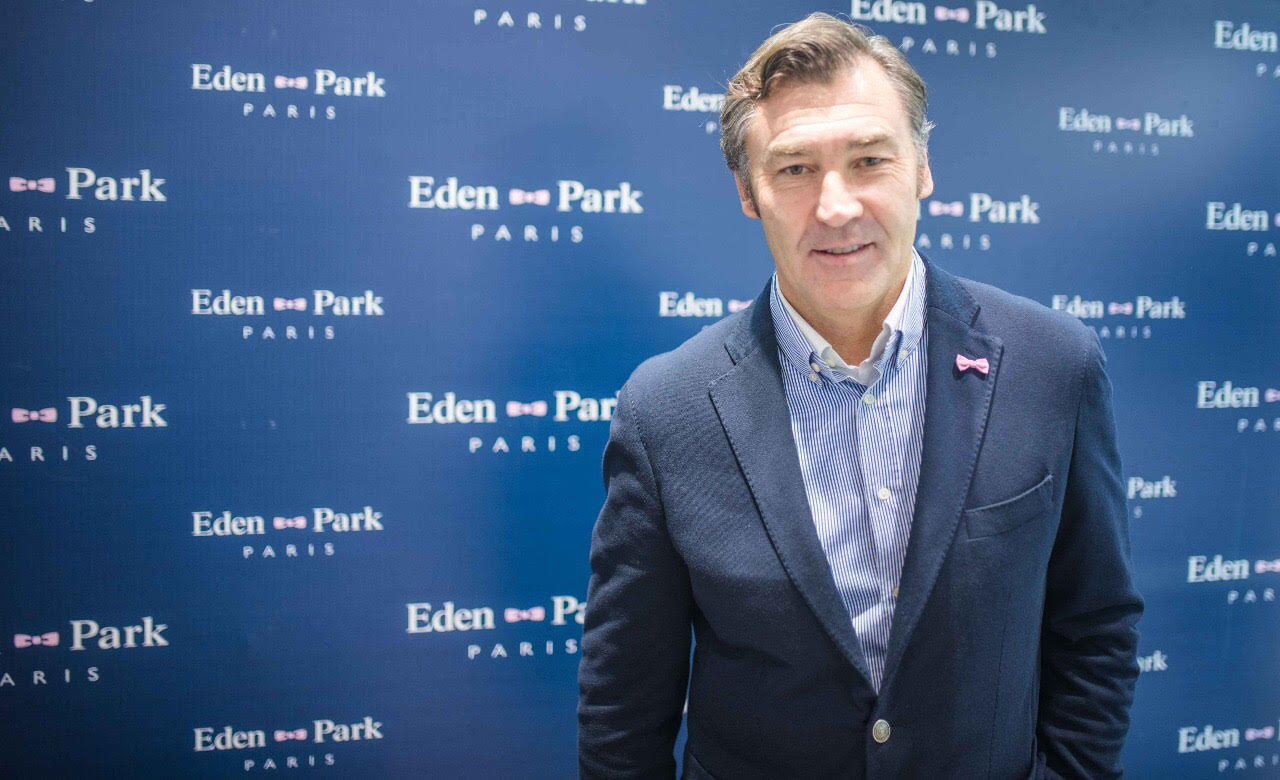 His two main inspirations were Paris and rugby. The former rugby player learned from the sport that to be successful, you have to have team spirit — and that's basically what he used that to jump-start his career with Eden Park.  "Alone, you're nothing," he told us.
Every product that is sold at Eden Park tells a true story about rugby. Mesnel wanted to change the common misconception about rugby where players don't take care of themselves. "Yes, we bleed and sweat but we also need to smell good, especially when speaking to reporters," he told us.
Mesnel believes that "to show respect to our customers we must give them good quality products," he added. "And that's why we use Italian fabrics, and cotton from Egypt and Peru."  The theme color palette mostly includes dark shades with a touch of pink which is prominent in their logo.
The pink bow-tie that is present in their logo is the start of it all. Mesnel told us how he used to wear it whenever he plays rugby. However, it was deemed pretentious — until it didn't. His logo eventually resonated with everyone up until the moment he gave birth to Eden Park.
Mensel hopped from being an architect to a rugby player, to the founder of this chic fashion house, where he has 80 people working in Eden Park's headquarters in Paris. He also told us used to be in a boy band in the late 80's, but refused to give us the name. It seems like the man has got it all!
WE SAID THIS: Thanks to Cairo Fashion Agency who gave us the opportunity to meet up with such an interesting man!