The 12th Edition of Art Dubai Is Coming up and You Don't Want to Miss It!
Via Art Dubai
If you happen to be an artist, a creative person, or simply just someone who appreciates art, then you need to mark your calendar for the 12th edition of Art Dubai. The event will take place from the 21st until the 24th of March at Madinat Jumeirah.
The region's leading art fair- Art Dubai – returns to Madinat Jumeirah from 21-24 March, showcasing works from a record-number of 105 galleries. Discover art from across the globe, immerse yourself in interactive daily performances, join uniquely informative talks, and enjoy a culture-filled day with the family at the largest edition of the fair to date.Tickets for #ArtDubai2018 are now available, with a 30% discount for online purchases: www.artdubai.ae/ticketsArt Dubai is held in partnership with The Abraaj Group. The fair is sponsored by Julius Baer Group and Piaget (بياجيه), with Madinat Jumeirah as the home of the event. The Dubai Culture & Arts Authority (Dubai Culture) is a strategic partner of Art Dubai and supports the fair's year-round education program. Misk Art Institute is the exclusive partner of Art Dubai Modern.

Posted by Art Dubai on Monday, February 19, 2018
Art Dubai 2018 is a great chance to admire contemporary and modern art from all around the world; the event will feature 105 galleries from 48 countries. Additionally, there will be a one of a kind section especially for modern artworks by artists from the MENASA region. The international art fair will be many artists' opportunity to be discovered, as works from emerging art scenes will be showcased.
The event is an attempt to reflect the cosmopolitan energy of Dubai and to broaden the art conversation beyond the horizons of traditional art exhibitions. It's not the first time though, Art Dubai has been doing this for over a decade. Alongside other events, such as Dubai Design Week, Art Dubai is making a contribution to position the cosmopolitan city as an international cultural destination.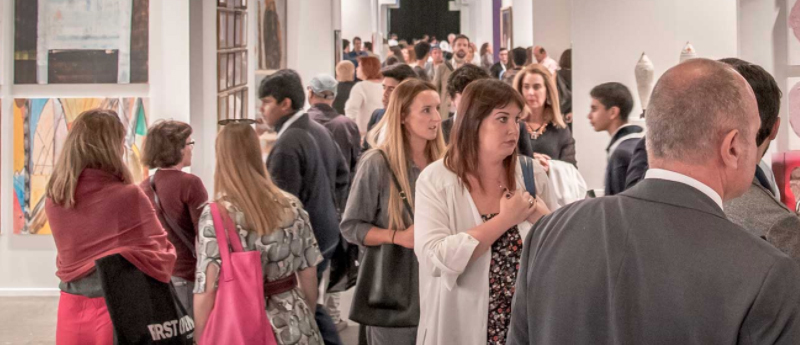 One of the event's highlights is a new project by Japanese-Australian Artist, Hiromi Tango. The project named "Healing Garden" is an interactive installation for children. It's a hands-on opportunity for children to contribute in creating a nurturing environment. Tango is going to be the lead artist for the sixth edition of the Sheikha Manal Little Artists Program. It's an initiative by The Cultural Office which will also take place at Art Dubai.
Art Dubai is held in partnership with The Abraaj Group, a leading private equity investor. Moreover, Piaget and Julius Bär act as the lead partners, while Dubai Culture is the strategic partner.
WE SAID THIS: For more information on tickets, click here.