Just because summer is over, it doesn't mean the season of stunning beauty is, as evidenced by Roam Egypt with their never-ending escapades across Egypt, this time to Marsa Alam. With crystal clear beaches, pure white sand, and brimming with wildlife galore, Roam Egypt shows us yet again that when in Egypt, it's always the season to roam across the terrains of this vastly historical and natural landscape. So where did Roam Egypt stop by this time? Scroll down below and join us along their journey!
Marsa Shagra
Undoubtedly one of the most captivating and serene seaside locations, Marsa Shagra is for all water loving travelers, be it diving or snorkeling. Boasting one of the most entrancing Red Sea house reefs, the reefs are flooded with marine life including sea turtles, occasional dolphins, reef sharks, a wide variety of fish and vibrant corals. If you're looking for simply meditating underneath the illuminating moonlight, immersing yourself in the tranquil colors and evidence of life under the sea, or to trek through the desert to meet some of the Bedouins of the South, then this place is a must! Camping in the Deep South at Marsa Shagra Village, Marsa Nakari Village, and Wadi Lahami Village are just a few examples of a calm and blissful retreat from the world. Single and double dome-shaped tents, as well as special luxury ones are available, depending on the type of travel you're seeking. Observe the cosmos from below as you experience the other side of Marsa Alam!
Dolphin House
Home to one of the most important dolphin habitats not only in the Red Sea but also globally, Dolphin House is protected under rules and restrictions set forth by the Hurghada Environmental Protection and Conservation Association (HEPCA) that protect these playful and intelligent creatures, as well as their fragile reef habitat. Spinner dolphins are abundant in this area, known to be one of nature's wonders.
Al-Nayzak
With its tranquil turquoise color, Al-Nayzak is a secret little paradise tucked away about 20 minutes from Port Galib, several kilometers past Marsa Alam's Red Sea coastal town. Al-Nayzak, meaning "meteor" is a natural pool that is believed to have been made due to a meteorite that hit the coast. Since it may have come directly from the stars, it should go without saying that indeed it is a star of Marsa Alam and for travelers alike.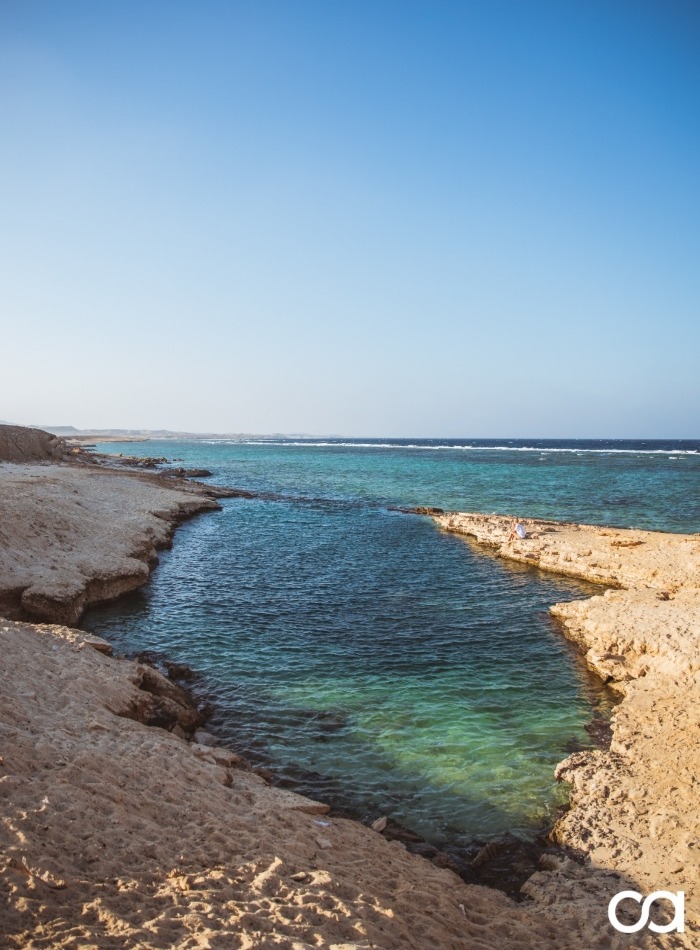 Wadi Lahami
This secluded village is one of Egypt's gems in the Deep South, and serves as a dream getaway for those looking for empty coastlines with mangroves, but mind the camels for company! In addition, the area is also home to wader and shore birds who live and nest in the area, making it an additional place to bird watch as well, and, if you're lucky, you might even spot some pink flamingos.
Qulaan Mangrove Forest
Situated within the Wadi El Gemal Reserve, this spot is for the ultimate physical and mental unwinding, an ideal spot for a peaceful swim in the lagoon occupied by mangrove trees, with one specific large and old one highlighting the area and towering over the lake. With a rich biological diversity, Qulaan is a photogenic treasure not only for cameras, but for a memory in the mind as well!
Ras Hankorab/ Sharm El Louli
Also referred to as the "Egyptian Maldives" and "Paradise Lagoon," Sharm El Louli has been ranked as one of the top 25 beaches in the world by TripAdvisor. With colorful corals, a striking diversity of fish and various shades of blue, Sharm El Louli is a snorkeler's dream. Located 60 km south of Marsa Alam, the stone-free beach with fluffy and white immaculate sand are an epitome of a beach utopia, where you can also find refuge in a Bedouin camp for some specially brewed coffee and tea.
Duck Superior
Since Marsa Alam is already known for its unique diving and snorkeling experience, Ducks Superior, founded in 2010, is one such Diving Center that enables people from all walks of life and from any level of diving to truly experience Marsa Alam's hidden underwater world. Offering PADI and SSI courses for people in all levels, some of their trips include a trip to Abu Dabab Bay, where large sea turtles and sea cows can be seen, and Elphinestone for those seeking a one in a lifetime thrilling adventure amidst oceanic white tip sharks and hammerheads. A journey with Duck Superior is one guaranteed in offering another angle to the adventures that await you in Marsa Alam!
WE SAID THIS: It's always the season with Roam Egypt! In case you missed it, make sure to also check out When In Fayoum: 10 Things To Do This Season