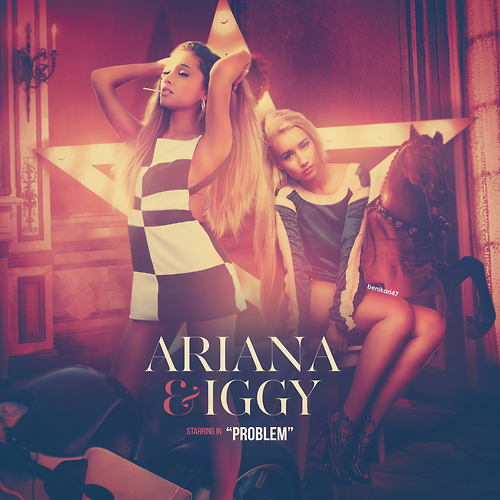 Ariana Grande is getting ready to launch her second album, which will include an EDM track with Zedd that I can't wait to hear, and this super fun new one "Problem" with Iggy Azalea:
And Mariah Carey's album including Miguel collaboration "#Beautiful" and latest single "You're Mine (Eternal)" is finally on its way at the end of this month. She announced this week the album title as Me. I Am Mariah… The Elusive Chanteuse and released a video explaining the title:
In this week's new videos, Ludacris, Wiz Khalifa and Jeremih revive unfortunate 90s hit "Barbie Girl" and transform it into sexy R&B track "Party Girls":
And The Black Keys preach in the video for new track "Fever", off their new album Turn Blue, which is due for release on May 13th, a few days after their performance on Saturday Night Live next week. Check out new one "Fever" here:
Also out on May 13th is Michael Jackson's posthumous album Xscape, featuring this new one "Love Never Felt So Good" with Justin Timberlake:
And May 19th brings us Coldplay's new album Ghost Stories, which includes fan favorites "Magic" and "Midnight", as well as new releases "Always in My Head" and amazing new track "A Sky Full of Stars", which was co-written and produced by Avicii:
Tori Amos takes on the big questions and her inspiration by visual art in new album Unrepentant Geraldines, featuring first single "Trouble's Lament" about a girl named Trouble on the run from the devil, and "Promise", featuring vocals by her teenage daughter Natasha. The album is due mid-May.
Linkin Park are also readying sixth album The Hunting Party, with help from Rage Against the Machine's Tom Morello, System of a Down guitarist Daron Malakian and Helmet's Page Hamilton, as well as rapper Rakim, who contributed to first single "Guilty All the Same". Watch the album trailer here:
WE SAID THIS: Check out last week's FTR: Access Your Inner Diva for more handpicked new music videos.