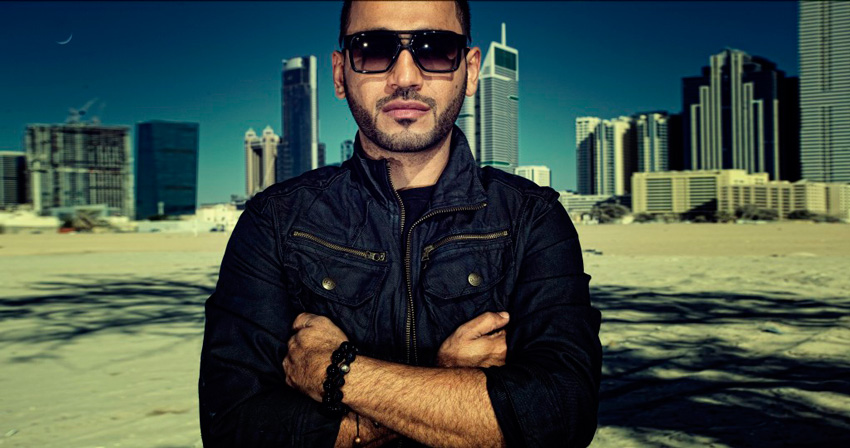 Dubbed the Ryan Seacrest of the Middle East, Marwan Parham Al-Awadhi is a man who wears many hats – presenting That's Entertainment on DubaiOne, hosting The Real Flava Radio Show on Channel 4, acting in short film Faith in Love, entertainment blogging on Yahoo! Maktoob, and, of course, behind the decks as DJ Bliss.
He's also an entrepreneur, heading up Bliss Inc., and did you know he owns his own barber shop? Find out more about Marwan in this candid interview, where he looks back on his musical journey and shares his deepest fear, best advice and more secrets with Scoop Empire partner Kareem El-Nagdy.
Who are your biggest musical influences?
This is always a hard question because as far as influences are concerned, I've had all different kinds of people influence me and different people who influence me in a different way… So, you know, Michael Jackson in terms of being the biggest pop star in the world. Drake, in terms of being the new guy and how he's making it. And then when we talk about hip hop, Kanye West for future hip hop. And then we talk about past hip hop, 'Pac and Biggie, then – I love legends, like that's my thing, I love people like Elvis, Bob Marley, Nirvana – because I used to be into rock bands as well – Jimi Hendrix, I love great legends who have inspired a change in music.
What about someone's who's not an icon, not a legend? Someone who really gives you inspiration?
You know who really gives me inspiration? Drake, actually. Just because he's the new kid on the block and what he does. He's provided something which is completely different than anyone else. He's not a rapper, he's not a singer… some might say he's not a great rapper, he's not a great singer, but he's a great artist. He gets a lot of criticism but a lot of people tell me, 'the more criticism you get, the better you're doing.' And it's true.
If you see what kind of artist he is, he's not like all over the place. He's super talented. When I watch what he does, his social media is very fantastic as well, he doesn't get involved in a lot of things, so yea, probably Drake. I think he's the artist of our time right now.
What was your most memorable show?
One of my personal favorites was opening up for Prince at Formula 1 in Abu Dhabi. The reason why is because they called me and they're like, 'Yo, we have Kanye West performing, we'd like you to open up for Kanye West.' And I was like, 'Actually, you have Prince the next day and I'd rather do Prince.' And they're like, 'What?!'
And I love Kanye and I've already DJ'd for his show and I've interviewed him, but Prince is a legend… I don't think you understand what kind of musical genius Prince is…
He's from an era of Michael Jackson and James Brown, but he wasn't really – he's a very, super quiet guy… he doesn't even meet his band members sometimes… So yea, it was a great concert and just to be able to open up for Prince was just fantastic…
What about in your early days? What was the turning point for you?
As a DJ, I remember winning a DJ competition and then going to DJ at Ministry of Sound in London – that was the prize. It was like right at the beginning of my career, I think it was one of the first gigs that I did internationally as well. And just going out there… really opened up my eyes to how I need to DJ, how I need to travel more, how I need to be doing this a lot more, so it was really a turning point for me…
Travel is really a big part of it. When you travel outside and you rock a party, it's like, 'These guys flew me all the way out here from Dubai to DJ a party and I'm rocking this party right now!' So it's always a good feeling.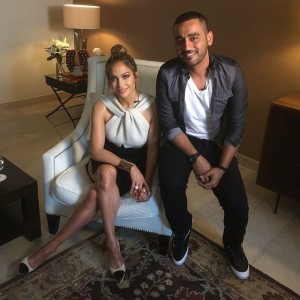 What's your favorite interview?
One of the best interviews I had was actually Paris Hilton… I don't know why, but I was a little shy and starstruck because I was meeting her. And I was expecting like, this really light interview, and it turns out she's actually super smart and super business minded as well.
So it turned into me going in and being super shy – and you could see, I'm like totally acting funny around her – and then it turned into this great interview and we became friends after that. I gave her a CD, a mixtape of mine, and she sent me a tweet thanking me for it. That was a really great interview.
And recently is J Lo. If I had to talk about a recent interview, it would be meeting her. J Lo is probably one of the biggest celebrities I interviewed… Next to like, I don't know, Kanye West and James Hetfield of Metallica, J.Lo, as far as a pop icon, she's probably the biggest.
What's Kanye West really like in person?
I met Kanye West in 2010 or 2009 – I would love to meet him again because I feel like he's a different person right now. When I interviewed him, he's a super weird guy, because he's not one of those guys you can ask questions to and he'll answer them just because you asked the question.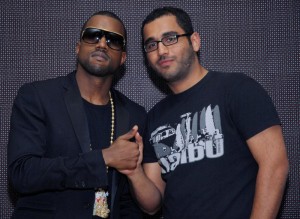 Like if I wasn't asking intelligent questions, he knew I wasn't asking it because I've done my research… so when you do a Kanye West interview, you gotta be super prepared. And you've definitely seen the interview he did with the BBC presenter where he goes crazy – so I'd be scared to interview him now.
Luckily, I interviewed him pre – like I feel like he's this new guy now, he's Yeezus now, he's not Kanye West anymore… so he's that kind of guy, you know. He made me wait like three or four hours, though, before we did that interview, because he wanted to shave for the interview, but it was a radio interview!
So what do you prefer more, DJing or TV hosting? You're into writing, too, now?
TV and DJing are two completely different things. I don't even feel like the same person, like when I'm talking, I dress differently and I'm a different person.
I don't even use my DJ name on TV anymore, I use my real name, so I'm Marwan when I'm on TV and I'm DJ Bliss when I'm DJing. The reason why I do that a lot more is because I suit up, my name is Marwan and I'm talking this TV talk, and then when I'm DJing, I'm like with my cap and like, I almost feel like I get into a different character. It's not even the same person for me to go in there and be like… which one is better?
There was a bit more similarity when I used to do radio. Even when I was doing radio, again, they're all really different types of art forms, but what I love is seeing people and performing, whether it would be on stage and I would be performing my own song, or DJing or what have you, it would be performance. So definitely, there's an element of DJing which I like more than TV.
What advice do you have for up and coming DJs?
It's so much easier on the scene now than before, you can get all the songs now, obviously, there's software you can learn, there's YouTube, which there wasn't YouTube when I started, so you can learn DJing. It's definitely easy to learn how to do it. But DJing is not just about mixing two songs together and having a library of songs, it really is an art form. You have to have your own style.
The best thing for you to do is watch what other people are doing, but create your own style… because, essentially, we're playing other people's songs when we DJ, whether you're playing hip hop, house, funk, old school or whatever. So how you play your style is how people are going to remember you as a DJ.
And the advice I give anyone who wants to get into DJing is that you have to put in the back of your mind that eventually you have to produce your own music. Because if you want to really make it on the big level, you have to be that DJ/Artist… You know, you can't be running into clubs at 40, 50 years of age, mixing records together. You need to have your own songs.
Production is a big part of it as well. Not only just to make your own music, but you need to be able to make your version of songs. So if Beyonce came out with 'Drunk In Love', you need to be able to create a version of that that only you have, so you can only do that if you're a producer…
What do you think is the biggest misconception about Dubai?
…There's a lot of people they only see the adverts about Palm Island and the world's tallest building and they think Dubai is crazy, like, oil rich, you know, people just throwing money around. It's funny because some people think we've got all the money in the world, and we don't have anything, like… we don't have roads and it's a desert out here.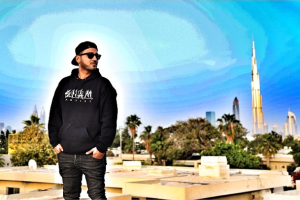 I think what we really need to do is show people more of the Dubai that's not about just world's tallest building and seven-star hotel and Palm Island and all that, you know… through content. Especially in this day and age.
I believe YouTube is what changed the world and what's going to continue changing the world. So we need more content out there that shows people what else there is to do over here in Dubai.
And within Dubai, those who come – the misconception is that people here, they get a nine to five job and they're clubbing three nights a week and they don't get to do anything else. If you really want to experience Dubai you really need to go out and find – there's so many things to do, there's a lot of cultural stuff, there's other neighbouring cities, go to Abu Dhabi, go to Fujairah, go to Ras Khaimah – there's so much stuff to see.
And I feel like a lot of people come here and they're like, 'Oh, I don't like it here… it's the same stuff going on' and I really feel that those people, they never really went out to see the UAE for what it really is.
What's the biggest challenge you've faced?
The biggest challenge was just being from here. It was difficult when I was getting into radio, especially. Radio was dominated by expats. So when I came and I wanted to come into radio, it was like, you felt like an outsider. So getting into radio, which I really wanted to, radio really changed my career. Getting into it was difficult.
And as a DJ as well, it was also difficult for me to get into the DJ scene, too, because it was the same thing – there wasn't local DJs… So I had pressure from my family to not pursue it and I had pressure from the other side because I was not accepted because I was local. And at the same time, traveling outside, you know, we never really exported a DJ from here to the West, or outside at all, so trying to get out there was pretty difficult as well.
But it's really the challenges that made it fun and made me who I am today. So, you know, I love challenges.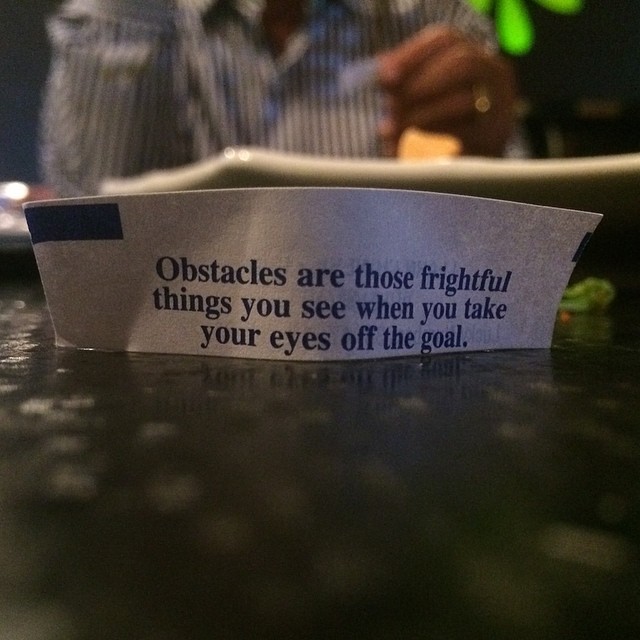 What charitable cause are you passionate about?
There's one event that I work with every year, which is Dubai Cares, they do a walk for education… I'm heavily involved with them. And I love it because it's a great event… it's right in front of our office, we go to the park and we then have a party at the end of it as well, so that's great.
And recently, I've teamed up with a very good friend of mine, actually, Lola Lopez, she's designed these t-shirts called #ItsCoolToCare… Lola's a great person, I support her 100%, she's devoted her life to helping – she has an organization called Volunteer in UAE. I love what she does. Wherever she can help, she has volunteers who help her, and they provide help to any charity or organization.
Me, personally, myself, when they asked me to be a part of that and what cause I would like to change, I haven't really put my mind to it about how I would like to tackle it, but when I see… there's so much rich people in the world and there's so much poverty, it doesn't make sense. Like why is there so much money over here and then we have no money over there? Why can't we just balance that out – that's what I'd really like to happen.
Poverty is just crazy to me… If there's just a way, even little ones, where we can help the poor more to rise above their current situation and make a better life, I think those are the types of campaigns I'd 100% commit myself to…
Do you have any enemies in the industry?
I'm really against words like, 'enemies'… there definitely is… there's been quite a few. I used to get involved in 'the beef' if you call it that, like back in the days, and because I play a lot of hip hop music outside of all the other stuff that I do… I used to get involved with it for a while, but recently I just decided like, I'm just giving up on it.
First of all, the people who try and beef with me are never really on my level. They see what I'm doing and it just pisses them off and they just try to get at me in any way they can.
And then secondly, I'm all about positivity now, so getting involved in that is really against what I believe in. And it's difficult for me to keep my mouth shut but it's really against what I'm all about.
And lastly, I just think, if I really did get involved with them, with the position I have… I think I would just make whoever was trying to do that more famous than they are, and I think sometimes that's what they're looking for.
So with all these reasons put together, I just try to avoid it. And a lot of my close artist friends tell me that when people start doing that, then you're really doing well for yourself. They said, 'If people aren't talking about you, then there's something wrong. You need to go out there and try and do something.'
What's your deepest fear?
My deepest fear is… Ooh. I never really go into that part of my mind about what my deepest fear is. But what I want in life is success. So I would say, taking success away from me… I wouldn't call it failure. I would call it not achieving success, because I never really worry at being at zero. I want to be at 120. And sometimes I feel like, if I don't get the 120, that's what I'm scared of.
What's your long-term vision?
The thing that I'm working on right now is a music project, it's an album that features… most of the local artist that are based over here and it has a couple of international features on it.
So what we're trying to do with the album is to promote the local scene. So me and my partner, Prince Q, who's the producer of the album, we got everyone on the album together.
So we have Hamdan al-Abri, Dia from Juliana Down, Clarita from here, Ramzi who is Lebanese-British, Wyclef from The Fugees, K-Young from L.A., we have a couple of new people, we have our own artists, N1yah and Sasha, so we put everyone on there, 10 songs, and it's all radio songs – it's not hip hop, it's not dance, it's for radio. So we're hoping to release that on iTunes and from there see if we can develop some of the artists that are on there.
…I have my own singles coming out as well. I put out a single last year with Kardinal, I just put out another Trap song and I'm about to put out another single, which is my own single, and then I have one more single with Wyclef and Shaggy coming out as well… So my focus for the next couple of months is really music.
What's the end game for you?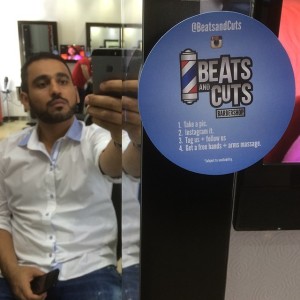 I'm investing my money right now into some businesses – I always wanted to own a barber shop, so I opened up a barber shop last year. It's called Beats and Cuts, it's a place where I see myself going in Dubai to get a haircut… It's just down the road at the Beach Park Plaza where Fitness First is. You guys should come check it out…
I always wanted to be a barber but I never really was able to. Then I always wanted to open a barber shop. Then my barber, who I've been going to for three years, was leaving, so I was like, 'No, why don't you stay and I'll find a barber shop for you', so I opened a barber shop!
So there's a couple of little businesses that I want to get into, I want to open a store that sells cool stuff, like t-shirts and caps and all that. So I'm gonna try to do a couple of those things.
And I've spent all my life in Dubai, like I've never lived anywhere else. I was born here, I was raised here, I went to school and university here and I worked here as well. So when I get things more set up, I'll be able to travel a lot more, I want to go DJ out there, I want to go do music out there as well, so I plan to spend more time abroad as well.
Tell us a secret.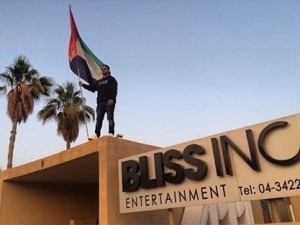 …Remember when I told you most people don't really see another side of Dubai that they should see? …I'm in the process of working on a project that could possibly showcase that in the form of a show that's gonna be online.
It's gonna show that to the Western world and it's gonna involve me traveling. So it's almost like a reality show… It's partly gonna be here, it's gonna be based at the office, music industry, and then also travel as well.
That's what I want to do. I want to promote that Dubai is a great destination, not just because of the hotels and the tourist stuff that you see.
So through this show, it's gonna allow me to show people what I do, because a lot of people don't know that I do TV, radio and produce and all that stuff.
So I want to show people that, but at the same time I want to show my city and at the same time I want to travel and meet my artist friends like in the States and Europe and get them on the show as well… So I'm in the process of putting that together.
WE SAID THIS: Check out our interview with the up and coming DJ Haidz, a rising star in Dubai's music scene.