I have to confess that today's recipes are a little inspired. Being in Spain for a couple days, I have been blessed with the surroundings of beautiful people, wine and of course the long chain of Tapas bars. Tapas known to be the Spanish 'Mezzah' are to share. There are those that you can store in your fridge for a quick nibble and others that take just a little more time but are ideal with a nice glass of wine and good company.
Here are a couple I have chosen for you to add to your recipe books. Enjoy!
Baked Potato Skins With Smoked Salmon and Fresh Dill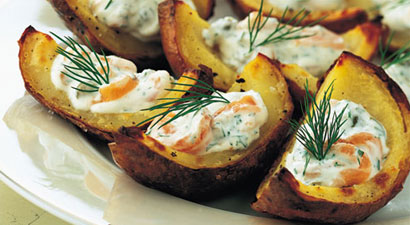 Ingredients
8 small roasting potatoes
2 tbsp extra virgin olive oil
Salt and pepper
1 tbsp margarine
125 g smoked salmon
1 tbsp lemon juice
2/3 cup (175 g) plain low-fat yogurt
1 tbsp capers, drained and chopped
2 tbsp chopped fresh dill
Small sprigs of fresh dill to garnish
Method
Preheat the oven to 400ºF. Scrub the potatoes and dry them with paper towel. Thread them onto metal skewers – this helps them to cook more quickly. Brush the skin of the potatoes with 1 tbsp of the oil, then sprinkle with a little salt. Arrange on a baking tray and bake for 1–11?4 hours or until tender.
Remove the potatoes from the skewers and cut them in half lengthways. Scoop out the flesh, leaving a layer of potato next to the skin about 1 cm thick. (Use the scooped-out flesh for fish cakes or mash to make a savory pie topping.) Cut each piece in half lengthways again, and place, flesh-side up, on a large, clean baking tray.
Melt the margarine with the remaining oil and season with salt and pepper to taste. Lightly brush this mixture over the flesh side of the potato skins. Return to the oven and bake for a further 12–15 minutes or until golden and crisp.
Meanwhile, cut the smoked salmon into thin strips and sprinkle with the lemon juice. Mix together the yogurt, capers and chopped dill in a bowl, then stir in the salmon.
Allow the potato skins to cool for 1–2 minutes, then top each with a little of the salmon and yogurt mixture. Garnish each with a small sprig of dill, then serve while the potato skins are still warm.
Spicy Date, Apple, and Cheese Dip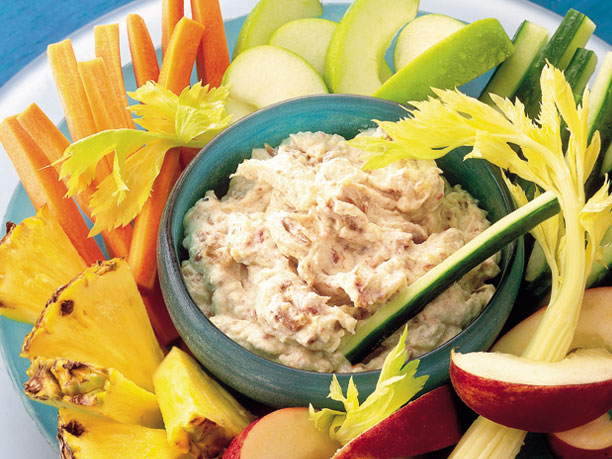 Ingredients
3 green cardamom pods or 1 teaspoon ground cardamom
1 extra-large cooking apple, such as Jonathan, McIntosh, Rome Beauty, peeled, cored, and coarsely chopped
1/4 cup chopped dried dates
1 teaspoon ground cinnamon
1/4 teaspoon ground ginger
1/3 cup water
8 ounces reduced-fat cream cheese (Neufchâtel) at room temperature
To serve as a dip for cruditês such as: Wedges of red and green apples Carrot, celery, and cucumber sticks Wedges of fresh pineapple, seedless grapes, strawberries
Method
If using cardamom pods, lightly crush them with the flat side of a chef 's knife to split them open, then remove the seeds. Discard the pods and crush the seeds with the side of the knife. (This can be done with a mortar and pestle.) If using ground cardamom, omit this step.
Mix the apple, dates, crushed cardamom seeds, cinnamon, and ginger in a medium saucepan, then add the water. Bring the mixture to a boil over medium heat, stirring occasionally.
Reduce the heat to low and simmer, uncovered, until the apple is tender and the dates are pulpy, about 10 minutes. Stir occasionally to prevent the mixture from sticking to the bottom of the pan. Remove the mixture from the heat and cool.
When the apple mixture is cool, stir the cream cheese in a medium bowl until creamy, then blend in the fruit mixture. Cover and refrigerate until serving time. (The dip will keep in the refrigerator for up to 3 days.)
Serve the dip in a shallow bowl or dish, place on a platter, and surround with an assortment of fruit and vegetable crudités.
Smoky paprika peppers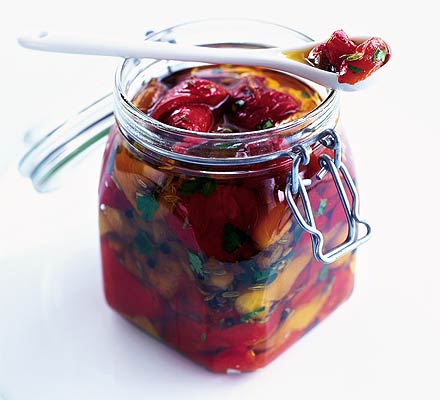 500ml mild olive oil
2 tsp sweet smoked paprika
1 garlic clove, thinly sliced
1 tbsp black peppercorn
1 tbsp fennel seed
8 red peppers
8 yellow peppers
sea salt flakes
300ml white wine vinegar
small bunch flatleaf parsley, chopped (optional)
Method
Pour the oil into a medium saucepan. Add the paprika and garlic, heat very gently for 5 mins, then leave to cool. Lay a piece of muslin over a sieve and strain, discarding the garlic and paprika to leave bright orange, scented oil. In another pan, dry-fry the spices for 1 min to release their aromas. Add to the paprika oil and set aside.
Heat the grill to high. Cut the peppers in half (leave the stalks in place – they'll easily pull out later), and spread over 2 large baking sheets, skin side up. Grill for about 15 mins, until the skins are blackened. Transfer the still-hot peppers to plastic food bags, seal and leave to cool. Once the peppers are cool enough to handle, slip off the skins, pull out the stalks, scrape away the seeds, and tear into large pieces.
Bring the vinegar and 300ml water to a simmer in a large pan and tip in the peppers. Bring back to a simmer for 3 mins, then drain well and pack into jars or heatproof containers. Gently reheat the spiced oil for a few mins, then pour over the peppers and seal. Add the parsley before you serve the peppers (or add now if you're planning to use them same day) as the parsley will discolour. Keep in the fridge for up to 1 week.
Manchego cheese triangles with quince preserve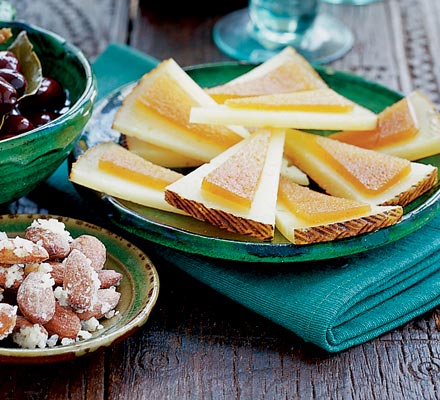 200g Manchego cheese
Quince paste
Method
Cut 200g/8oz manchego cheese into triangles or squares and cut the quince paste (membrillo) into small pieces. Top each slice of cheese with a piece of quince paste and serve on a flat plate.
WE SAID THIS: For More Fun Tapas Visit http://www.rd.com/ & http://www.bbcgoodfood.com.