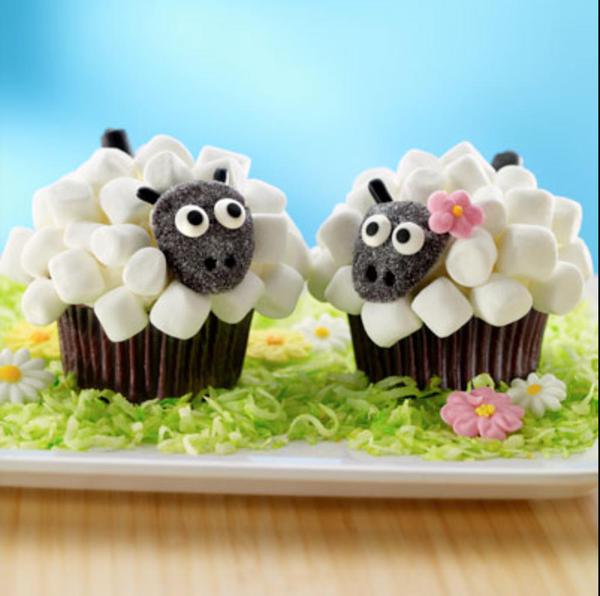 Just take one car ride through Cairo, from the flocks of sheep in Tagamo3 to the little lamb stuffed animals covering the sidewalks, you'll know its undeniably Eid again. Perhaps one of the most family-oriented vacations, Eid has always been special. These sheep cupcakes are a great activity to do with the family and are great for kids.
You'll need to start off with cupcakes. You can buy store bought vanilla cupcakes, but why not make them from scratch, to make them even more delicious. This is my go-to vanilla cupcake recipe; trust me when I tell you it's fool proof!
To make 12 Vanilla Cupcakes you'll need:
1 Cup, 200 Grams Granulated Sugar
Half A Cup, 113 Grams Un-Salted Butter, Softened
2 Eggs
2 Teaspoons Vanilla Extract
2 Teaspoons Baking Powder
1/8 Teaspoon Salt
1 1/3 Cups, 160 Grams All Purpose Flour
1/3 Cup, 80 Ml Whole Milk
For The Frosting:
1 
Cup, 226 Grams Unsalted Butter, Softened
3 Cups, 600 Grams Cups Powdered Sugar, Sifted
1 
Teaspoon Milk
1 
Teaspoon Vanilla Extract
1⁄8
Teaspoon Salt
Toppings:
Large White Marshmallows
Small White Marshmallows
Either Small Or Large Pink Marshmallows
Chocolate Chips or Brown M&Ms
Instructions: 
Begin by turning your oven to 175 degrees Celsius, and then line your cupcake tin with liners.
Make sure your butter is completely softened and at room temperature. Using a stand mixer with paddle attachment, hand mixer or just by hand, cream together the sugar and butter.
Add the eggs, vanilla and cream together until you get a smooth mixture. Add the dry ingredients and mix together on low while slowly adding in the milk, mix until just combined.
Using an ice-cream scoop or two spoons, spoon the batter into your cupcake liners ¾ of the way up. Bake for 20 minutes, and let cool completely before frosting.
While cupcakes are baking, combine butter, sugar and salt in a bowl and beat until blended then add the milk and vanilla and beat for up to 5 minutes or until smooth and creamy.
Now the fun part, place the mini marshmallows around the border of each cupcake, in two circles. Leave room for ears at the ends, and an empty circle in the middle for the face. Place halved large marshmallows in the reserved room, for the ears. Place two chocolate chips or M&Ms in the upper half of each empty circle to make the eyes, and a pink marshmallow cut into a triangle for the nose.
WE SAID THIS: Don't miss DIY: Get Sheepishly Artsy this Eid with these Sheep Crafts