The holy month is finally here, and the celebratory month is already filled with culture, tradition, and soul. Moreover, the first day is usually the most exciting: with the feast of food, the family gatherings, the new TV shows, and the decorations in the streets. It's all very cozy, warm, and filled with life at the moment. Meanwhile, here we have a list of celebrities who are wishing everyone a happy Ramadan amidst the best Ramadan decor!
Ahmed Amin
The comedian and dramatic actor takes a picture of himself hanging up the Ramadan decorations. In the post description, he wishes everyone a happy Ramadan.
Mohamed Salah
International superstar, Mo Salah shared a picture of himself, straight from the warmth of his home, and in his pajamas! The decorations behind him on the wall shine, reflecting the traditional cozy spirit of Ramadan.
Johara
The famous belly dancer shared a picture of herself next to a Ramadan lantern, wearing a customary Ramadan outfit for women, and wishes people happiness during Ramadan. This 'galabaya' conveys a sense of modesty, which all practicing Muslims aspire to throughout the holy month.
Ola Roshdy
The hilarious actress shares a picture of her face just inches away from a lantern, and in the post she asks, who shines brighter, her or the lantern? She then goes on congratulating people for the arrival of the Muslims' favorite and most spiritual month!
Dorra Zarrouk
The beautiful actress shared a picture on her Instagram story, looking glamorous as ever, holding a crescent, symbolizing Ramadan and the multiple decorative designs that are affiliated with it. Behind her are more decorations: a lot of lanterns, and all lit. In her picture, her message wishes people a happy and generous Ramadan!
Mohamed Attia
This singer/actor sits in what only could be a Ramadan tent, with the lights and decorations looking amazing, properly showcasing the spirit of Ramadan with a nostalgic touch. In the post, Attia wishes people a happy Ramadan!
Asmaa Galal
The rising actress, Asmaa, has mesmerizing decorations in her house, which she shares in an Instagram story. In the picture, she writes "Happy New Ramadan." Not to mention this welcoming dinning table with the Ramadan snacks and decorations, as well as a traditional lantern in the back!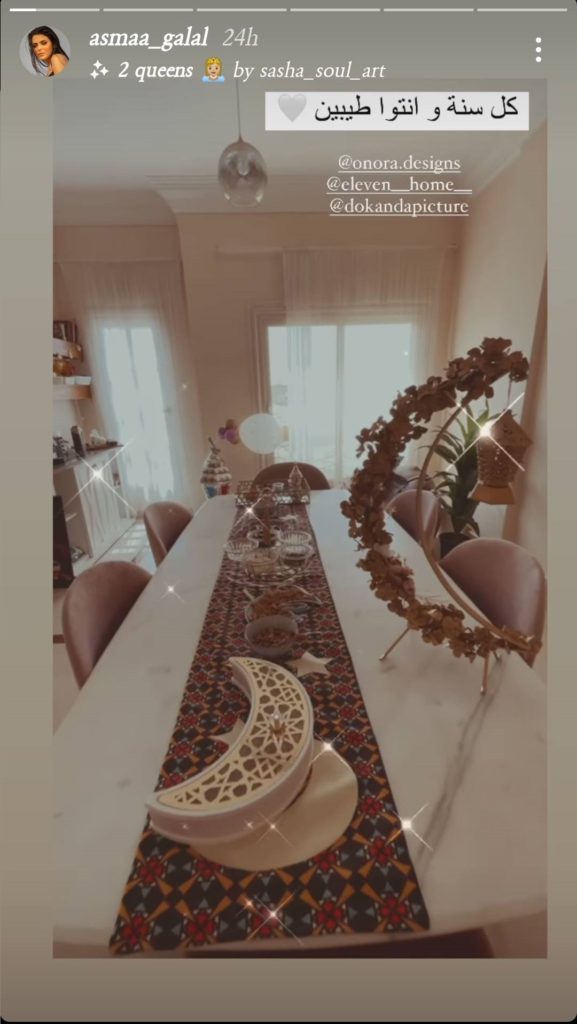 As we all embark upon a new holy month, shared in love, generosity, tradition and peace, we'd like to wish everyone a happy Ramadan!