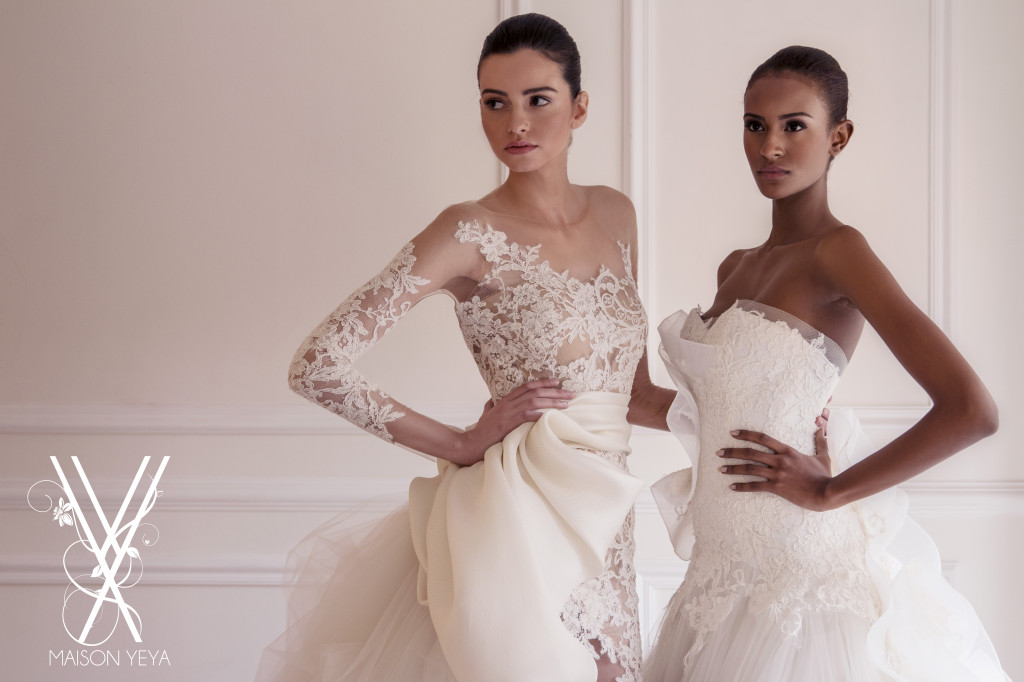 As the wedding gown couturier in Egypt, it's always wedding season for Yasmine Yeya. Her rise may seem rapid to observers, but, as she shares with Alia Askalany in this interview, Yeya's journey – including milestones like Ellie Saab's Mission: Fashion LBC show, her own sister's wedding and dressing celebrities across the Arab world – has been propelled by diligence, care and, above all, genuine passion for her craft and the women who inspire each of her one-of-a-kind creations.
Tell us a bit about your brand and how it came to be? Who are the "Jasmines de Yeya"?
My brand is a passion that came to life with a lot of hard work and dedication. My brand name is Maison Yeya and "Jasmines de Yeya" is the names I call the brides that I have worked with, that are so dear to my heart. I think of them as my little Jasmines that are so pretty when I dress them in white.
Are you purely Egyptian?
No. I'm of French descent. Half Egyptian, half French.
Do you work alone? And if not how does the design process take its journey with each dress or bride?
No person in any field can achieve solo success or work on something this big on his or her own. What I always tell my team is that our work is the sum of the excellence of each individual. If one fails to do his or her part, the whole project will fail. It's like an orchestra where all of us have to perform to execute a beautiful symphony.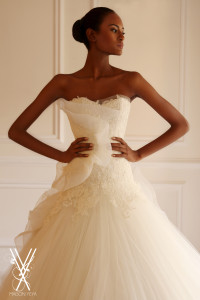 The process starts with a bride. Women have always been my inspiration. So it starts with the client coming into the atelier. If I'm designing an haute couture gown, the bride is always my muse. Her beauty and her soul take me on an imagination trip. The ideas then go to paper and from paper to my workshop.
What is the average time it takes to make one's dream dress and what are the materials you like to work with?
It usually takes four to five months from the first meeting to delivery.
My passion for fashion started with my fascination of fabrics. I love all materials and each material serves a different design purpose.
I read somewhere "there is something about a wedding dress that makes it the most beautiful dress a woman will ever wear." So, for the time being, I only design wedding gowns. I love decadence and this is why I enjoy doing bridal dresses the most.
Do you have a certain dress or design that you consider your masterpiece?
I think with each dress I make, I take another step up the ladder of fashion. However, the most special to my heart is my sister's wedding dress. It was the most emotional experience I went through.
Do you display your dresses in other places apart from Egypt? Do you plan on opening a store or would you like to keep your showroom/studio as your spot?
All I'm going to say is "stay tuned…"
What is your favorite Egyptian designer or artist? Who inspires you?
My designs are a tribute to the golden age of Egyptian socialites. A big part of my childhood was spent watching movies of Sabah, Soaad Hosny, Nadia Lotfy and Faten Hammama. Women like them are the reason I love decadence. Their elegance and aura, even the gloves they used to wear always inspired me.
How do you feel the Arab world has developed when it comes to fashion?
People became more aware of what fashion is. Everyone wants to look pretty or good. In the Middle East, I see more extravagant fashion than in Europe. Arab women are hot-blooded, sensual and extravagant and those characteristics mixed with global exposure are producing more fashion icons in the Arab World.
What advice can you give other young designers?
To be a successful designer, it takes more than just talent. It's a lot of hard work. Becoming a fashion designer is not the job that everyone thinks is full of photo shoots, model fittings and magazine interviews. Not only do you need to be creative, you have to be able to deal with people. You have to have great communication skills, be it with your clients or your team. It takes creativity, hard work and the ability to take any punches that are thrown your way and overcome them.
You are a female entrepreneur in a so called "man's world". How has that added to your success and drive?
*Laughs* Who said it's a man's world?! Here in Egypt, it's a woman's world all the way! I've always believed that a woman achieves her full strength when she realizes that her power lies in the fact that she's a woman – by accepting her femininity and letting it empower her.
If you could do anything else in the world, what would it be?
I would have loved to be a doctor. I've always wanted to find a solution or cure for diseases, especially cancer.
What are you most comfortable in? Your favorite outfit?
My PJs. They are my most comfortable item and any woman would be lying to you if she said otherwise. The highlight of my day is when I go home, take off my heels and throw myself on the couch to relax.
Last but not least, how does one get their hands on one of your masterpieces?
I have become notorious for being so difficult to get a hold of. But this is also because I work on a limited number of dresses at a time. I can't overload myself if I am going to ensure quality.
My tip is that you book an appointment really early on by getting in touch with us through our Facebook page "Yasmine Yeya Couture", calling our atelier or emailing us at info@maisonyeya.com.
WE SAID THIS: Don't miss our Q&A with model and filmmaker Elisa Sednaoui.