26-year-old Elisa Sednaoui is an Egyptian-Italian model, actress and filmmaker who was born in Italy and lived in Egypt until 1993. Elisa is the granddaughter of the Sednaoui brothers, the founders of the oldest and biggest fashion house in Egypt, and the goddaughter of Christian Louboutin.
Elisa has worked with brands such as Chanel, Armani and Cavalli, and she has graced the covers of Harper's Bazaar and Elle. At this year's Cairo Fashion Night organized by Pashion magazine, she launched her foundation focusing on children.
Elisa has beauty and brains. Her kind personality and love for Egypt filled the room where she announced the foundation's launch. I chatted with her to get the scoop about The Elisa Sednaoui Foundation and her upcoming work.
What are you wearing?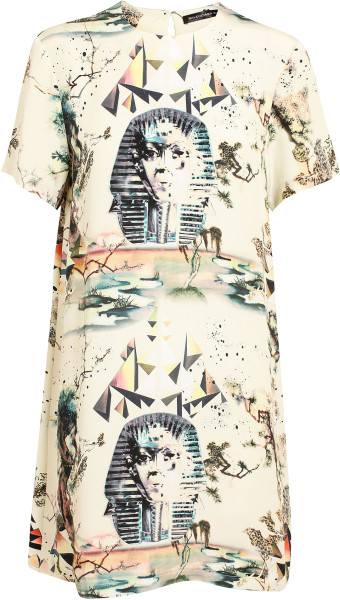 This is actually a Balenciaga dress, it has all these Egyptian prints on it. This dress was inspired by the ancient Egyptian culture, so I thought it would be really suitable for my event in Egypt.
Tell us about The Elisa Sednaoui Foundation.
The focus of the foundation is children and education. The idea is to create after school programs to provide children with a platform where they can build life skills. Children can also enhance their national identity because I feel like this is what's missing right now. A lot of the things that I have done throughout my career comes from the inspiration that I get from people who have made their dreams a reality. [The Foundation aims to] create a space for children where they can be exposed to that.
Why Egypt?
The dream of working in Egypt is something that has lived within me for a long time. I always wanted to do something in the social responsibility field here and I always look for excuses to come to Egypt as often as possible. I love Egypt, I love its people and I feel like I belong here. I feel like it's a country with a lot of potential. Children in Egypt, especially Luxor, start working very early to help their parents. I think it's very honorable, but I feel that it's very important to protect their space to dream and open their perspectives to grow.
Are you thinking of expanding your foundation?
The Foundation is a newborn, so there is still a lot of work before expanding. We are established in the UK now, and we started legal procedures to be an entity here as well. Step by step, we are pursuing a workshop in association with local NGOs in Luxor. If everything goes well we will start in April. We are bringing from America the Modern Improvisational Music Association (MIMA), they will teach children to compose a song and perform it. Music can teach shy children to speak out loud. We are also working with Nas Makan, who play Sufi music and Coptic carols.

The ultimate goal?
The idea is that in a few years, inshallah, to have a cultural center that will run daily classes that will be run by Egyptians themselves. To get there we have to go step by step. "Act small, think big, and start now."
Are you looking to go beyond Luxor?
The idea is that the model could be replicated – we would like to create a model that can be replicated all over Egypt or all over the world. You know, I feel that this issue is relevant and needed also for Italy and many countries where children don't have enough space to be exposed to the arts.
What's the relation between your foundation and fashion?
Well, fashion has been a very important part of my life and it's a part of what is providing me the economic tools to start this foundation up. Also, you know how fashion can be very generous, so we will see what sort of partnerships we can find for support.
What do you think of the fashion industry in Egypt?
I am looking forward to discovering the fashion industry in Egypt. I am familiar with a lot of the traditional fashion, but part of the reason why I accepted this event is that I wanted to see what was done today in Egyptian fashion. Today, I am a spectator to go stand by stand and find out what the designers are doing.
Are you considering modeling in Egypt?
I am happy to discuss any opportunity, if someone has an idea, because there are very interesting brands. Actually there is something in the making for me in Egypt, but I can't talk about it yet…
WE SAID THIS: To learn more about Elisa's foundation, check out http://elisasednaoui.org/.