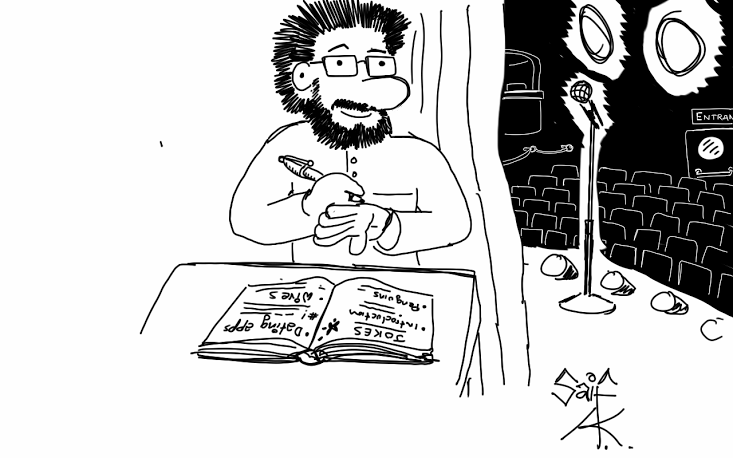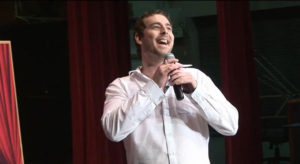 Stand-up comedy is a growing market in the region, with more and more events happening and performers tackling the art.
In this spirit, comedian Omar Ramzi, known affectionately as "The White Sudani", has launched a new website to serve as a hub for fellow jokesters to showcase their work and, hopefully, connect to event organizers who are looking to book top talent.
We chatted with Ramzi to learn more about YallaStandUp.com and his work in the industry:
1. How did you start your company? What inspired you?
I started this company out of frustration, really. I was hoping someone else would start something like this, but when nobody did, I decided to take the initiative and learn extremely advanced and complex C++ and Java computer code and make this website. I'm kidding. I didn't learn code or anything, it was actually pretty easy to make.
I was inspired to make it after one of my recent gigs at the University of Sharjah. When I was backstage I asked some of the other comedians performing with me how they managed to land the gigs they got and they said it was mainly through word-of-mouth. I thought that was pretty ridiculous since we were in the year 2016 and still relying on pre-historic methods, so that's when I had my epiphany to start YallaStandUp.com.
The website has only been live a few months since around April of this year, however, we already feature close to 40 comedians based all over the Middle East/North Africa and a few international comedians who perform in the region with more signing up every day! It's pretty amazing how fast YallaStandUp.com went from just a concept to a fully functional website.
2. How long have you been a stand-up comedian?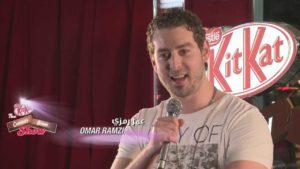 I am one of the pioneers of stand-up comedy in Saudi Arabia and my first gig was back in 2009 when I opened for Ahmed Ahmed in front of a thousand people in Jeddah.
I never would have thought that my first major opportunities in stand-up comedy would come out of Saudi Arabia! It wasn't even legal back then and at any moment, we were worried that the religious police (hay2a) would bust into one of our shows and shut us down just for telling jokes. It was pretty surreal times. Women couldn't drive, cinemas were banned, but myself and a handful of other pioneers were making history.
Since then, I have performed with many A-list comedians such as Maz Jobrani, Angelo Tsarouchas, Dean Edwards, Erik Griffin as well as many talented local comedians such as Wonho Chung, Omar Hussein and Fahad Al-Butairy. I have performed all over the region from Jeddah, Riyadh, Dammam, Cairo, Alexandria, Dubai, Sharjah and as far off as London, England and Ireland.
3. How did your company make a difference in the entertainment industry and for the comedians themselves?
YallaStandUp.com is a unique site to the Middle East/North Africa and it serves two main purposes: firstly to promote comedians based in, and who have performed in, the region by allowing them to set up profiles for free. All they have to do is fill out a form in the "About" section of the website and submit it.
These profiles include their information (such as where they are based, where they have performed, their set times, etc.), a video of one of their performances or a show reel, a link to more of their videos online and a biography. Since most comedians in the region rely on word of mouth alone to get them gigs, these profiles aim to provide a more modern alternative for event organizers to discover comedians. The comedians will also be provided exposure through YallaStandUp's social media accounts on Twitter, Instagram and Facebook.
The second main purpose is to streamline the booking process by allowing event organizers to book comedians directly through the website by going to the "Book" section of the website. On each comedian's profile is a link to a booking form. Once this form is filled out and submitted, the comedian(s) requested will be put directly in touch with the event organizer. It couldn't be easier. In the future, we aim to cover everything related to comedy in the region and make YallaStandUp.com a household name.
4. When and where is your next tour, event, performance?
It's still early days for YallaStandUp.com, however we have already been contacted by local and international event organisers who would like to collaborate with us on possible future shows. Big things to come very soon!
WE SAID THIS: Check out YallaStandUp.com on Facebook, Twitter and Instagram.