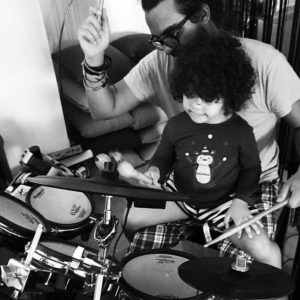 He first caught us with his first video "Wat apout ur firist Ozkarz?" and his "Begad?" catchphrase then his trio videos with his mom and brother; since then, we couldn't resist not talking to the man. The multi-talented artist, cool father and Egyptian social media savior (I might say), Marwan Younis, was able to convey the message of thousands of Egyptians and express how we all feel about lots of things happening in the media nowadays with a touch of humor. Younis was born on 1st of May, 1983. He works as a full time Creative Director in one of the esteemed advertising companies in Cairo, Egypt. He is married and has an adorable drummer-wannabe son.
What pushed you to make these videos?
I had never intended to do videos, I've actually always been camera shy. My twin brother, Amr, is the reason I started doing these online videos.
At first it all started with some fun Snapchat videos; he did impersonations, jokes, and short sketches. He then asked me to join him and we started a very short sketch that later turned it into a tradition that we called "El Excellansat," as well as some fun videos where our mom joined in.
Until the day came when Shaymaa asked Leonardo DiCaprio the golden question "Whats apouts your first Oscars for you." I couldn't hold in my anger, and out of extreme frustration I filmed and posted my first solo video labelled "Begad ya masr?" I honestly wasn't trying to be funny it was a genuine rant that apparently half of Egypt agreed with.
All of a sudden the notifications didn't stop and the video skyrocketed to reach over 900K views! The messages, followers, and comments I got that day made me feel that I must have done something right. I tried another video, and another, and apparently, I am still doing something right.
What kind of issues provoke you the most and why?
Mediocracy is what provokes me. Mediocracy in art, film, music and even manners! What really gets to me is the fact that we have become so used to mediocracy it has become normal for the masses. You see things everyday and just ask yourself "REALLY?"
Which is your favorite video? Why?
My very first one (whats apouts your first Oscars). It was the most genuine rant out of all my videos. Short, insightful, to the point, and very real.
How did the idea of making videos with your mom came up? 
The same way Amr inspired me to join in his videos, he inspired mom to join us as well. Mom always had a hidden talent in comedy and acting. I believe this is where my brother and I got it. The minute we asked her to join us in one of the videos we did not regret it! She is a natural. Absolutely not camera shy and very funny in her improvisations. We hardly tell her what to do in the videos, we sometimes discuss the ideas before shooting and we leave the floor to her to construct her own parts. Sometimes she doesn't exactly get the joke, but she plays along nevertheless. For instance in her popular "Thug life" video, she thought it was not funny at all while we were shooting, but she played along. Everyone was blown away with the results!
How does your mom feel about this?
My mom is extremely happy with these videos because it brings us together and helps her release a great deal of creative energy. We are doing it for fun and she enjoys it a lot, and we bond together in a way we never did before. We have a great laugh (sometimes we can't hold it in when doing the videos and it shows). Now she is the one who pushes us to think of ideas for a videos.
What other issues are you planning to tackle?
I will stick to sarcastic criticism for now. I do it comfortably and I enjoy it. I was a little concerned when I found myself cornered in the "Bad Music Videos" category, but glad that I am now tackling other issues like behavior, media and art and general insights, and trust me, that's more than enough material.
WE SAID THIS: For more of Marwan Younis and his family, click here.