I remember in the late nineties when Shams El Zanaty's cover by Hisham Kharma was larger than life.  It was literally playing everywhere; it was the hippest, coolest tune and we just couldn't get enough of it! I knew then that this guy is going to be big in this business and he sure proved me right.
His music edge is so different than anybody in the industry; his creativity and sophisticated taste in music is just the perfect blend for success. Following the great success of his recent tracks "Mount Legacy" and "Badr" , he surprised everyone with his latest single "Manteqy" featuring the famous poet Hisham El-Gakh and the angelic vocals of Mostafa Atef.
This time Kharma took it to a whole new level. It's a true work of art with its spirituality and soothingness and we are surely looking forward for more.
First, let me congratulate you on your inspiring latest tune "Manteqy", it is truly soul soothing and uplifting…
What inspired this significant collaboration? And why with Hisham El Ghakh and Mostafa Atef in particular?
The main inspiration was the cause and message behind the song. It highlights the traits and values of our prophet ( pbuh ) and religion for those who don't know much.  It also responds to any accusations or misconceptions in a proper and decent way through art which is a universal language.
One of the most inspiring things to me in particular was the idea of having Gakh with his powerful spoken words, Mostafa with his soothing voice and my music "fused together". The fusion between these three elements 'words, enshad and music" was something I loved and found inspiring yet very challenging.
You said this song is very close to your heart, could you elaborate why?
Because of its spiritual nature, the idea of using art and music for a cause is something that I love. Everyone in the team put their heart into it so the positive energy throughout the whole process was a very motivating one too. I also got to know new talents and lovely people and that's always a plus.
What made you decide to go for such type/genre of music? Are you willing to compose more tracks with the same style?
It wasn't planned at all, it was completely random. Mostafa Atef and I are good friends and working on a big project together, he and Adel Ashoub the producer, who is a very good friend as well called me and suggested the idea of working on a spiritual project, so we took it from there.
I have a huge passion for fusion music – spiritual or not – because it helps me experiment and try new things musically.  I don't think I will ever stop with the fusion genre in general.
Other collaborations coming up?
Yes, but still in the kitchen phase ☺
What inspires your music the most?
Inspiration comes from everywhere; mostly travel, or when my mind is clear, I don't like to limit my sources of inspiration.
This is why I have my portable studio with me all the time so that whenever something hits, I'm ready to record a rough demo. What keeps me going the most is when some people tell me that my music makes them happy – that inspires me even more.
Some people think that composing music is easy and effortless, what is so hard and challenging about it?
I believe if you have passion for anything and give it time and effort, it will get easier. To me the two challenging phases are:  1. coming up with a compositional idea and this only happens when I'm inspired.
2. The arrangement; how to use the right sounds and orchestration to convey the musical idea to the listener in the best way possible.
Who would you like to work with someday? Any music idols?
No one specific but I'd like to keep experimenting with new fresh talents. A. R. Rahman Is one of my main music idols, not only because he composes great music, but because he is also a great human being. Check his initiative "The Sunshine Orchestra for underprivileged children".
What's your next musical move? Any future plans in mind?
I'm currently putting a live show together where I'll be performing my music live. This will be in collaboration with super talented musicians. I've been preparing for it for two years now and 90% of it will have totally new musical tracks than the tracks I've released before.
So you will go LIVE! That is pretty awesome; you got me so curious, give us some more details about it concerning setup and other elements involved…
I'm still wrapping up the final set up and concept but it will definitely involve other musicians; I'm aiming at giving the audience a new uplifting fusion experience, fingers crossed!
Are you planning to start working with some of the local underground bands and musicians?
Of course! The beauty of fusion music is that it doesn't limit you at all in your collaborations, so working with bands is definitely one of the ideas I have in mind.
What do you aspire for your music career? Where do you see yourself musically 10 years from now?
I hope I can take my music globally and introduce our oriental flavors in a universal/electronic context. I also hope my music can inspire listeners and lift their moods in a way – if it happens, then I'll definitely keep going ☺
On a separate note, you're the founder of Law3andakDam.com initiative, could you brief us about it?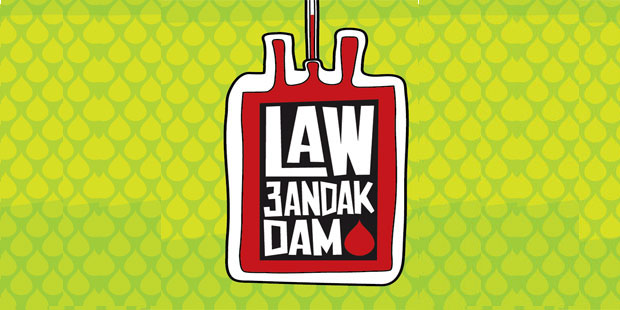 Law3andakDam.com is an online service that matches between blood donors and recipients based on location and blood type.
There is a shortage  whenever someone needs blood for himself or for a relative. It's always a hassle because of the corrupted few working in blood banks in private hospitals.
This was the main reason I initiated the project in order to fill this gap. I consider it one of my biggest and most important achievements and I hope it keeps growing for the great cause it is for.
Law3andakDam.com was selected by "Bright Creations"  to be among the bright creations of 2014 and I was later selected as an Ashoka fellow for this project in 2014 
WE SAID THIS: To stay up-to-date with Hisham Kharma's music like his Facebook page here, or follow his instagram account here