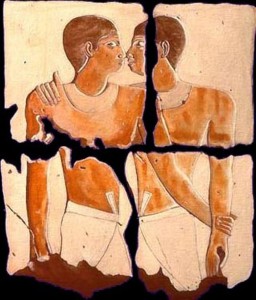 No matter how you spin it, Egypt is a difficult country to grow up in as a gay person.
Homosexuality is viewed by the majority of Egyptians today as a choice – an unnatural sexual perversion – that can be resisted through self-control. It is seen neither as a legitimate orientation nor an identity.
Even those who one would expect to have progressive views such as Hany Fawzy, director of Family Secrets has stated that "homosexuality is a disease" and society should treat gay people like patients in a hospital (read our Q&A with him here). In a society that is deeply religious, popular interpretations of Islam and Christianity explain that homosexuality is at best "sinful" and at worst deserving of "death by stoning."
It is not uncommon to hear people say that one cannot be a "good" Muslim and gay at the same time – that the two identities are somehow antithetical.
We sat down with a Muslim Egyptian lesbian, a member of the growing LGBT community in Cairo, to pick her brain and listen to her thoughts on the matter.
Here is what she has to say about the internal struggle of reconciling her sexuality with her religion, her conclusions, and advice she has for gay Muslims who might be going through something similar:
First, how would you describe your sexual orientation?
I am a lesbian woman. I first noticed my attraction to other women when I was 12 years old but dismissed it because I didn't understand what I was feeling and the society I lived in only showed heterosexuals. I was sure I was wrong and that it was just a phase.
As a lesbian, I am a human being just like everyone else. It only means I am attracted to other women. I don't have a definition for what I am. But once I admitted it to myself, I felt normal, happy and empowered.
Tell us a little about your experience with Islam. Did you grow up with it? How would you describe your relationship with Islam over time?
I grew up in a moderate Muslim family who believes in God and does everything God asks us to do. Being a Muslim is part of my identity where I find comfort and peace of mind.
I struggled when coming out but I started re-thinking religion from my own views. God says "we have created you in a perfect form." This means I am perfect just the way I am. As for the verse on homosexuals (Sodom & Gomorrah) what if it wasn't about being gay? What if it was about raping those angels? Rape is a sin in any case gay or straight.
At the end of the day even if homosexuality were a sin (which I believe it is not) it would be the most harmless sin. I don't hurt anyone and it's between me and God. He knows me best and knows that I can't change. I tried so hard to at the beginning… I didn't want to be different, I didn't want to be considered a sinner. I couldn't change. The more I tried the more depressed I became and the more hate and anger I felt towards myself.
Do you believe it's possible to be Muslim and gay?
Yes it's possible. I pray, I fast and try to be a good person as God asks me to be.
I work on the development of my society and for the betterment of my country. I have a girlfriend who I share my life with. I am happy. I don't see a contradiction. I love. What is wrong with love? Love is never wrong.
What message do you have for gay Muslims?
Stay strong, God is merciful and He loves us no matter what. Stay true to yourself and to others and more important to God. Love like there is no tomorrow.
WE SAID THIS: The director of Egypt's first gay movie, Family Secrets, said that "homosexuality is a disease." Check out this powerful point-by-point response to his Q&A by an anonymous member of the Egyptian LGBT community.