After its immense success last year, Project Runway Middle East is back for what seems to be another incredible season, and we can't wait to witness it unfold before our very own eyes. The show kicked off with a very strong premiere that had us on the edge of our seats and teasing multiple amazing moments and judges that we'll be seeing over the next few months.
So without further ado, here's a list of our 15 favorite moments from the second season premiere of Project Runway Middle East.
1. Cause baby, now we've got… Fresh blood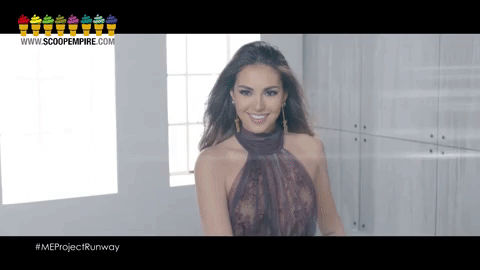 Even though we absolutely loved Jessica Kahawaty, and Faris Al Shehri ended up growing on us. However, we can't wait to see what new host Valerie Abou Chacra and advisor Reem Faisal will be up to.
Can we bring back Jessica though at some point? Guest judge maybe? Pretty please?
2. Meet the designers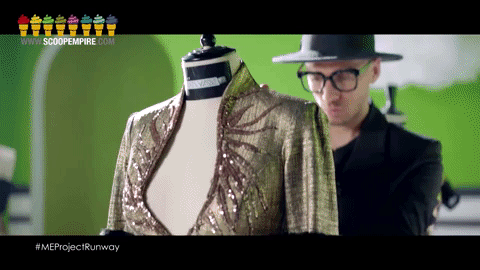 The moment we get to know the designers that will be joining our living rooms every week and fall in love with them one by one.
3. The Yousra!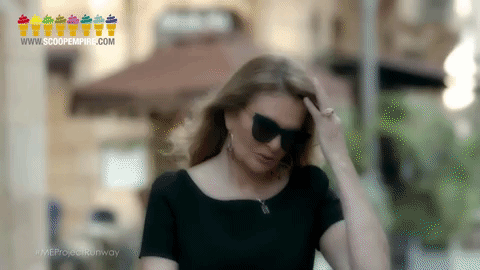 After the release of viral song "3 Da2at," Egyptian actress and royalty, Yousra, continues to slay 2017 by joining the cast of Project Runway Middle East as a permanent judge.
4. Votes? Pls?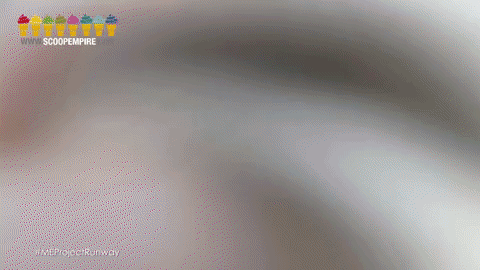 During the first challenge, when the designers had to get Beirut passerbys to vote for their designs to get money to buy fabric, it was probably not Ahmed's strongest suit. It gave us a glimpse into Ahmed and what seems to be his cute awkward introversion.
5. Nora's angels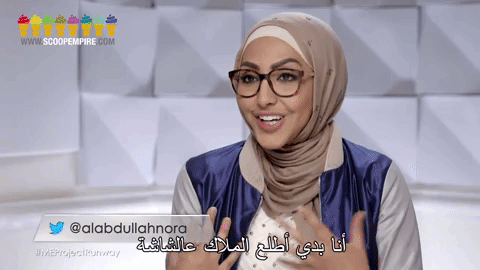 Nora seems like a very nice genuine person that she reminds us so much of season 1's Taghreed… Or could we have another Luma on our hands?
Also why does she want to be portrayed as an angel on the show? Doesn't she know that everyone loves a good villain?
6. Zobaida is the new Saba?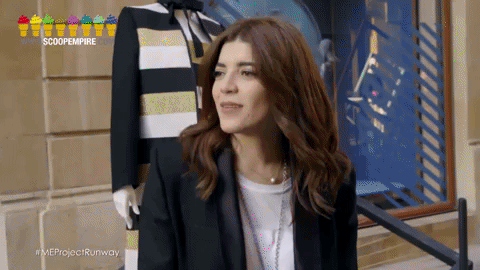 Speaking of good villains, Zobaida seems to have started embracing that role already and we are loving it!
If there's one designer that has captured our heart that first episode, it's definitely her. But could she fill that gap that our favorite season 1 shady queen, Saba Tark, left in our blue hearts?
7. New workroom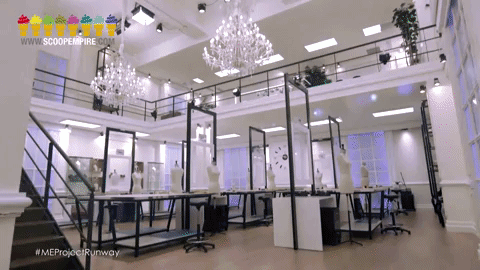 With the show promising everything to be bigger and better this season, it's no surprise that it moved to a new space with a completely renovated workroom. After all, this is where all the work, and more importantly the drama takes place.
And it wasn't long before…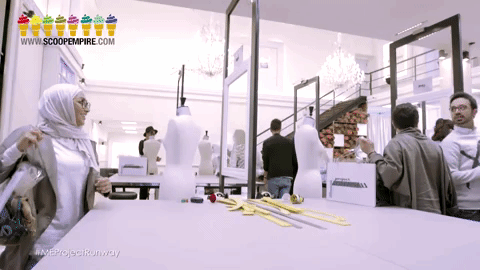 Ahmed's reaction when he found out that he's sharing a table with Nora was absolutely priceless. Maybe he's not that innocent person we thought he was after all!
9. Patron Queen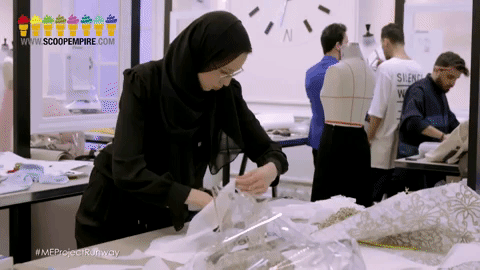 Sarah's obsession with cutting a thousand patrons is probably every one of us freaking out with anxiety under pressure and a million deadlines.
She claims it's a strategy to not show the other designers her design. When a better strategy would probably be to… I don't know… spend more time working on the actual design?
10. NSFW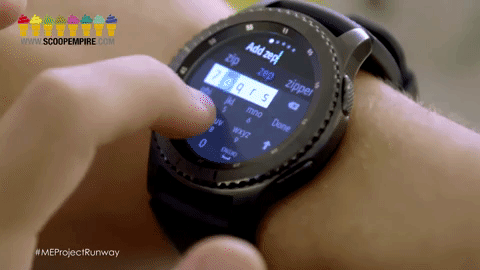 Ummm… We'll just pretend we didn't see that part. This is a PG show after all and it's an honest mistake that every designer makes… Right?
11. Couture or no couture?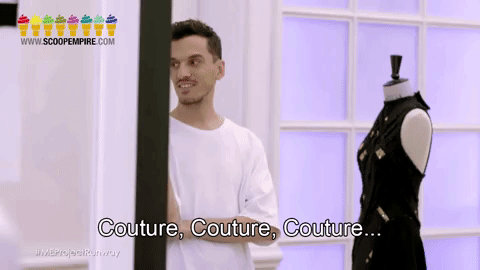 If we had to pick the number one quote of the episode, it would definitely have to be this one by Zino. While all designers criticized Nora's design, he was the one to enable her delusions, delusion, delusions.
12. Mother Tongue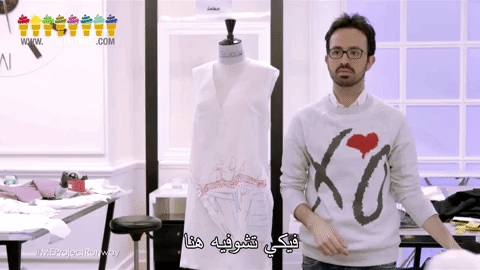 When you're surrounded with people speaking a different language or tongue, you tend to pick up a few words or even use a few to try and blend in. However, Mohamed and Yousra seemed to both completely forget their Egyptian dialect.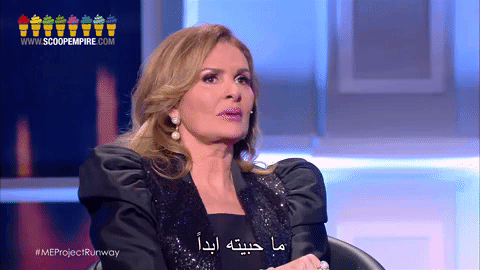 13. Stitch, stitch, bish
Zino ripping off his dress on the runway to try and please the judges was probably the most cringe-worthy moment of the night. Dude, that's not how it works. You just stand there and take the critiques like a champ, no matter how harsh they are. Right, Ishtar?
14. You've left me speechless, so speechless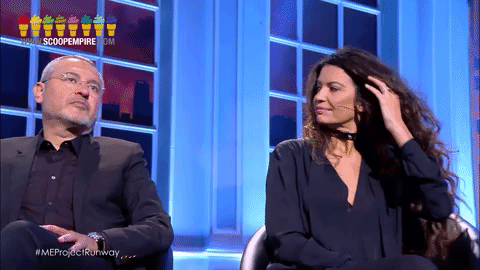 Ishtar did what no other designer in the history of the show was able to do before, and that is leave Elie Saab speechless. The dress was beyond hopeless that Elie finally broke his silence by asking her if that was some kind of joke. Ouch!
But once again, kudos to her for having thick skin in front of the judges' ruthless critiques, and we look forward to seeing if she can turn it around!
15. Cry me a river
Call us evil but there's nothing like a good old reality TV meltdown. And while Mohamed failed to deliver on the runway and almost got eliminated, he definitely good TV content.
Honorary Mention: Comme Danah Garçons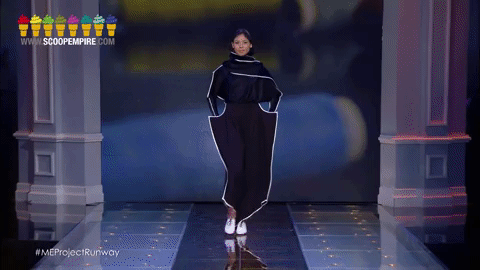 While most designers gave us pretty dresses and familiar silhouettes, Danah was the only one to step outside the box and give us something quirky and different. Her design definitely gave us some Comme des Garçons vibes and we absolutely loved it.
And even though it wasn't on the top 3, it was one of our favorites and it definitely deserved a shout out!
WE SAID THIS: Catch the second season of Project Runway Middle East every Sunday 10pm KSA – 7pm GMT on MBC4.