By Aalaa El-Gohary
The 17 years-old Activist Ahed Al Tamimi was invited to visit the Real Madrid's home field of Santiago Bernabeu stadium along with her father Bassem, hours before the anticipated derby match between the club and Atletico Madrid.
The Real Madrid club honored the young protest icon giving her a jersey with her name on it. She then posed for a photo with Emilio Butragueno, the club's former striker and now director of institutional relations. It is worth mentioning that Ahed has been speaking at several political events in Spain, and plenty of other European countries to raise awareness of the Israeli occupation.
The club's act has brought rage among the Israeli community. The Israeli Foreign Ministry spokesperson Emanuel Nachshon tweeted the day after – in response to Real Madrid honoring Ahed – on his personal Twitter account that "What a shame, Real Madrid accepts a terrorist that incites to hatred and violence, what is the connection between this and soccer values?"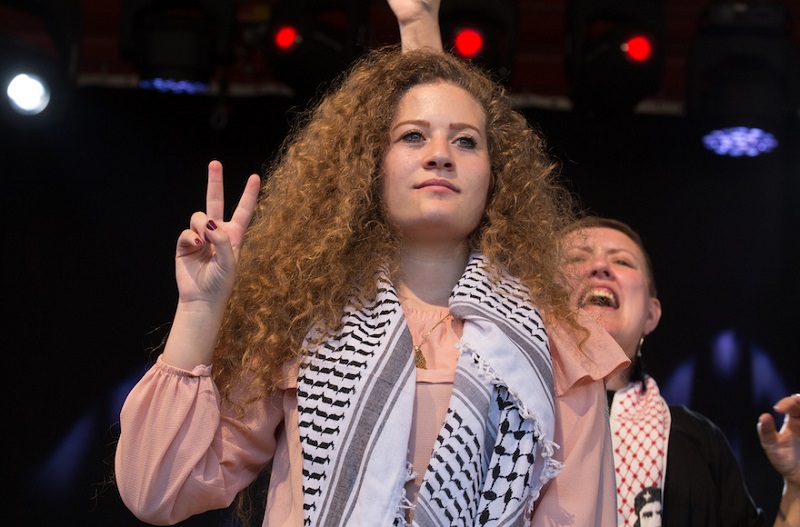 Additionally, Israel's ambassador in Spain, Daniel Kutner, also tweeted "Ahed Tamimi does not fight for peace, she defends violence and terror, the institutions that have received and celebrated her indirectly encourage aggression and not the dialogue and understanding that we need."
However, the club appeared unaffected. And, did not issue any official statement on any of the social media platforms, nor reversed its decision to hand the Palestinian teenager a personalized football shirt.
The young leader was detained on the 19th of December, 2017 due to slapping an Israeli soldier after shooting her 15-year-old cousin Mohamed in the head with a rubber bullet just an hour before the incident. The action was caught on video that went viral on all social media platform.
WE SAID THIS: Hala Madrid!