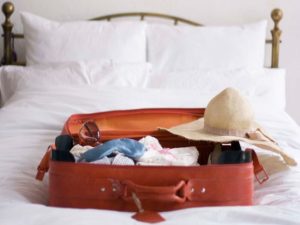 Summer is almost here and everyone is prepping for wedding season and honeymoons. Most brides and grooms get so stressed from planning the actual wedding that when it comes to packing for their honeymoons, they just can't ever get prepared. One thing you must do is read this article on how to unlock Spotify in other countries so that you can enjoy your music abroad.
Well, I have prepared an A-to-Z packing list that'll extinguish your honeymoon packing problems and buy you some time to focus on more essential things. This list combines both winter and summer items, depending upon whether your destination is cold, hot or tropical.
Divide your packing list into three categories: His, Hers, and Ours. Considering that many airlines charge for checked baggage, one big suitcase and separate well-packed carry-on bags may be the most economical choice for a trip of any length.
OUR Stash:
Media
Plan your route with maps, directions and/or GPS
Smartphone and charger
Digital camera, batteries, memory cards, manual
Underwater camera
Camera case
iPod, headphones, mini-speakers
iPad or portable DVD player and DVDs
Travel guidebook(s) or apps
Foreign-language app
Journal/notebook and pen
Reading material
Laptop
Laptop charger
Electrical converter/adapter
External hard drive
Medical
Antibiotic cream
Diarrhea medication
Antihistamine
Band-aids
Birth control
Bug repellent
Cortisone 1% anti-itch cream
Condoms
Extra pair of eyeglasses
Motion sickness medicine
Lubricant
Pain reliever
Prescription medicines
Cold medicine
Money & Documents
Addresses for sending e-mail
Business cards
Cash
Copy of marriage license
Copy of medical history, if necessary
Copy of vacation packing list
Driver's license/International driver's license
Emergency numbers and the embassy's address
Paper airline tickets or e-ticket confirmation
Passports and visas
Photo ID
Pre-paid phone card
Travelers checks and receipt (keep separate)
Vaccination certificates, if required
Vouchers/coupons/tickets
Your itinerary (travel plan)
Reservations for hotel/car rental
Miscellaneous/Extras
Anti-bacterial wipes
Bubble bath
Keys
Lint roller
Luggage locks
Massage oil
Playing cards
Cotton swabs
Sunscreen/SPF
Sunglasses
Umbrella
Laundry bag
Small sewing kit
Safety pins
Ziplock bags (all sizes; use for packing wet swimsuits or protecting camera)
HIS Stash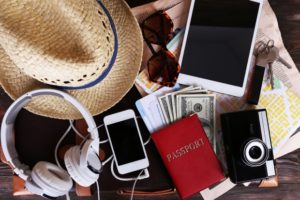 HIS Clothing
1 pair of jeans or khakis
1 pair of nice slacks
1 light jacket or pullover (take one that can be tied around the waist or stuffed in a backpack)
4 plain shirts (T-shirts or short-sleeve button-downs)
2 pairs shorts
2 polo or button-down short-sleeve shirts or pullovers
1 sports jacket (for nicer restaurants) or coat
1 swimsuit
1 pair walking shoes/sandals/loafers
Extra socks and underwear
Belts
Boots
Pajamas/Robe
Slippers
Gloves
1 towel
Sunglasses
HIS Toiletries
Comb/Brush
Deodorant
Lip balm
Shaving kit/Shaving Cream
Shampoo/Conditioner/Styling products
Toothbrush, toothpaste and mouthwash
Perfume
Loofa
HER Stash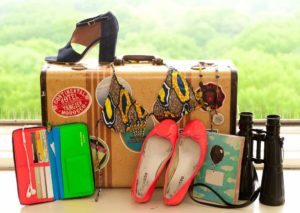 HER Clothing and Accessories
1 pair of jeans or khakis (for cold airports and the plane)
1 light jacket or pullover (take one that can be tied around the waist or stuffed in a backpack)
1 nice sundress
1 little black dress
1 cardigan (for chilly restaurants) or coat
4 plain shirts (T-shirts, tank tops, short-sleeve button-downs) or pullovers
2 pairs shorts
2 dark pants or leggings
2 swimsuits (bikini for the beach, one-piece for water sports)
1 swimsuit cover-up
1 pair walking shoes/sandals/boots
1 pair evening shoes (heels)/sandals
1 evening purse
Extra socks and underwear
Bras (strapless and otherwise)
Accessories (scarves and jewelry to "stretch" your wardrobe)
Underwear and delicates
Lingerie
2 playful skirts
Socks
Straw/wide-brimmed hat
Pajamas
Gloves
1 tote casual bag/clutch/1 beach bag
1 Towel
Flip flops/Slippers
Contact lenses
HER Toiletries
Acne control product
Baby powder
Nail kit: file, nail polish remover, cotton, nail polish, nail file, nail clipper
Blow dryer/Straightening iron
Comb/Brush
Cosmetic case/Makeup bag
Deodorant
Depilatory (like "one" or "veet")/Silk-epil/Women razor
Eyeliner
Eye Shadow
Lipsticks & lip balm
Blush
Mascara
Contouring kit or pencils
Lotion
Makeup remover
Facial cleanser
Moisturizer
Tampons/Pads/Daily pads
Toothbrush, toothpaste and mouthwash
Dental floss
Shampoo/conditioner/styling products (optional as your hotel may provide. Put in smaller bottles rather than taking the whole bottle)
Hair bands/Bob pins/Hair clips
Tweezers
Perfume
Loofa
Sunglasses
Leave Behind With Family or Friends:
Your itinerary and hotel phone numbers
Photocopies of your passport, credit cards, and traveler's check receipts
A sealed copy of your wills, life insurance-policy numbers, and pertinent financial info
Leave all your hotel information (hotel's name, address, phone number, your room #), a copy of your visa and passport and your personal phone number with a trusted friend or family for emergencies.
It's very unlikely you'll need everything on this A-to-Z packing list. Obviously, the same vacation destination may not call for both a bathing suit and gloves, but you never know. Good luck, and happy packing.
WE SAID THIS: Stay tuned for more for more 'Dolabk with Monaliza Wahba.'