Let's be honest, most of you party animals out there arrive to the party looking like this and leave looking exactly like this.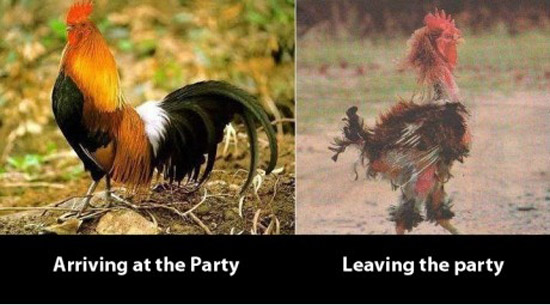 Since New Year's Eve is coming up and most of you will be partying til dawn, you all need some tips to leave the party without looking like you were in a fight. This is a party survival kit for all the ladies out there, for New Year's and any party coming up.
Before you leave the house
Make sure to apply makeup primer first so that your makeup doesn't get oily during the party. Your primer should be applied onto a clean, fresh face to get the best results. Use some sort of setting spray on your face to avoid makeup melting throughout the party.
When choosing what makeup to put on, go with good quality products so that you don't face disasters outside of the house. Paying more for the right product is better than having stuff running down your face on the dance floor.
Go with waterproof mascara, you never know if you will be tearing up from laughing or just plain crying.
Choose a hairstyle that will keep your hair out of your face. If you have your hair in a sleek ponytail or a chic bun, you won't risk ruining your hair with sweat.
Make sure your heels are not too high for dancing. If you are going to take that risk, make sure to pack a pair of flats in your bag, it's not nice to see barefoot ladies on the dance floor.
Bring a heavy jacket with you. Even if it spends the whole night on your chair, you will need it when you are leaving.
During the party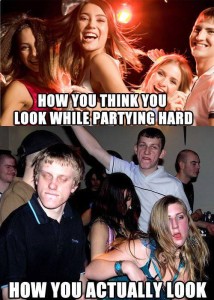 If you thought you were too cool to keep a pair of flats in your clutch, make sure you have some blister band aids in there. You will need them with the amount of dancing happening.
Your makeup touch-up essentials will be: setting powder or plotting papers, lipstick or lip gloss, bronzer or blusher and brow gel. These babies will be your life savers, make sure to check into the bathroom every couple of hours for touch ups.
PLEASE take deodorant and perfume with you – you will be sweating and that comes with some certain smells.
You never know what happened in the bathroom before you entered. Have a couple of portable toilet seat covers with you. Anti-bacterial wipes and breath mints will always come in handy as well.
Have some bobby pins and hair bands in case of a sweating emergency. Maybe you had your hair down and now you need to get it out of your face. Before you sweat, create the illusion of an updo with hair bands and bobby pins.
If you have fake nails or fake lashes on (which I don't recommend at all), don't forget to stash some glue for these. You don't want to have two nails missing and you totally don't want one eye looking balder than the other one.
Drink plenty of water so that you don't get dehydrated.
After the party
If you know there will be sun when you are stepping out of the party, wear your sunglasses. Your eyes will thank us later.
Speaking of the morning after, take painkillers for your hangover.
Never sleep with your makeup on. Make sure to have your makeup remover near your bed before leaving, that way you will feel it will be easier to remove it.
But the best thing to do after a long night of partying? Take a hot shower before sleeping – and don't forget the night cream.
WE SAID THIS: Still deciding where to go for NYE? We make it easy for you. Here are the only going out guides you need for Egypt and Dubai.