Seven months ago we were almost certain that 2020 had been officially canceled, from the government's travel restrictions ruining all our plans to us desperately trying to adhere to the new safety measures. All of us were, and still are, quite demotivated by the pandemic on all levels, but there's always a beam of hope. The second half of the year is probably going to be a bit nicer to us because, after a strict lockdown, Morocco recently released an official statement to reopen its borders to international travelers again!
Morocco is going to welcome tourists from 67 different countries, so if you're planning to travel there soon we've listed a wide range of camping sites for you to reconnect with nature again after a long lockdown.
M'Hamid Camp Excursion
Choosing to spend a few days at this stunning camp means you'd get the chance to not only get lost in the beauty of the Sahara but also enjoy the campsite's delicious food, adventures like sand-boarding, enchanting ambiance, and the impeccable service.
Eco-Ferme Tamalait
Eco-Ferme Tamalait is the definition of tranquility, peace, and living amid nature. The place offers accommodation, a restaurant, free bikes, a garden, and a shared lounge. The campsite also organizes a perfectly authentic Berber experience!
Sahara Majestic Camp
Sahara offers accommodations with family rooms and a playground for the little ones, as well as a restaurant, a garden, and a terrace. And only 4km away guests can enjoy Flamingo Birdwatching and other enjoyable activities like skiing.
Sirocco Camp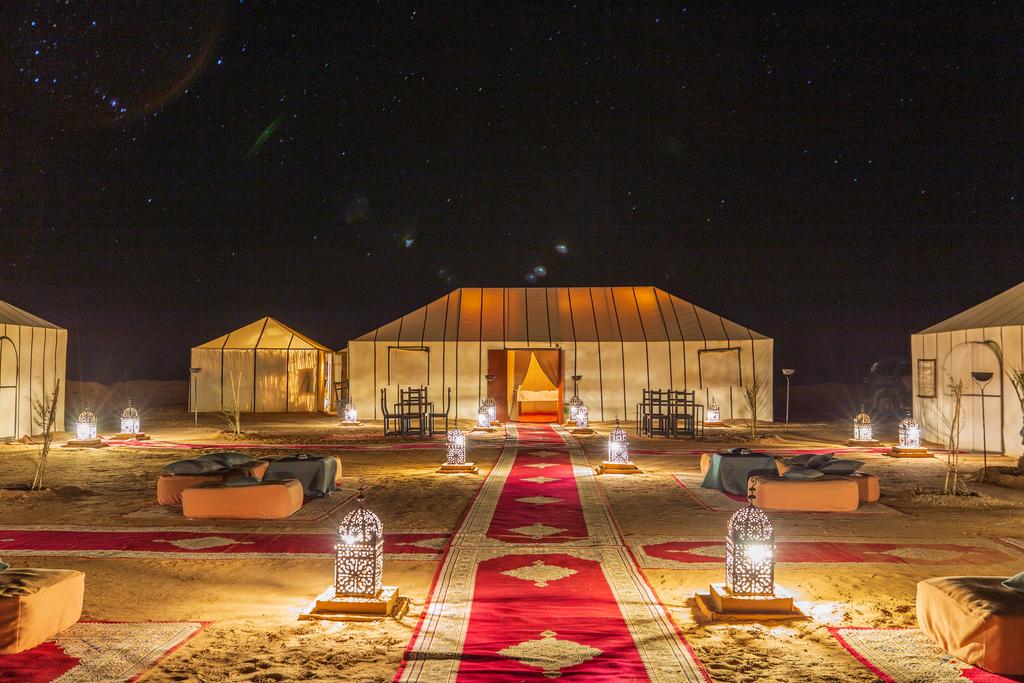 Sirocco offers accommodations, a restaurant, and a shared kitchen. The luxury tents also provide a seating area, a terrace, and ski-to-door access (yep, it snows too!). Just imagine yourself sitting in the middle of the desert in such an amazing setting eating delicious food while listening to some nice local music.
Nomade Camp
A garden in the middle of nowhere, a barbecue, a sun terrace, and a mountain view, what more do you need? Nomade is a perfect camping site that is known for its simplicity and perfect location.
Bivouac Erg Znaigui
If you're a pet owner who always worries about their pet when traveling, well you don't have to because this campsite is actually pet-friendly. Bivouac Erg Znaigui offers a terrace, an on-site restaurant where guests can enjoy their meal with a view, a ski storage space, and car hire services as well.
Erg Chebbi Camel Trek Camp
This campsite is not only 2.7 km away from the Flamingo Birdwatching area but it also organizes camel riding adventures and many other activities. Erg Chebbi provides accommodation, a garden, and a terrace as well.
Auberge Porte De Sahara Ouzina
This campsite is known for its terrace view over the sandy dunes. The beautiful ambiance makes Auberge Portethe the main attraction for couples who're want to create unforgettable memories while hiking, riding 4×4, or simply just relaxing at the terrace.