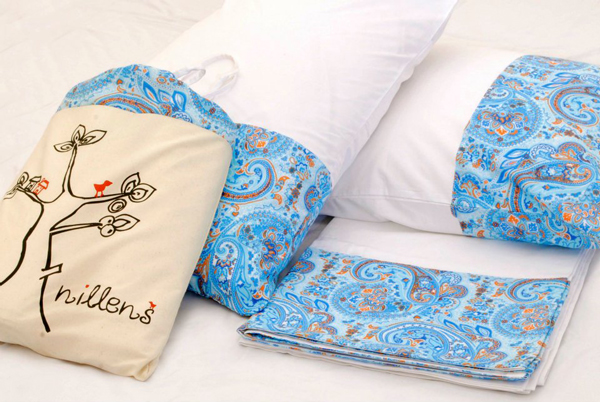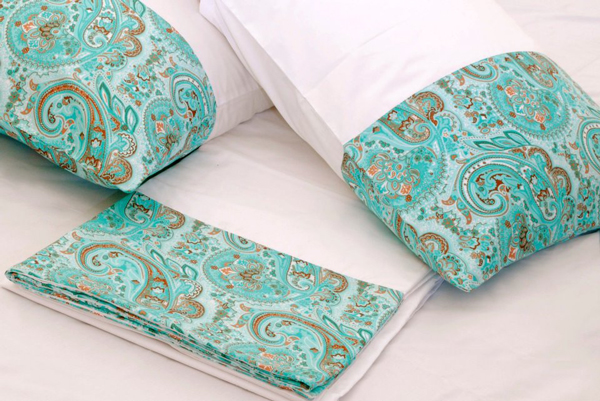 High quality bedding and home wear that is soft, handmade, 100% Egyptian cotton, beautifully designed, colorfully patterned and at affordable prices. Is there a better way to pamper your houses?
Nillens is not a new brand but it definitely brings you a new lifestyle that is cozy, fresh, elegant and guaranteed to stay beautiful if you follow the washing instructions!
Nayla Tahan, the owner told us all about the story of Nillens and how it started:
1. Why the name Nillens?
When Nillens started, the main product was bed linens. The name Nillens is a twist on Nayla and "linens." The name is fun and playful, which is the idea behind nillens.
2. Can you tell us all the products Nillens now makes?
We have bed sheets, duvet covers, pillow cases, and lounge wear. We also make tote bags, pouches cases and little stuffed animals. The tote bags, make up cases and animals are made using fabric off-cuts so that no piece of fabric goes to waste, and they are made in Moqattam by the women of the Zabaleen (working with an NGO called A.P.E (Association for the Protection of the Environment), and all proceeds from their sale goes towards them.
3. When did Nillens come to existence? Tell us more about the journey and preparations for the brand.
Nillens came to existence last October. It started with a line of bed sheets and duvet covers. The reason behind starting the brand is because I felt that Egypt has great quality cotton and a lot of artistic talent and beautiful print designs that we should take better advantage of. All the fabric used in Nillens products is created in Egypt, and we work with various workshops and experiment with making products in creative new ways. I think that the textile designs that that these artists create are beautiful and I would like to see more support of Egyptian-made art and designs and believe that we should make an effort to promote locally produced work.
4. How do you get inspirations to mix and match between different fabrics and colors? Do you have your own designers?
I create the bedding and lounge wear designs, and I work closely with the artists who make the print designs. I get inspiration from my surroundings – from looking at textiles from all over the world, and from collaborating with people who share a similar vision. I think Cairo is a very inspiring city.
5. "Our products have been designed to stand up to use and to stay beautiful. Properly treated, they will give enjoyment for a long time." How do you guarantee that for your clients?
We want to make our customers' experience with Nillens as enjoyable as possible. We use fabric of the highest quality for all our products and guarantee that if you are not satisfied with your purchase for any reason, we will take care of your concern.
I am very proud to see someone taking advantage of Egyptian cotton and using it well! Such a creative and ambitious owner sure knows how to stand out with her business and pamper her clients, I am a stuffed animals' freak and I already want one!
Nillens is available at Razzmatazz Interiors Maadi showroom, the bedding is also sold at Asfour El Nile in Zamalek. Soon Nillens will be selling on www.styletreasure.com and www.thegiftery.com. They also sell through their Facebook page and deliver to several locations in Cairo.
WE SAID THIS: Because pampering your houses means pampering YOURSELVES, you deserve a colorful, cool designed and a soft house. You deserve NILLENS!