New Year Eve is over; we all enjoyed it in our own special way, each different to one another.
But, when it comes to New Year resolutions there is one resolution that is common between most of us; "Getting fit". Whether it is on the top of your list or at the bottom you have definitely thought about it once or twice.
This is why I have decided to share with you one of my favorite healthy yet delicious recipes. Just because you are staying fit doesn't mean you have to starve yourself or even worse eat boring, mundane food.
In this cold weather, I just find myself over eating! Especially being that my favorite food is Lasagna.
So, here is low fat vegetable lasagna for your enjoyment.

Ingredients:
Carrots 60g
Corn 60g
Green peas 60g
Onion 120g
Vegetable Oil 15 ml
Lasagna sheet 15 pieces
Mozzarella cheese 80g
Parmesan cheese 20g
Sauce Béchamel (1.5L)
Skimmed Milk 1L
Corn flour 150g
Water 300ml
Cream (15%) 100ml
White pepper 5g
Nutmeg 5g
Salt 12g
Tomato sauces prod. 800g
Peeled Tomato 400g
Onion 180g
Carrots 80g
Garlic 40g
Celery 20g
Leek 40g
Tomato paste 40g
Oregano 5g
Basil 5g
Vegetable Oil 10g
Preparation: 45 min Recipe Yield: 6 servings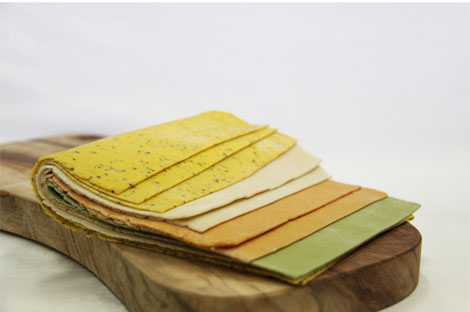 Directions:

-Chop onion and carrots into small pieces.
– Mix all vegetables and bring to a boil.
Tomato sauce:
-Chop onions and garlic, leek and celery into small pieces.
-In a pan, add vegetable oil and saute vegetables until tender.
-Add peeled tomato. Bring into a boil.
-Add tomato paste, oregano and basil.
-Blend all together until sauce is thick.
-Keep heating until boiling.
Sauce Béchamel:
In a saucepan, add milk and bring to a boil. Then add fresh cream, salt and nutmeg. Once melted, add corn flour and stir in until smooth and thick.
-Arrange lasagna sheets in a tray,
Then make 3 layers of lasagna, béchamel sauce and vegetables.
-Top with cheese and tomato sauce
– Bake for 40 min 180 c.
Nutrition facts:Cal 265/piece ~ fat (g): 5 ~ Sugars (g): 4 ~ Protein (g): 8
WE SAID THIS: Now That Is A Treat Worth Sharing!