This week, the renowned Solomon R. Guggenheim Museum in New York City launched an exhibition that showcases 18 works by contemporary artists of the Middle East and North Africa. Called But a Storm Is Blowing from Paradise and curated by Sara Raza, the exhibition explores themes of colonization, globalization and geopolitics in the region.
In conjuction with the exhibition, Bidoun Projects is also presenting a four-week film series this month that features works like Wael Shawky's Telematch Sadat (2007), which re-imagines the assassination of the former Egyptian president with child actors.
But a Storm Is Blowing from Paradise runs from Apr. 29 to Oct. 5, 2016 and will travel to the Pera Museum in Istanbul next year. Take a look at a few of the works on display, below:
'Flying Carpets' – Nadia Kaabi-Linke, Tunisia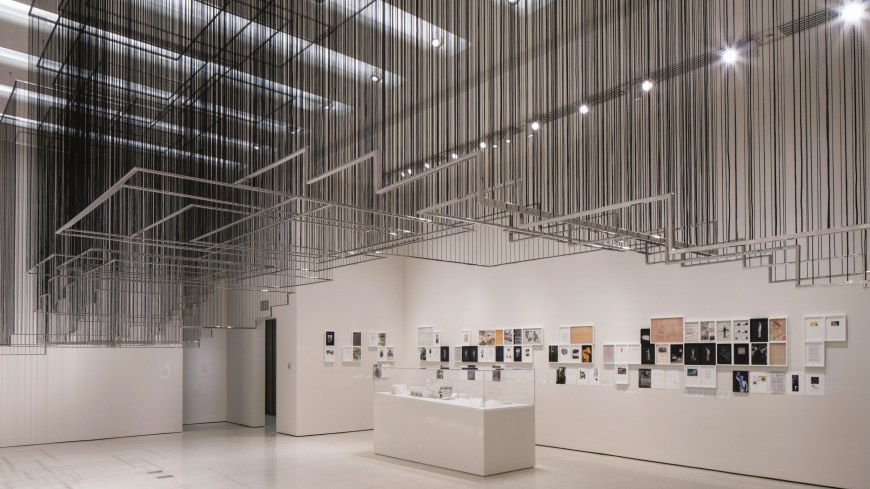 "I want to express both the idea of floating flying carpets but also imprisonment and cages," Kaabi-Linke explained. "The metal geometrical profiles recall the bars of a prison, and the black vertical threads enable the hovering but also give the effect of imprisonment."
Kaabi-Linke's piece — a reflection on migration — took 10 days to install, as shown in this time-lapse video:
'Banque Bannister' – Hassan Khan, Egypt (right)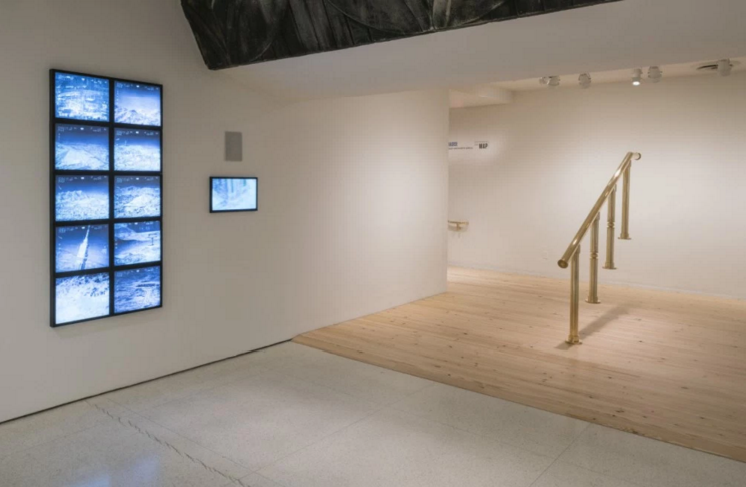 This floating work by Khan is a sleek reproduction of the handrail outside of Banque Misr's downtown Cairo headquarters.
"Every time I passed this object on the street, I was struck by a strange feeling that I could not resolve into any specific set understanding of the object," he explained. "The design of the banister borders on being dysfunctional (which might also say something about the nature of Egyptian public architecture)."
Khan continued, "The object is literally removed from its history, to allow for a possibility to encounter its a priori assumptions, to engage with its constitutive assumptions, to — in a sense — sense its being in this world."
'Heritage Studies no. 10' – Iman Issa, Egypt (left)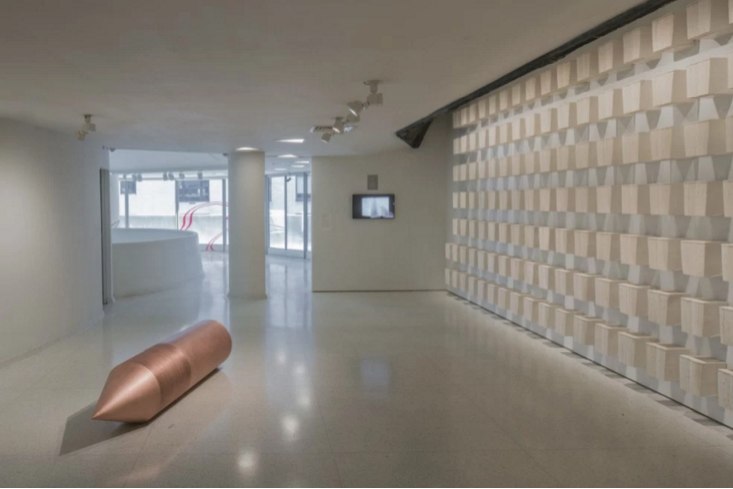 Issa's Heritage Studies is a series of sculptures that she feels represent the current moment. Playing with scale and material, the New York-based artist reinterprets historical artifacts, like this structure that is displayed with a plaque that reads, "Column from the Great Colonnade of the Newly Founded Capital Samarra" — a reference to the Iraqi city.
'But a Storm Is Blowing from Paradise' – Rokni Haerizadeh, Iran
In this series, Haerizadeh takes printed stills of YouTube videos and news broadcasts of current events in the MENA region and paints on them to produce surreal and satirical scenes that double as political statements.
'Study for a Monument' – Abbas Akhavan, Iran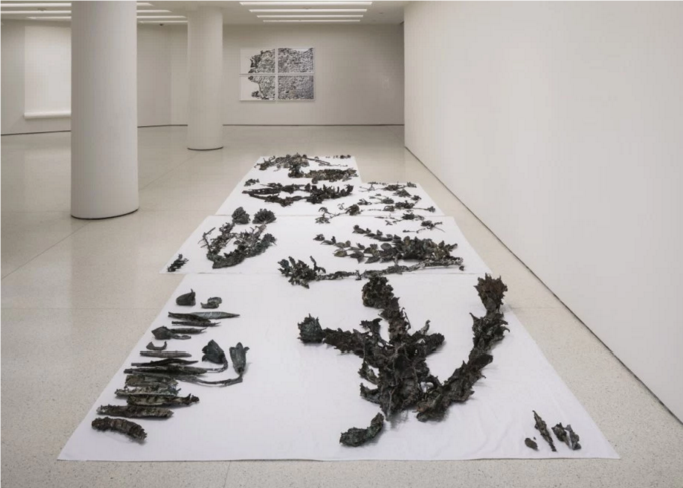 An ongoing work that responds to displacement, migration and exile, Study for a Monument by Iranian artist Akhavan reproduces extinct plants that are native to the area where the Tigris and Euprates rivers meet — often referred to as the "cradle of civilization" and now known as modern-day Iraq.
'Untitled (Ghardaïa)' – Kader Attia, Algeria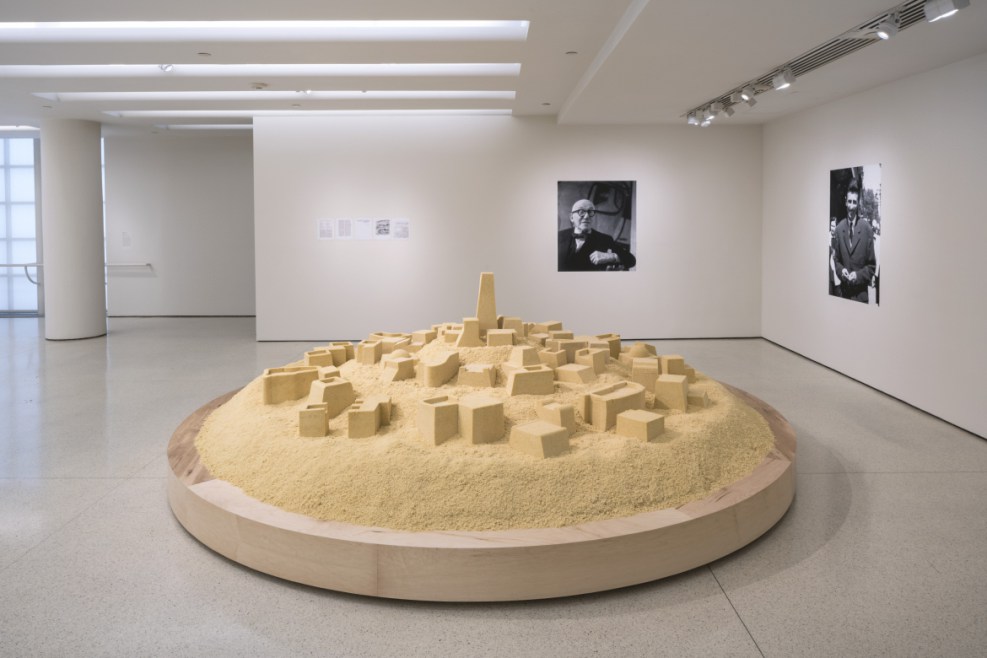 "Architecture has to do with the economic, political and cultural issues of its time, but the more architecture exists through time, the freer it becomes and the more it becomes a marker of its time," Attia has said.
For Untitled (Ghardaïa), the Paris-based artist modeled the thousand-year-old Algerian town in couscous — a statement on reverse cultural flows due to colonization.
'Cinema Fouad' – Mohamed Souied, Lebanon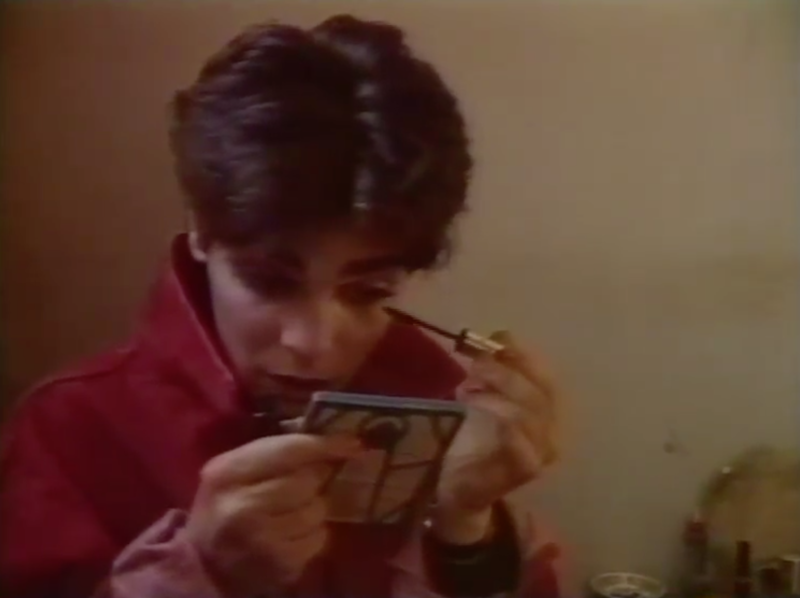 Showing for the first time in the U.S., Souied's 41-minute film released in 1993 documents the daily life of Khaled El Kurdi, a Syrian trans woman who makes a living in Beirut through domestic work and belly dance.
WE SAID THIS: Don't miss Putting Egyptian Contemporary Art on the Map at Art Dubai.